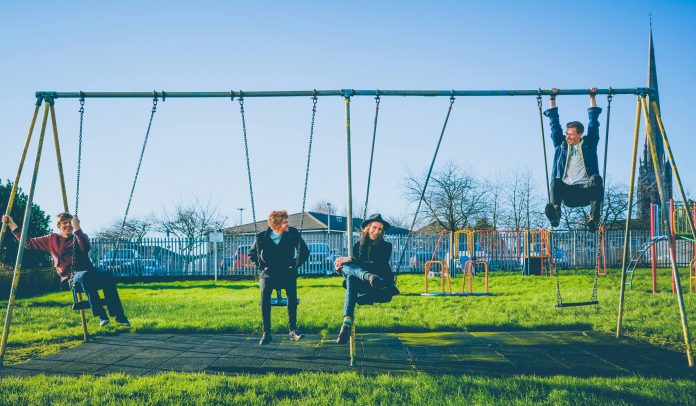 Just to get you up to speed – Saytr Play are from Preston and the members are Fred Farrell, Jamie Vere, Paul Kershaw and Daniel Crowther.
What we have here is three and a half minutes of R'n'B tinged Indie, great harmonies and a lead vocal style that just had me smiling – it's much more than singing the song, it's a performance. And there's a great guitar break too.
Let's get back to those lyrics, how could you not smile when you hear
She's the type of girl that can make you think you're really good at pulling birds
Then your mates tell you that she's got a list of lads longer than a Shakespeare verse
Let's just assume that's a post-modern use of the word 'birds' for the sake of this rather cheeky song.
I'm guessing that people might be reaching for an Arctic Monkeys comparison right now, but I say no, just stop that right now. Yes we have cheeky lyrics and that Indie sound but Saytr Play have a style very much of their own. There's hints of The Kinks – those great lyrics and R'n'B – and The Streets – the humour – in their music.
The really great thing about this track is that you can listen to it as a great song or get out on the dance floor to it. Nice trick that, and pretty hard to pull off.
https://soundcloud.com/saytr-play/sets/dont-go-east-single
While you're taking a listen to 'Don't Go East' do take the time to listen to the two tracks on the 'single' 'Rebound' and 'Out of the Blue'. Again great words and great tunes.
Actually why not, as I did, explore the other songs on their Soundcloud page. My recommendations 'Forbidden Fruits', 'The Letter' and a couple of tracks I have developed a bit of thing for 'For A Ride' and 'Brackenbury Rd'.
As well as Soundcloud you can buy the single from Saytr Play on Bandcamp