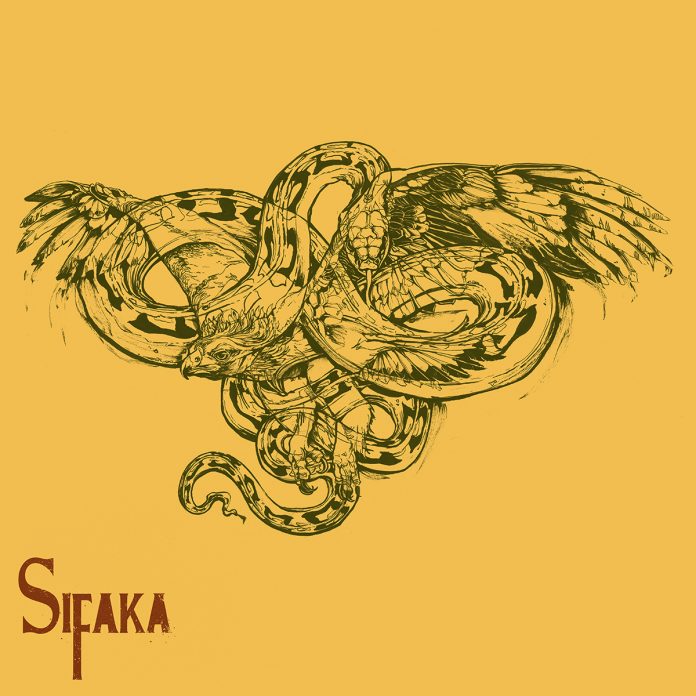 While I gushed in a sort of restrained way about Sifaka's last single 'In The City', and yes that was restrained, prepare yourselves for a full-on lovefest. For this, people, is beautiful, it's glorious. It is frankly all kinds of sinuously sensual and sexy. It hits you way down in your soul, at the end you're going to feel ripped apart and drained.
'Whoa, hold on there' I hear you say, 'sensual and sexy?'. I tell you it's in that pulsing bass line, that sinuous sax, that growling organ. It's there in the vocals, oh so yearning, so heartfelt. He may be singing about still being in love but there's frankly something else he's yearning for. It's there is the searing blues rock guitar this track builds to. Am I the only person to find a great blues rock solo something that gets to you? And that solo piles on the emotion to a point of overload.
It's the build in this song that's going to drag you in, mess with your emotions, and leave you in a sobbing heap, needing to hear it again, louder and louder until you are inside it, until each note of that solo hurts. Until the line 'I don't how to live my on own' is branded into your soul. I am addicted to what this song does to me, oh so addicted.
On a serious 'music reviewer' thing I guess I ought to tell you what this sounds like – well people it's soulful blues rock put simply. Although what Sifaka have done is write a blues song, this is a song that truly conveys the emotion, throw in the influences of the best soul ballads just to mess with your emotions that whole load more, and then sprinkle it with their thing, that vaguely west coast psychedelia sound. It puts in me in mind of early (and oh so the best) Whitesnake, that late soul blues period of Deep Purple, Love.
This is music that gets to you, that is beautiful and glorious. That reaches deep down inside you you and rips you apart.
The band have announced a huge Leeds headline show with Scruff Of The Neck, which will take place on 18/08/18 at The Lending Room. Tickets are on sale now and can be purchased HERE
The info
Since forming in 2014 Sifaka have become an integral part of the vibrant Leeds music scene. Dubbed 'soul rock' their sound is raw, powerful and straight from the heart, sitting at the crossroads between the soulful sounds of Alabama Shakes and the heavy blues of Led Zeppelin.
Their mesmerising live show is a sweat-soaked rollercoaster of infectious grooves and soaring solos. At any one moment their music travels through Mardis Gras, CBGB's in downtown New York and 60's London.
Following on from a year supporting Kaiser Chiefs and Pete Doherty, and Imarhan and Melt Yourself down at the Brudenell Social Club the band are preparing to release three singles over the summer followed by a UK tour.
Sifaka are:
Danny Davis, Mike Deakin, Nicky Pilkington, Sam Wilson, Teddy Roberts
For more Sifaka, follow:
https://www.facebook.com/sifakamusic/
https://www.instagram.com/sifakamusic/
https://soundcloud.com/sifaka_music
https://twitter.com/sifaka_music