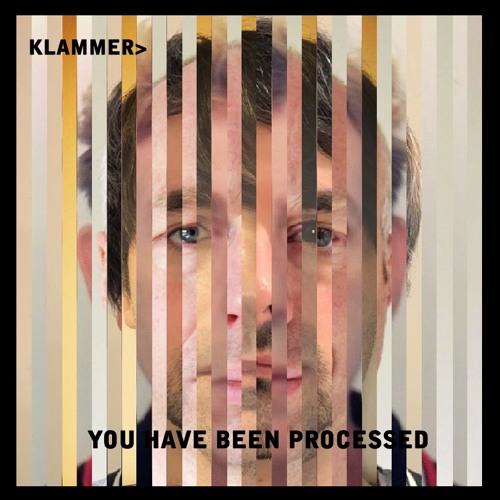 Having reviewed the band's last two singles (read the reviews of 'Spiral Girl' and 'Modern God') I received the news that an album was on the way with a great deal of anticipation.
The thing about KLAMMER is that while they operate within what we might call 'the framework of post-punk', the songs don't sound the same, there's variety. And as we shall see they even managed to surprise me on occasion.
OK so I'm an ex-goth (Is that possible do you ever stop being a goth, or is it one of those things that once you have turned to you can never leave?) so I come to this with what we might call a certain nostalgia. But what this isn't is a retro-fest, it's not a band slavishly copying bands from back in the day. This is a band who take those influences and make of them something distinctly up to date, distinctly of now.
Running through the album for the first (of many) times the things that stuck in my mind were the bass – the bass is really up there, driving things along – and the vocals – there is just the most wonderful range of 'vocal techniques' deployed here for your listening pleasure. The other thing that started to come through was the words, the words are really great.
So before we dive in, the singles are a given, I haven't changed my mind about those at all, if you want to know what I thought of those tracks read the reviews OK. And this isn't a track-by-track, it's the highlights and surprises.
The album opener 'Coast to Coast' swoops in on a drone before igniting the afterburners with the most most wonderfully bass heavy intro I've heard in a long time. The thing about this track is that it just hammers into your head, it beats you into submission. But the twist here is that there is this delicate (delicate is of course relative, it's heavy but it's subtle) clever bit. This is going to set you up in fine fashion for the album.
The first surprise – at least for me as a newcomer to KLAMMER – 'No Memory' opens with something that sounds sort of like some sort of Pink Floyd track before diving headlong into something that's almost more punk than post-punk. It's all sort of jerky and hyper-rhythmic. It's kinda Devo, sorta almost XTC. But there are these thrilling stabs of bass riff, those angular guitars.
For me 'Mechanical Boy' is one of the highlights of the album. But how to describe it, the best I can come up with is 'epic post-punk ballad'. This thing is huge. It's dark, it's way dark. It's just leaves you drained emotionally. And it has these guitar breaks that I just keep playing and playing.
'Baddest Blocks' is not what I was expecting. This is heavy. This is more punky. OK so there are hints of post-punk but you have to listen a few times to get those. And and I love the vocals on this track, they're all of proclaimed and semi-spoken. This thing rocks; it rocks like hell.
'Tonight' oh you beautiful thing, you sinuous swooping pulsating thing. This just had me throwing shapes like the days of old within seconds, because this things is dance music, it's music to twist and crawl to.
And another surprise, 'Common Sense' reminds me somewhat strangely of early Scritti Politti it has that halting slightly shambolic thing going for it at some points. But then it breaks out into something else entirely, something rather elegant.
Another epic ballad 'Human Clay' is a brooding dark track that just has this emotional weight. It's so dark I actually found it difficult to listen to more than say three times in a row, so down did it leave me. This isn't by the way any sort of criticism I love music that effects me this deeply.
The first time I heard album closer 'A Long Cold Summer' I actually wasn't all that sure about it, there was something that just jarred with me. But after listening again a couple of times I found myself positively loving it. It's a grower, at least it was for me. The things that jarred me on the first listen become the very things that I really liked about it. This is one of those bass heavy bass driven songs. It's vaguely discordant in places. It has these sort of spoken singing vocals. It's relentless, it just doesn't stop. It has this slow build that starts almost at the start of the song. And then it fades out.
This a collection of songs without any fillers, it's all good, it's all incredibly good. The playing is way up there, the words are great and thought provoking. And like all great bands KLAMMER are not afraid to throw us the odd curve ball, songs that surprise.
So how to sum this up for you out there. Well if you're into post-punk (that's old style post-punk people) then I probably need to say nothing else than this is a must, it takes that genre in all it's glorious various styles and makes them into something new, something up to date but retaining that direct connection to 'back in the day'.
But look people if you're not already a post-punk fan how am I going to persuade you to at least give this a go. I going to beg you to approach this with an open mind, drop those pre-conceived ideas of what post-punk is, and who it's for. Perhaps you may want to think of it as good music, music played incredibly well. Songs with feeling, songs that are meant. The thing is that this album has so much of a range of sounds that there is going to be one that you like, one that makes you go back and listen to the others again.
The album can be streamed or downloaded from a variety of services or purchased from the band's website on CD, vinyl or download.
The info
Klammer came to life in 2014, drawing from the members' shared love for all things angular, dark, loud and melodic. The W.Yorks based quartet put a contemporary twist on the post-punk attitude. Although there's plenty of hooks in their songs, there's a dark and edgy broodiness coursing through the sound of the band.
They've gigged and toured with the likes of The Skids, The Undertones, Richie Ramone, The Membranes, Art Brut and played at Rebellion.
POSS (Lead Vocals/Guitar)
STEVE WHITFIELD (Guitar/Vocals)
BRUNO ALMEIDA (Drums)
MIKE ADDY (Bass)