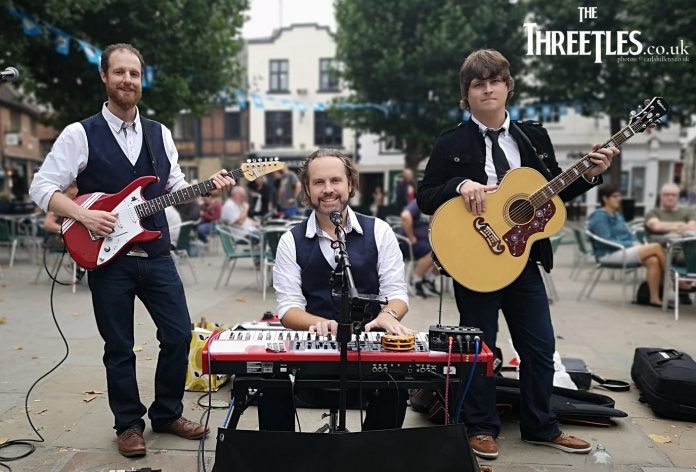 York/Tadcaster based band The Threetles started life as a Beatles tribute band but soon got the urge to write their own songs. 'The Otherside' is the lead single release from their album due out in May this year.
So yes, I have to admit that there's something of a Beatles' sound in the song but it is only a hint. There are vocal harmonies aplenty that actually have me in mind of The Mamas & Papas. And it has something of The Monkees, The Beach Boys and all sorts of other 60s' pop. So while they, let's say lovingly channel, that 60s pop sound the mix is something very much of their own.
I have to admit I have something of a thing about 60s' pop, so I appreciate the retro feel of the song but, and it's a big but, it's clear that the band have absorbed all sorts of influences. So while it may feel retro, it isn't completely, there are hints of music from then to now. So it's both retro and not so retro at the same time.
If you've been keeping up with me, and I hope you have, you'll know that I positively love a great pop song; and this has all you need for a great pop song. An absurdly catchy tune, words that are so-so easy to song along to, a great vocal performance and a band who can play fantastically.
And the more you listen, the more you go beyond the lovely harmonies, the jangly guitar. There is some wonderful organ providing a solid musical base. And this track has some fab guitar breaks. But it keeps that pop sound and feel, and that is a really good thing.
Look I'd be the first to admit this isn't 'high musical art' but it is a wonderfully crafted pop song, and that is an art all of its own. It makes you want to dance, and leaves you with a grin on your face, and a joy in your heart. And sometimes isn't that what we need? I do and I think you do. Go to it.
The Threetlies on Facebook: https://www.facebook.com/thethreetlesband