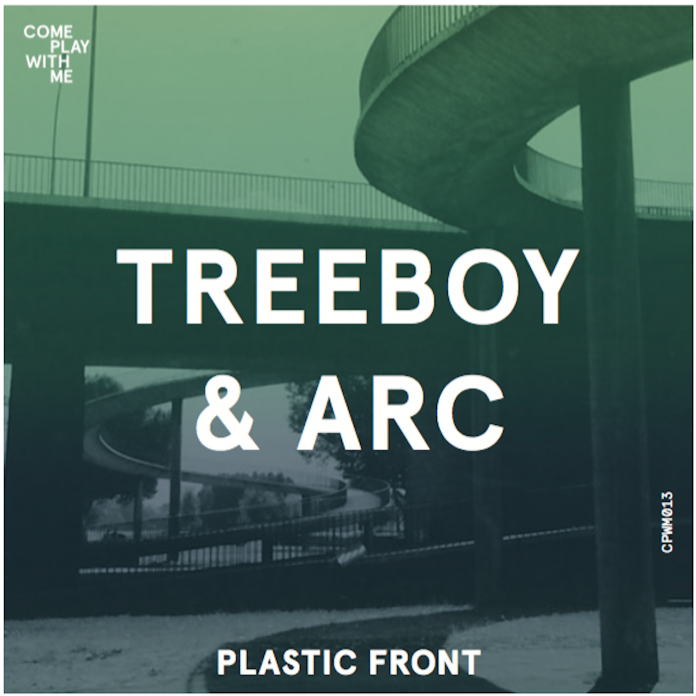 This single is one of Come Play With Me's split releases; this is the label's first split release with another label – Call & Response of Japan.
Treeboy & Arc's 'Plastic Front' is a maelstrom of post-punk noise but it's somehow controlled, it's structured. And somewhere in there is a tune, listen way too many times and you find yourself humming along while at the same time moving compulsively in a jerky way. It has a dark beauty, albeit one that I find it somehow difficult to say why. It's partially the darkness, partially something I just can't put my finger on. But I like that, I like music I can't exactly explain why I like it so much, I keep listening to try and work out why it's so good.
The kicker, the thing that makes what Treeboy & Arc so good is that they use synths in a way that adds that tune, they add a pulse. It's strange, it's something great and wonderful.
It has echoes of Joy Division, Siouxsie and The Banshees, The Gang of Four (it's weirdly funky people), yet it's new and of today, of the now. And it's incredibly well played and put together. The vocals and the words – and the words are important, they tell a dark story – shine through the noise.
'Plastic Front' came about after James from the band made a trip to Poland. He explains "I visited Gdańsk for a short but sweet 26 hour and 10 minute trip. I was on my way back to the airport and I saw someone crash going about 60mph on the hard shoulder of the motorway. My immediate thought was that they must be dead, but after 7-8 Polish men and myself running over to check, we found the man to be alive and ok, just in a lot of disbelief and confusion. People pushed the car off the road as I helped clear up broken bits of plastic and glass, then everyone just headed off as if nothing had happened."
Speaking about where the lyrical inspiration came from, James says "When I was on the plane home I was more aware than usual of all of the images and constant warnings about what to do in the instance of the plane crashing. Whilst reading through it all I wrote the lyrics to Plastic Front as it all just felt like a pretty weird and odd experience."
The thing about 'Plastic Front' is that it sounds important, it sounds significant, it's not at all throwaway. It's wildly beautiful.
'Plastic Front' is paired with Jebiotto's 'Get Down'. Jebiotto hail from Tokyo and I'm somehow tempted to say only in Japan could they do this, it's punk played mainly on synths. It's wild, it has an insanely catchy thing going on, something that is actually quite pop-y in a weirdly 80s' way. It reminds me in a strange – perhaps too strange – way of '99 Red Balloons' and 'Kids From America'.
I played this to a friend and they said it sounded like a bunch of pre-teens who have cheap toy keyboards hyped up on sugar just going mad trying to cover some sort of 80s' pop hit. I kind of know what they mean.
This single was released on 8th February 8th by Come Play With Me. It is available on 7" vinyl. The single can be ordered from the Come Play With Me website http://www.cpwm.co (or directly from th CPWM Bandcamp page https://cpwm.bandcamp.com/album/cpwm013). Limited signed copies of the single are available.
The info
COME PLAY WITH ME is a not-for-profit label based out of Leeds which looks to showcase the amazing talent coming from the region. It is best known for its series of split 7" releases that have included (Katie) Harkin, Cinerama (The Wedding Present), Team Picture, Magick Mountain, The Golden Age Of TV & Dead Naked Hippies. This represents the label's first split release with another label – Call & Response of Japan.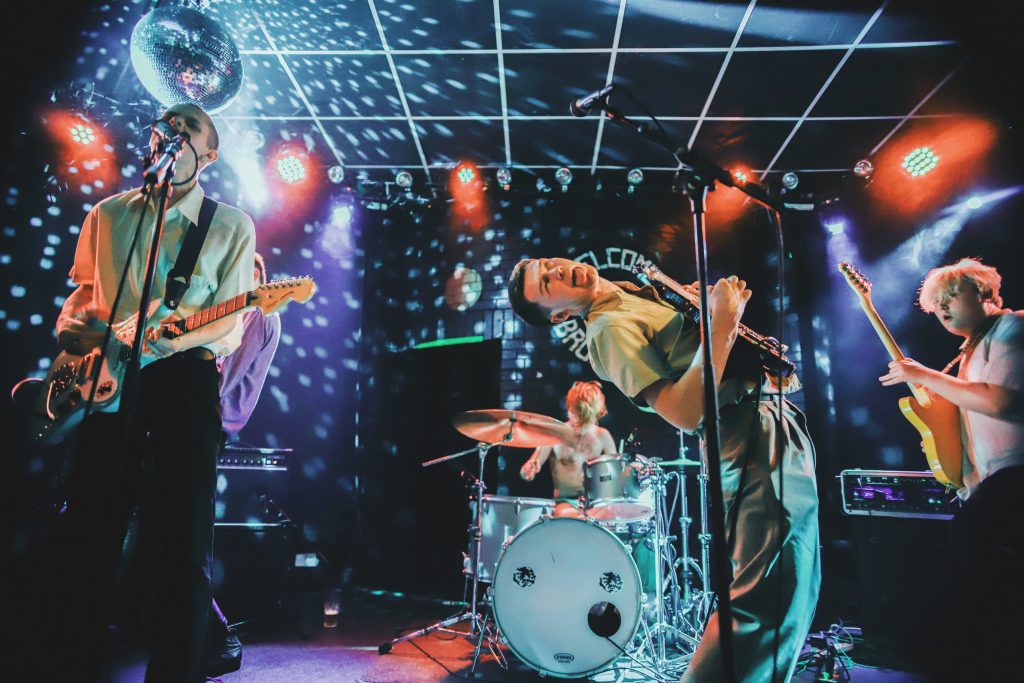 Having received many plaudits from the likes of DIY, So Young, Clash, BBC Introducing, RADIO X and more, 2019 is set to be a big year for Treeboy & Arc. The band is made up of James Kay (vocals + bass), Ben Morgan (guitar + vocals), George Townend (guitar), Sam Robinson (guitar/synth) and Isaac Turner (drums) and are at their best when seen live; a vital, energetic mass of bodies somehow being held together on stage.
Jebiotto are a 3-piece synth punk band from Tokyo, Japan featuring Madca on synth and vocals, Moririn on drums and electro-pads and Tutti on guitar, threaded through a bass amp. Jebiotto are a unique collision of pop and raw, chaotic energy emerging from the dank basements of the Tokyo underground music scene. Their music is built around a core of bold, anthemic, new wave synthpop, twisted and deformed by influences including Dan Deacon, Blonde Redhead and Bikini Kill. The result is a set of tunes with the electricity and sharp edges of art-punk wrapped around the beating heart of fist-pumping stadium rock.