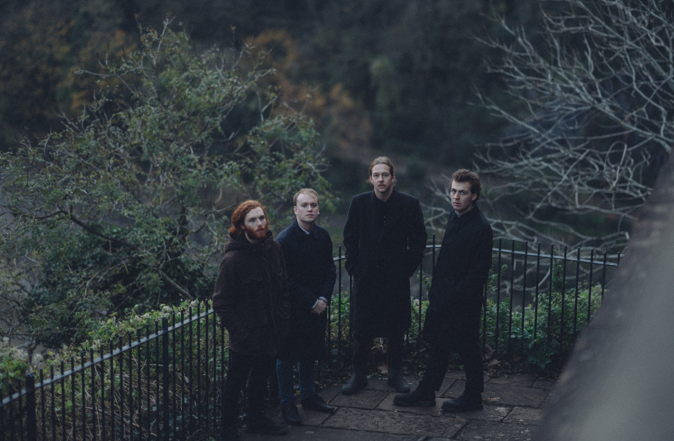 Presenting their shift into more experimental territory, satirising the conservatism and inadequacies of popular satirical music, Bristol's LICE return with new single 'Conveyor' via their own label Settled Law.
LICE have spent their early years flirting with mainstream acclaim, while remaining contemporary British punk's constant outliers. Emerging from Bristol's vital avant-garde scene with supports for The Fall, Fat White Family and Girl Band, LICE first gained national attention with debut single 'The Human Parasite', establishing a literate, eccentric brand of satirical art-punk. In 2018 their arch-advocates IDLES, who took them on the Brutalism and Unity tours, used their own label Balley Records to release LICE's 'early years' material as the Double EP It All Worked Out Great Vol.1+2. This gained critical acclaim from the likes of The Guardian, The Quietus and Loud and Quiet, who declared LICE, "the most exciting, inspiring and genuinely deranged new guitar band in the country".
What followed was a complete about-turn. Disillusioned with the sonic conservatism, twee platitudes and toothless commentary of the 'satirical guitar music boom' they were now aligned with, LICE began a period of sonic and lyrical experimentation – subverting the prevailing aesthetics and ideas of contemporary punk. Drawing from EBM, industrial and minimalism, they forged a new line in driving, experimental art-rock. Taking cues from science fiction and early 20th century polemicists, their new lyrics use vivid prose-based vignettes (replete with sharp character arcs, black humour and absurdist storylines) to set out bold stances on satire, humanity, and the content and direction of art.
'Conveyor', the first of these new songs, brings us to The Wasteland – the nationless space inhabited by the new music's stories and cast of characters. We are introduced to its raging, Shakespearian protagonist The Conveyor, and their mission to expose the mysterious R.D.C.'s plots to engineer the human race's self-destruction; a journey that will take us through sci-fi odysseys and Burroughsian grotesques. LICE thereby declare a new period, presenting a satirical music commensurate to these militant years. This is paired with the band's first UK headline tour, and is the debut release on their label Settled Law.
TOUR DATES:
29th Feb – Glastonbury, Glastonbury Calling
BRITISH SERATAS TOUR
10th March – Leeds, Hyde Park Book Club
11th March – Glasgow, Hug and Pint
12th March – Manchester, Castle Hotel
13th March – Newcastle, Cluny 2
14th March – Birmingham, Dead Wax
16th March – Southampton, Heartbreakers
17th March – Brighton, Green Door Store
18th March – London, Shacklewell Arms
19th March – Bristol, The Island