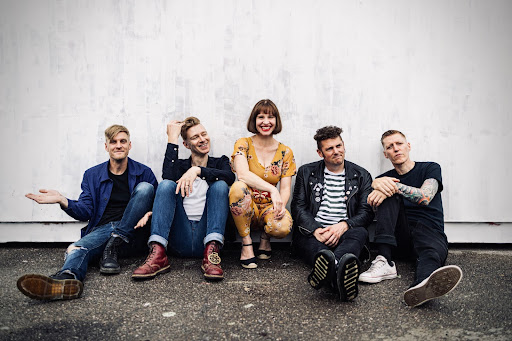 Worshipping at the immortal altar of live music and preaching the good word of punk-rock, "Down On The Barrier" is a feel-good anthem that sees Skinny Lister finding God in our gig venues.
"Take me to my church I need to confess. Chime the decibels and beat from the chest. Oh my communion, unholy communion, Roaring out the gospel 'we shall be blessed'…Let's get down, down on the barrier" say the Skinnies here.
Blending pogo-primed percussion, Pogues-y punk hooks, and a chorus that demands to be roared-out loud and proud, "Down On The Barrier" is a song made for the live arena and the collective strength we can draw from live music. Speaking about the message behind their euphoric, enlightening new track, frontman Dan Heptinstall says "Music is a kind of religion to many gig-goers, and in "Down On The Barrier" we've tried to capture that feeling. The church in this case is the venue, the sermon is the song and the preacher the artist. It's a nod to those almost spiritual moments when we gather to enjoy some communal rock'n'roll worship, as well as a healthy dose of support, release and camaraderie. See you down on the barrier!"
Skinny Lister released their most recent album 'A Matter of Life & Love', a raucous record that pays homage to all the greatest things in life, in 2021. Not ones to sit on their laurels, the band have been busy writing and recording album number 6 which will be released later in the year. Standby for more details on that coming soon.
Aptly capturing the energy of the Skinnies' emphatic live show, the new track arrives as the band also announce a UK and Ireland tour for Winter 2023.
UK & Ireland Tour 2023
November
22 Liverpool O2 Academy 2
23 Carlisle The Brickyard
24 Glasgow King Tuts
25 Belfast Voodoo
26 Dublin Grand Social
30 Norwich Arts Centre
December
01 Hull Social
02 Stockton Ku Club
03 Sheffield Leadmill
08 Southampton Engine Rooms
09 Plymouth The Depo
10 Swansea Sin City
14 Bristol The Fleece
15 Brighton Chalk
16 London Lafayette