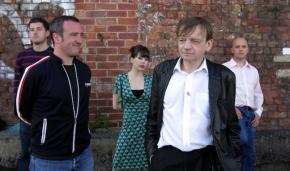 The Fall's long association with Clitheroe continues as they return to The Grand for a show in October, 30 years on from performing at Clitheroe Castle.
They first played The Grand in April 2013, hastily arranging a show at six weeks notice. Since then, Mark E Smith and the band have recorded a single in The Grand recording studios.
The current Fall line-up is as follows: Peter Greenway (lead guitar), Keiron Melling (drums), Elena Poulou (keyboards,vocals), Mark E. Smith (vocals) and David Spurr (bass).
Doors 7pm
Stage 7.45pm (1st act).
The Fall on stage at 9pm