Casual Threats are a DIY post-punk trio (ffo Slaves, At The Drive-In, Interpol) and Massa Confusa are an electronic post-punk band with drum machines. Both bands are touring in support of recent releases.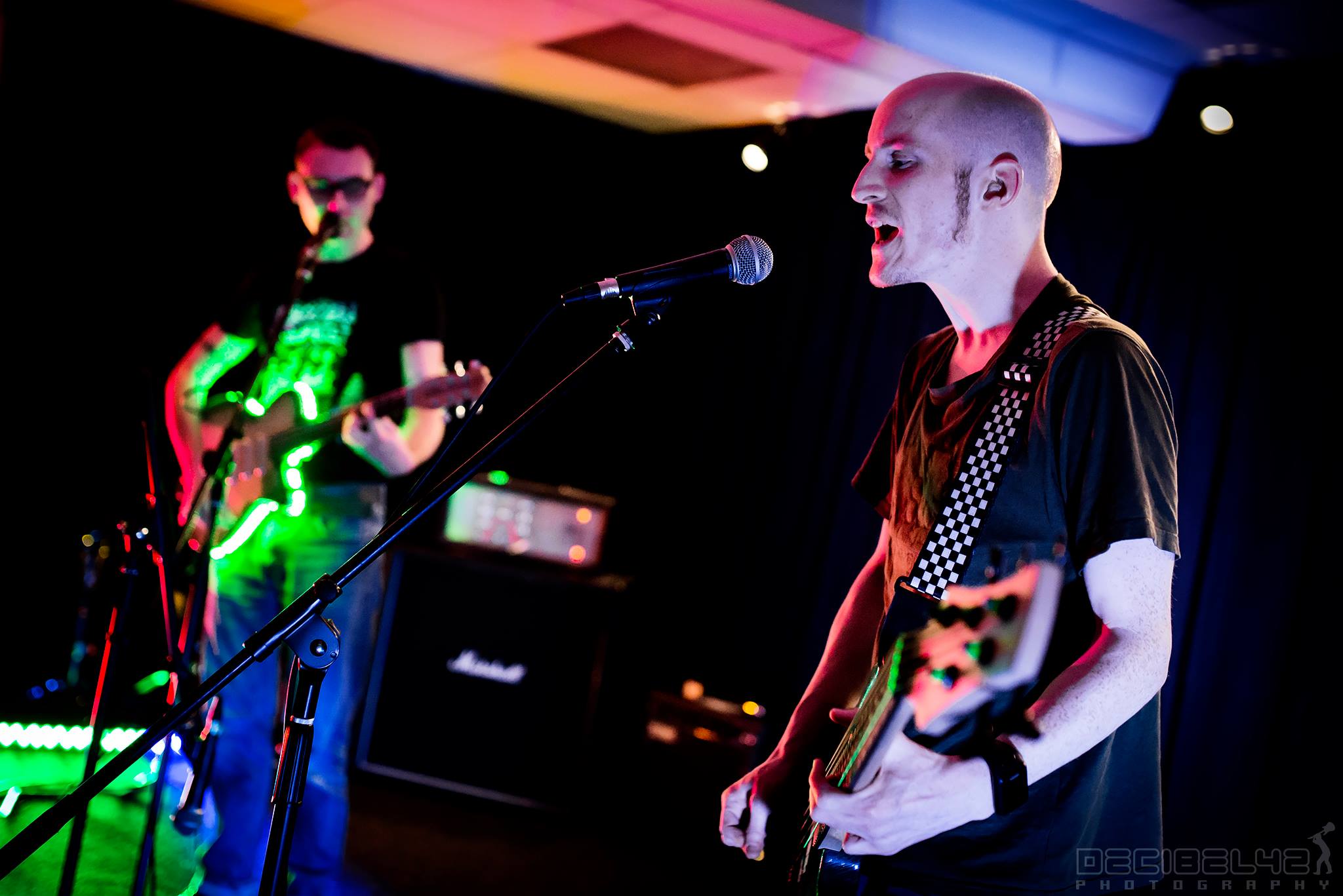 Massa Confusa released their 2nd album Two Man-Machine on the 19th November 2016 and Casual Threats put out their debut Life From Below on the 28th October 2016, but they were both unable to tour much further than their home towns of Newcastle and Stockon. Now they are joining forces to showcase tracks from these releases, and to celebrate MC's release of 'Massa Confusa Presents Compilation: Vol 3', a 36 track comp of bands MC have put on under their Massa Confusa Presents promotion moniker.
The comp will be available digitally on Clarty Cat Records with a limited edition accompanying zine created by MC bassist Matt O'Brien aka Nurse Hayhem. It is the 3rd in a series and features an eclectic mix of North East acts such as Kobadelta, Good Friend, Fret!, Big Fail, Year of Birds and Preqwal; as well as bands from further afield like Nasty Little Lonely (Bristol), Damn Teeth (Glasgow), Jesus And His Judgemental Father (Leeds) and The Infinite Three (London). MC and Casual threats will feature too.
You can listen to last years compilation here: https://clartycat.bandcamp.com/album/massa-confusa-presents-compilation-volume-2
The tour comprises solo and duo sets by MC (dates depending) playing a mix of new and old material. As a duo MC includes bassist Matt O'Brien and MC's usual industrial backing track. As a solo performance, MC's Ally Morton reworks MC material with guitar, loops and samples. Casual Threats will provide their usual energetic show representing material from 'Life From Below'.
The info: Massa Confusa
Massa Confusa started as the solo project of guitarist/vocalist/programmer Ally Morton until 2012 when bassist Matt O'Brien joined to officially make Massa Confusa a collaborative unit.
In July 2013 they performed their first gig and released 'EP3' which was the first release to feature Matt on recording; and in December 2013 they released their 4th, 'Obsessive Computive Disorder,' at a show with We Are Knuckle Dragger, Cauls and Vasquez.
Aiming to strengthen the community of the North East scene and attract names from outside of the region, they began putting on monthly gigs in Newcastle and Durham under the moniker of 'Massa Confusa Presents' in February 2014, and launched their own record label 'Clarty Cat' in January 2016, which is also home to Nerd punk trio 'Skull Puppies' and 'Sleepwalk.' They have also released 2 compilations of bands they put on in 2014 and 2015. You can listen to them on clartycat.bandcamp.com.
Other releases include the album 'Amblyopic,' 'BBC Introducing sessions,' a cover of 'Christmas Wrapping' by the Waitresses for 'Another Alt Xmas Album,' 'Two Imaginary Boys: A tribute to The Cure for Graft-e-oke #3,' 'Covers' EP,' and 'Acoustica' EP.
The latest album, 'Two Man-Machine,' was released November 19th 2016.
"Rough but refined, sometimes pitch-black attitude towards post-punk.. with motorik rhythms and occasional jagged synth edges." God Is In The TV Zine
"Massa Confusa do an awful lot of good within the local DIY scene, booking regular shows and releasing other bands' music and they have recently curated a compilation featuring bands they've put on at their Massa Confusa Presents… gigs. They're pretty prolific with their own music too, which is a brilliantly abrasive, twisted take on post-punk." Drowned in Sound
"Tight post-punk vibes and highly intelligent songwriting." NARC
'Two Man-Machine': https://clartycat.bandcamp.com/album/massa-confusa-two-man-machine
Website: http://massaconfusa.com
Facebook: https://facebook.com/msscnfs
Instagram: http://instagram.com/msscnfs
The info: Casual Threats
Casual Threats have spent the last year and a half honing their aggression laden post-punk sound on the regional live circuit. Support slots with the likes of rising stars Piano Wire, Forever Cult and Yawning Dog have punctuated a relentless run of shows in the resurgent North East music scene with the likes of Mouses, Coquin Migale, Kobadelta and Plaza which has seen the band steadily hone their sound.
Casual Threats have taken time to meld anger, sadness and passion into their grungy wall of noise; a trait that has cemented them as one of the ones to watch in the North East of England. Mixing such unbridled aggression with a focused depth and understanding of melody, Casual Threats released 'Life From Below' in October on Laundry Service Records, which offers a poignant outlook on the world in 2016. Drawing influence from both historical feelings of betrayal in the North East and more recent political crises, the three piece consisting of Conor, Ollie and Bazz are trying to take stock of what it is to grow up and live in an area repeatedly decimated by job losses and council cuts; but one which still offers hope and a sense of belonging to its inhabitants .
This release is a testament to the band's DIY work ethic; being recorded, mixed and mastered in house by Steven Bardgett (Mouses) and co-produced by the band.
"Unashamedly pissed off, Casual Threats are more interested in making you feel sad, than anything else. But their sound brings some emotional relevance to the fore, which for the millennials, who are awash with shit they need to put up with is incredibly hard." The Pentatonic
"Their pessimistic lyricist make for a sound that is a cross breed between Joy Division and The Buzzcocks." Gigwise
"Jamming post-hardcores dissonant aggression, post-punks wiry experimentation, and Interpol-esque dour melodies into one track is a tall order, but Casual Threats pull it off with confident aplomb." – Independent Clauses
"The Smiths meet Slaves" – Ear To The Ground
Facebook: https://facebook.com/casualncl
Twitter: https://www.twitter.com/casualncl
Musicglue: http://www.musicglue.com/casualncl
Buy: http://casualthreats.bigcartel.com/products
Dates:
Tue 11 Apr – West Street Live, Sheffield w/ Lawman, The Devil in Faust (Fourth City Promotions)
Wed 12 Apr – Maguire's Pizza Bar, Liverpool w/ Scaredycats, Wife's Head, Enamel Animal (Yeah Buddy DIY)
Thu 13 Apr – 1 in 12 Club, Bradford w/ Milk Crimes (Sink Bradford Sink)
Fri 14 Apr – Chunk, Leeds w/ Lo Egin, Man Fantastic & The Hand Of God (Adult Baby)