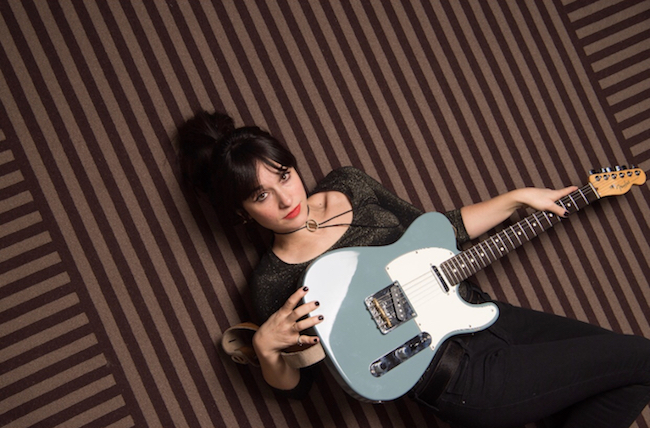 Juanita Stein has announced a full UK tour for this November / December. The Howling Bells frontwoman turned solo artist, who has just released her brilliant new album, Until The Lights Fade, via Nude Records, follows a summer of festivals including Latitude and Green Man, with a busy touring schedule from now into December.
Currently on a nine date U.S tour, Juanita Stein will support Villagers on dates in France and The Netherlands next month before returning to the UK
Dates
November
Sat 17th NOV LEEDS, Headrow House
Sun 18th LIVERPOOL, Sound
Mon 19th GLASGOW, King Tut's Wah Wah Hut
Wed 21st MANCHESTER, The Eagle Inn
Fri 23rd LONDON, Courtyard Theatre
Sat 24th BIRMINGHAM, Cuban Embassy
Sun 25th BRIGHTON, The Prince Albert
December
Weds 5th DEC BRISTOL, Hy-Brasil Music Club
Thurs 6th SOUTHAMPTON, Joiners
Juanita Stein's second solo album arrives less than a year after her first, 'America', saw her exploring the iconography and cultural landscapes of a country that had always fascinated her from afar. Yet, while 'Until The Lights Fade' is cut from the same musical cloth as its predecessor – the crepuscular twang of bar-room guitars, the keening romanticism of its melodies, the sparseness and simplicity of its arrangements – the album's ten songs are concerned with thoughts, feelings, stories and characters rooted far closer to home.
"I feel like the two albums are different sides of the same coin," Stein explains. "If 'America' was the starting point of a journey – the musical equivalent of me spreading my wings, but also treading carefully, trying to figure myself out having come from such an intense period of camaraderie in the band – then this record is me starting to gain a bit more traction, feeling more confident in where I'm coming from and what it is I'm doing."
When the opportunity arose late last year to spend a week in Austin, Texas with the producer Stuart Sikes (Cat Power, White Stripes, Loretta Lynn), Stein explains, "I just grabbed it. When you reach a certain point in life and moments like that appear, you have to go with it. Up til now, everything I've done has always been planned and laboured over, but this album was very impromptu, very spur of the moment – a couple of the musicians I was working with I had only met for the first time that week. It was like nothing I'd ever done before."
This more spur of the moment approach also enabled the late inclusion on the album of Forgiver. Much like the week she spent in Austin, the song – recorded during the downtime between shows in The Killers' mobile studio – was another of those serendipitous moments that Stein felt compelled to make the most of, and the swaggering, streetwise end result once again validates those instincts.