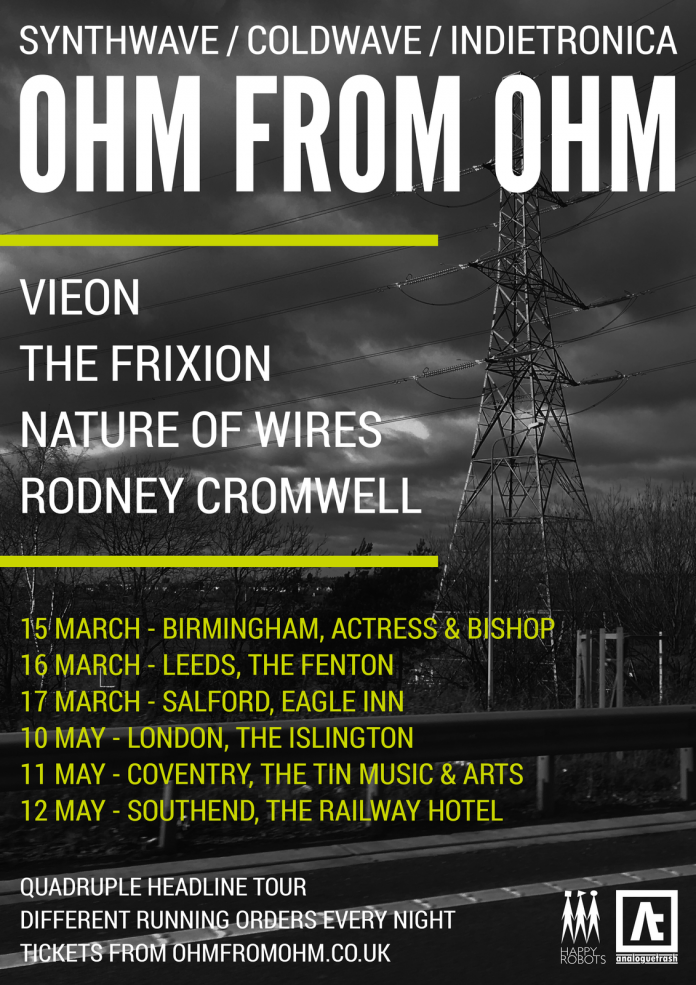 The tour features the acerbic, indietronica stylings of Rodney Cromwell, the brooding, electro-cabaret sounds of The Frixion, the soaring dark electronic anthems of Nature of Wires and the immersive audio-visual spectacular that is Vieon, all combining to present an eclectic and energising mix of electronic music which is sure to entertain. If you are a lover of electronic pop, from the coldwave of Gary Numan through to the spectacle of Jean-Michel Jarre, then this is the perfect gig for you.
Rodney Cromwell
Combining vintage analogue synths, an indiepop sensibility and acerbic wit, Rodney Cromwell evokes the synthpop sound of the past while still sounding forward-looking and fresh. From Catford, Rodney Cromwell is the project of Adam Cresswell, founding member of John Peel favourites SALOON & acclaimed electronic two-piece ARTHUR & MARTHA.
He has been featured by BBC6 Music, RNE3, Electronic Sound Mag, Huffington Post, Electricity Club & more.
https://www.happyrobots.co.uk/rodney-cromwell
The Frixion
Singer and lyricist Gene Serene emerged from Berlin's hedonistic club scene. Synthesist and producer Lloyd Price is best known as a collaborator of SIGUE SIGUE SPUTNIK's Martin Degville and a member of MASSIVE EGO.
Together as The Frixion their sound mines both classic synthpop and Weimar Cabaret to make a unique and engaging soundscape.
https://thefrixion.bandcamp.com
Nature of Wires
Nature of Wires from Herefordshire formed in '86 and until '94 Andrew Stirling-Brown (vocals) & Gary Watts (synths) toured and released music with a melodic and muscular take on the synthpop sound.
A six month break lasted 20 years before their love for music was rekindled. Collaborating with Californian vocalist CountessM they produced their first LP for 23 years "Cyber Rendezvous". In 2016 Tim Powell-Tuck joined the band on drums.
https://natureofwires.bandcamp.com
Vieon
Conceived in 2009 in a box room in Coventry, Vieon is the brainchild of synth wizard Matt Wild. Influenced by pioneers such as Jean-Michel Jarre & filtered through the soundscapes of 80s electronic film scores, Vieon blend the sounds of the analogue past and dystopian future with synth hooks and epic solos to create evolving, emotive, spacey electronic music. Live Vieon create a distinctive, immersive and engaging audio-visual experience that's not to be missed.
https://www.facebook.com/VieonMusic/
More links
OHM TO OHM WEBSITE – TICKETS AND FURTHER INFORMATION: http://www.ohmfromohm.co.uk/
RODNEY CROMWELL video link: https://youtu.be/0RRYNKdSWCw
NATURE OF WIRES video link: https://youtu.be/r489VbszibE
VIEON video link: https://youtu.be/NnxU5_d8Xh8
Dates
15th March THE ACTRESS & BISHOP, BIRMINGHAM
16th March THE FENTON, LEEDS
17th March THE EAGLE INN, SALFORD
10th May THE ISLINGTON, LONDON
11th May THE TIN MUSIC & ARTS, COVENTRY
12th May THE RAILWAY HOTEL, SOUTHEND