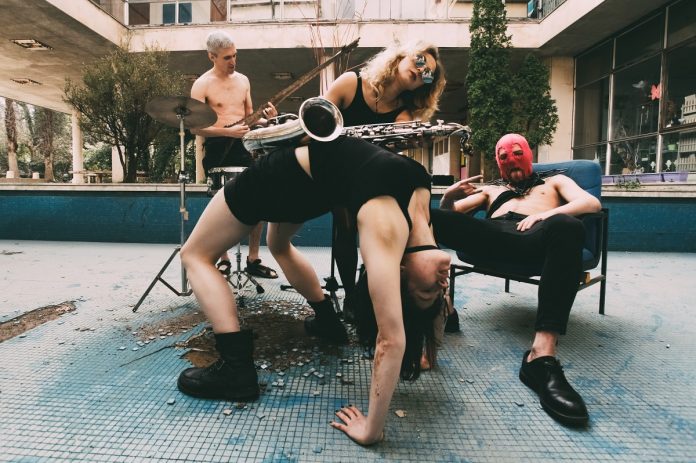 Following a ten night run at the Edinburgh Festival Fringe, the show will be touring the UK, stopping in Newcastle, Leeds, Liverpool, Cardiff, and Exeter. Punk, electronica, theatre, activism, and protest merge in Pussy Riot: Riot Days — the accompaniment to Maria Alyokhina's memoir of the same name.
Pussy Riot need little to no introduction. Ever since 2012 when Alyokhina, along with Nadezhda Tolokonnikova and Yekaterina Samutsevich, were imprisoned for "hooliganism motivated by religious hatred" for their performance inside Moscow's Cathedral of Christ the Saviour, the collective have been synonymous with protest and performance art the world over.
With fevered monologues underpinned by real footage and frenetic noise-punk, Riot Days takes us back to 2012 as Alyokhina and Pussy Riot ascend the altar of Moscow's Cathedral of Christ the Saviour for a guerilla performance protesting the Orthodox Church's support for Putin during his election campaign. Alyokhina then takes us with her as she's bundled into the back of an autozak – a Russian acronym meaning 'automobile for the incarcerated' – recounting strip searches and solitary confinement during her stint in a Siberian penal colony. It's disturbing but defiant, courageous and energising – a testament to the power of resistance and activism.
Riot Days gives you the whole story. How the group stood up against Vladimir Putin and the Russian Church in their support of LGBT rights, and how they became transformed into martyrs for a growing worldwide wave of feminism.
10-19 August – Summerhall, Edinburgh
20 August – The Riverside, Newcastle
21 August – Leeds University Stylus, Leeds
22 August – Arts Club, Liverpool
23 August – Tramshed, Cardiff
24 August – Exeter Phoenix, Exeter