Canadian singer-songwriter Basia Bulat has often been compared to Joni Mitchell and Joanna Newsom. Her first three folk-inspired albums, the first two released by London-based Rough Trade Records, were all in the running for Canada's leading music awards.
Last February, she released her fourth, 'Good Advice'. Trailed as a break-up album and produced in Kentucky by Jim James of My Morning Jacket, the songs represent a major shift from folk to rock, memorable for their 1970s RMI electra-piano accompaniment favoured by bands such as Genesis, Yes, and Deep Purple, and a chorus of female backing singers.
Break-up albums seem all the rage at the moment, with Gwen Stefani's 'This is What the Truth Feels Like' making much of her recent divorce from Gavin Rossdale and All Saints' 'Red Flag' referencing Nicole Appleton's split from Liam Gallagher. The break-up album that has had the biggest impact on me, though, was Sinead O'Connor's 'I Do Not Want What I Haven't Got', which made grieving with a grievance world-famous in 1990.
In stark contrast, Basia Bulat's 'Good Advic'e aims more for an artist's arms-length debrief on her own break-up, although no less emotionally-charged. The album, in fact, provides a thrillingly tense stand-off between passion and detachment.
For me, the outstanding lyric is 'The Garden', which, if used in a feature film, would probably win an Oscar outright for best original song. The chorus: "Oh, don't look back/And if you don't you won't be lost," recalls Bob Dylan's 'She Belongs To Me' with its: "She's an artist, she don't look back." A plaintive saxophone solo perfectly conjures up longing for lost love against which the lyrics fight bravely.
An extensive promotional American tour featured an impromptu 32nd birthday celebration at the Bowery Ballroom in New York City at the beginning of April. Now Manchester's Soup Kitchen hosted the third date of a European tour following a sell-out gig in London.
Bulat is on record as saying that her songs are always written with a view to performance. So it was unfortunate that 'The Garden' was absent from this show, although Bulat has said that she'd love to find a way to do it live.
We were fortunate, though, to have an electra-piano and support from Canadian folk band The Weather Station, whose leader Tamara Lindeman provided backing vocals, with Ben Whiteley on base, Ian Kehoe on drums and Adrian Cook on guitar. Their backing was electric throughout, particularly after the thankless task of performing the warm-up.
The star of the show came out to a heroine's welcome paradoxically dressed in a prizefighter's gold cape and minidress. Playing acoustic guitar, but with loud backing, she launched straight into four songs from her new album.
The highlight of this section of the show was undoubtedly the album's opener, 'La La Lie'. This takes the lilting chorus from Paul Simon's 'The Boxer' and changes the emphasis from the innocuous 'la' to the damning 'lie', as in deceit. Now we have a song about self-delusion, her own above all, a favourite Bulat theme, particularly in relation to affairs of the heart.
Four songs from her previous folk-inspired albums followed, notably the title-song from the second, 'Heart of My Own', which she performed solo. The lyric amounts to a statement of Bulat's artistic intent, which pits woman's traditional role, "the maid or the mother I'll be," against that of the poet, "the light in your verse and the shadow between."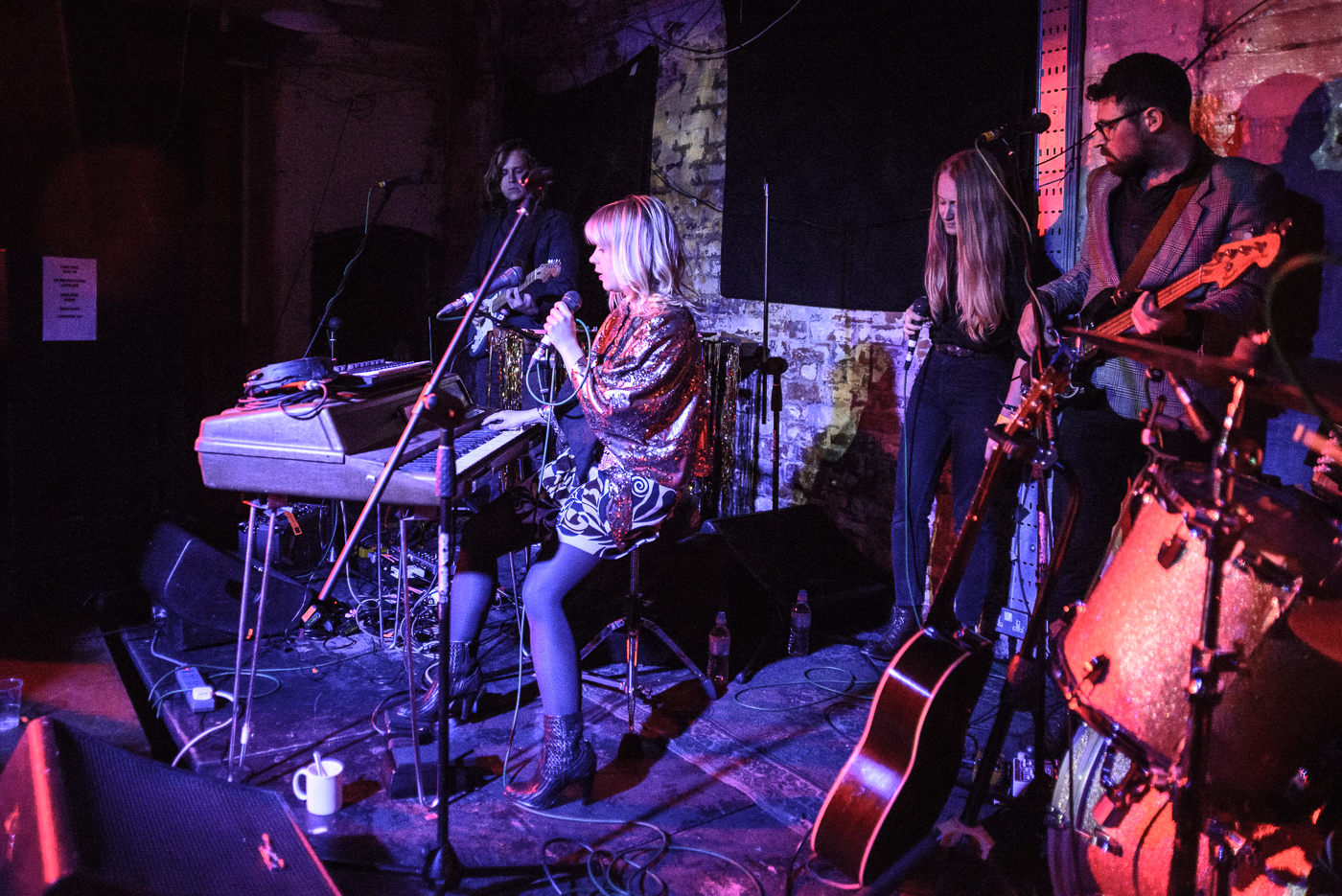 "Just because I wear a gold cape now doesn't mean I don't play folk songs anymore," Bulat pointedly introduced this section of the gig to emphasise that a change of style isn't the same thing as a change of substance.
The poor woman then actually lost her voice while performing 'Gold Rush' from 'Heart', solo on her trademark autoharp. She actually had to take up the song again half-way through. "I'm not used to your British weather," she apologised. Fortunately, the prizefighter managed to battle on with the aid of a cup of tea!
Suddenly, we were back to the title song of 'Good Advice' played by Bulat for all she was worth on that electra-piano with full band backing. Then it was straight into the towering tour-de-force of the title track to her third album, 'Tall Tall Shadow'. This was played solo to baby-keyboard accompaniment. Here was another artistic statement of intent: "Be true or be gone." Powerful stuff, translating Shakespeare's "To thine own self be true" by concentrating on the long shadow that follows those who aren't.
Bulat then returned to the electra-piano to perform 'Wires' from the same album, a song that advises cutting the strings of attachment to celebrity of all kinds, also referenced in the finale to the show, 'Infamous' from 'Good Advice', which just might have something to do with her break-up. To underline that we're all in this together where the human condition is concerned, Bulat then came down into the audience for a little dance with the lady standing right behind me, who looked suitably abashed by the experience.
Then we were into 'Someday Soon', the final track on 'Good Advice'. This is a wonderful song on providing perspective, to relationships, life, whatever. Soon enough, none of this will matter, underlined by Bulat's stomping a capella solo encore of what I took to be a traditional gospel song, a former favourite intro to her shows specifically brought back as our very own send-off.
There's no doubt that Basia Bulat is some performer, one who can communicate with the audience in whatever venue she plays, Manchester cold and damp notwithstanding.