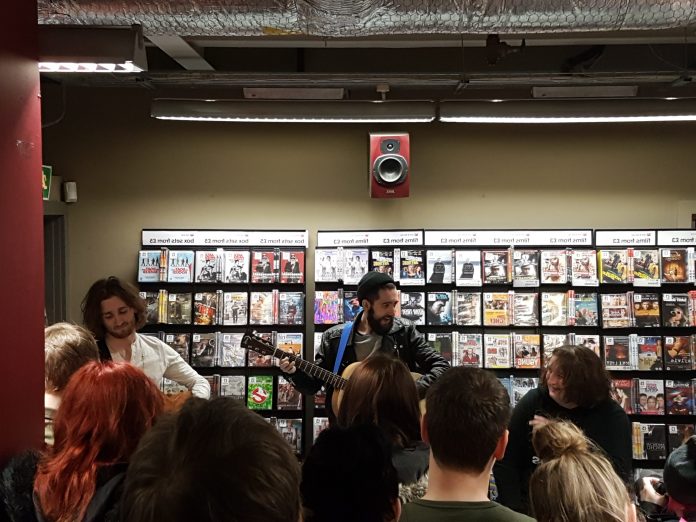 London five piece Eliza And The Bear (named after a poem by Eleanor Rees) released their eponymous debut album this month and were in Manchester on Friday for a sold out gig in Academy 3. Before that though, the band made a brief appearance at the Fopp store in Manchester for an acoustic set. The powers that be at LSF dispatched me to see what the fuss was about.
There is already a queue forming on the stairs when I arrive at the shop and it is apparent to me that I will probably be the oldest person there to see this performance.
Whilst all the band are in attendance downstairs by the DVD section, only singer James Kellegher, guitarist Martin Dukelow and keyboardist Callie Noakes are performing today. Bassist Chris Brand and drummer Paul Jackson are on hand nearby for moral support and gentle heckling.
The truncated group play three songs from their long awaited (five years in the making) debut: 'Light It Up', 'Oxygen' and their best known song thus far 'Friends'. The songs are upbeat and light, heavy on singalong choruses and laden with poppy hooks. The closest comparison I could make would be a mix of Mumford and Sons, but without the flat caps and irritating folk stylings, and Bombay Bicycle Club.
The gig draws a small crowd , consisting of some giggling teenage couples, a few girls and fellas in the group' t-shirts, a 35 year old man in work clothes clutching a newly bought PJ Harvey album (your heroic reviewer) and an elderly chap beside him who is enthusiastically browsing through the 'arthouse' DVD section. At one point he threatens to drown out Eliza and The Bear with his loud exclamations of delight upon finding an apparently much sought after film. "OH YES!" he bellows. "At least I'm no longer the oldest bloke here" I reassure myself as everyone turns to stare at us.
The group belt out their short acoustic set with great energy and enthusiasm and it's clear from the easy banter between them that they are good mates and obviously having a blast tearing round the country. They finish with 'Friends' before heading across to another part of the store for a signing and photo session with the fans. Whilst not a band whose music I would personally be drawn to, Eliza And The Bear are building a strong reputation as a live act and with sold out shows throughout this tour, they look to be set for big things.
Check out our previous live review of the band's Plug appearance in February.