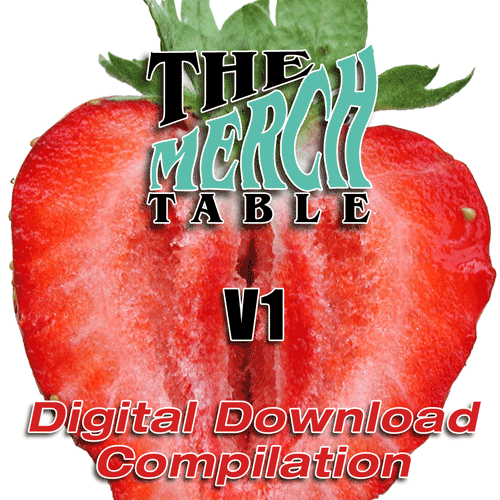 The Merch Table hear lots of great music from unsigned bands and thought it would be a good idea to put a digital compilation together – sell it cheap, give every band a cut of every sale. The songs were chosen from submissions which came from posting ads on social media and also from some artists already selling products on their website.
They say 'It features a mix of genre's which posed a challenge in itself. It's quite tricky getting an album to flow when there are so many styles of music. In fact, one of the things we have decided is that if we can get enough submissions we will do more genre specific releases'.
Compilation VI tracklisting
Tony Lambert – Wake Up
The Heavens – If You're Lost For Somewhere Else To Be.
The Village – For I Am So Old, And I Have Seen The Sky
Electric Midnight – Wait a Minute
Elephant Bay – Wasted Paper Days
Stonedrifter – City of Hope
The Lost 45's – Ivy
Joe Maguire – Birds on the Farmhouse
Newfound Strangers – Saviour
No One's King – Losing
Having had a seek preview of the compilation my particular favourites are The Heavens 'If You're Lost For Somewhere Else To Be'- a really fab slice of psych pop, The Village 'For I Am So Old, And I Have Seen The Sky' – quirky and strange in a really great way and The Lost 45's 'Ivy' – a driving piece of garage rock. But there's nothing here that is filler and the other tracks are definitely worth the absurdly low price. Buy it, and support local unsigned bands.
The album is priced at £3.99 and previews of all the tracks are on the product page.
What's next
The Merch Table are taking submissions for the next compilation here.
About The Merch Table
The Merch Table idea is nothing new, they create a space for bands to sell merchandise, CD's and digital downloads. The thing they do differently is to keep it personal.
Most of the work is done by one man, Danny Whittingham, who has been around the unsigned/new music scene since the nineties. Starting as guitarist with Leeds band Barfly and then joining Bradford based Adorned, Danny now plays bass with Brighouse songwriter Roger Davies. He knows that making merchandise available away from gigs is expensive and, bluntly, a bit of a pain.
They keep their costs to a minimum and only take a small percentage of the sale. The artist takes on average 88% of the sale price. Their enjoyment comes from seeing new music getting out to the public and slowly building up a catalogue on the website.
Artists can create their own accounts and add products as they require, or they can simply email them and they'll do the work.
Links
Website: http://www.themerchtable.uk
Product page: The Merch Table V1
Twitter: https://twitter.com/merch_table
Facebook https://www.facebook.com/themerchtableuk/