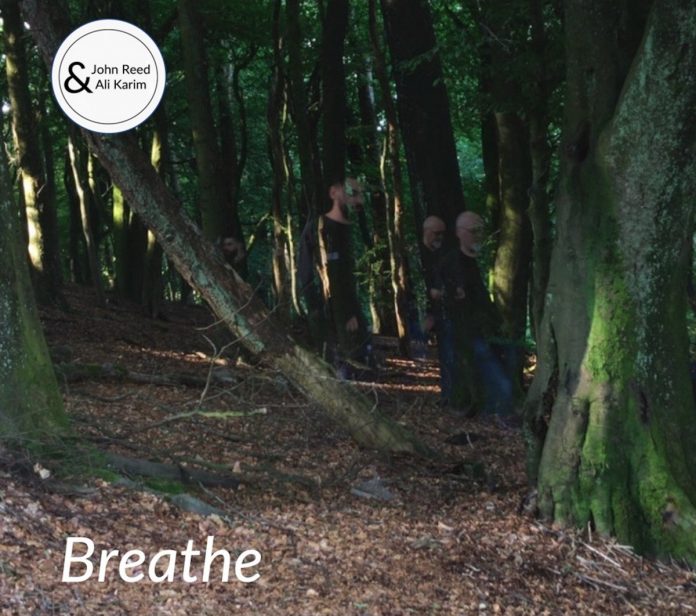 John Reed is progressing on his journey into 'folk influenced music'; this time collaborating with Ali Karim. They emphasise that this is a collaboration of equals; for those of you who followed John's musical work – both with others and solo – you'll be aware that Ali has had input into those releases and live shows.
They say 'BREATHE reminds us that few things are ever truly important, and that without them the point of life itself comes into question. Our VISION is for the album to provide a reflective hour of calm, moments of peace for busy lives.
'We need to breathe fresh air, feel the cool of the trees, and understand the CYCLES of the sun and the moon. We all need SOLITUDE, an existence uncluttered by opinion and influence. We need TIME to see a clear way forward, and to prevent a DESCENT into madness. We need to be WELL'.
Reflecting this the music is a heady meditative mix of John's folk influenced music and Ali's urban sounds. That mix varies across the album; sometimes to startling effect.
Title track 'Breathe' – and album opener – takes John's folk ballad influenced vocal and combines that with an almost religious backing. Gentle guitar, organ-like sounds. The religious feel is appropriate as this is a song in praise of the air that we breathe and our Earth that provides this. There's a moment in this song where I fell in love with it, the moment when the most glorious piano comes in, and takes us to the end of the track.
With 'Solitude' the compelling lyrics force us to ponder deeply on their meaning. It would be better described as a sound piece rather than song – John sing talks the words over a backing of carefully chosen sounds that draw you deep into their soundscape. A soundscape that is both urban and rural, both folk and Urban.
The song 'Vision' explores, at least to my mind, the topic of communication and being, and not being, with people or perhaps a particular person. References are made to what I've interpreted as lockdown. The overall feeling is one of missing somebody or people in general; at times getting a glimpse of them that vanishes as quickly as it came. The words are moving and come from the heart. The music is atmospheric and gently Urban.
Atmospheric washes of sound sweep through 'Descent'. The words speak of a path; this path perhaps represents our journey through life. And as the song goes on the washes of sound build into a sophisticated urban track – layers of sounds and beats arranged carefully. We are feeling our way along that path, then striding towards an unknown end. For me it has a hint of the spacey feel of say the soundtrack to Bladerunner.
'Encounter' lyrically takes the form of a story; a mysterious encounter. Musically it melds folk sounds and that urban electronica into something that is so much more than the sum of its parts. It's sonically complex, the music reflecting the story. It seems to shift between the strange creature encountered – electronica – and the person having the encounter – a progressive folk sound. Quite how you'd describe this I am at a loss to do; the complexity and 'story-telling' form of the music has something of a 'prog' feel, there's clearly both a folk and Urban feel. Progressive urban electronic folk perhaps. However we are going to refer to it it's filmic; you can see the encounter described.
'Cycles' seems to describe a scenario where the insects take over the Earth. The vanguard of the other much more numerous inhabitants of the Earth. Musically washes of sounds are overlaid with what I can only describe as 'tasty guitar. And this my friends is some out-there stuff. It's dark and mournful. There are echoes perhaps of Pink Floyd and even Led Zeppelin in the music. Startling, moving and quite scary if I'm honest.
There's a return to a more folky feel with 'Time'. The song meditates on somebody reflecting on a person who is no longer there. It does this in direct and strong words. Musically it starts in a strongly strummed acoustic way (this may in fact be John's instrument of choice, the cittern) but it builds into a full on electric feel. An electric guitar almost seems to improvise under the vocals; reflecting the words, the feel. It's a heady sound that you just can't help but feel 'somewhere deep inside'.
'Well' is a hymn to all that is us, the world we inhabit and the Universe. Of how the good and bad are all part of the same thing – life. It melds Eastern sounds and folk. It uses drones to carry the song through. There are hints here, although not bombastically, of Led Zeppelin in Eastern drone mode. But wait, there's more. There are dramatic changes in feel – at one point that strong folky strum builds into an almost grunge sound. And all of this is dome seamlessly, it's not jarring at all. Frankly fabulous.
This collaboration of John and Ali has allowed them both to take what they've done before to places that amaze, and to push through the envelope of their folk/urban sound to something beyond, to places that are unexpected and are beautiful, atmospheric and huge.
The fact that they have allowed themselves to stretch the songs – these are long songs, they go beyond what we'd call a song to being a piece – gives them space to experiment, to develop, for the music to take on different feels. And this is a wonderful thing.
This is an exceptional album of music played by two talented musicians; who, despite coming from different places musically, have made their own sound. The icing on the cake is the words which are compelling and meaningful, and make you think.
If this is where the two of them are now, I can't imagine where else they'll take us. Wherever that is, it'll be wonderful.
The info
John and Ali say:
This is a fusion of styles: John's progressive folk with Ali Karim's urban-indie. Working together on various projects over the years has created an intuition between the two, so Breathe can be seen as a folk album with hints of urban or an urban album with a folk twist. Its aim is simple: to encourage people to sit back for 47 minutes and just soak in the sonics. Listeners can interpret the lyrics as they wish, and we hope they bring comfort and peace to their lives.
John has been involved with music since his teens, but took a long hiatus to raise and support his family in a 30+ year career in international trade. He bought a cittern in 2014, which sparked a song-writing spree that has since seen the release of three albums (one a double) two EPs, and a collaborative album as Nightsong with Ali Karim and Jo Beth Young.
Ali Karim was bass player with the Manchester Indie band Fear of Music for three years from the age of 15. When the band split, he pursued a career in sound engineering and production, learning his craft in the studios of Trevor horn, John Leckie, Dimitri Tikovoi and others. When he met John in 2015, Ali's main work was with urban music, producing for Manchester grime artist Bugzy Malone who he also managed for a couple of years and has more than 5 million streams and several number one records to his name.
Neither of the two are especially interested in putting their music in convenient boxes, believing that it stifles creation. With Breathe, they took off the gloves and challenged each other to play new instruments in a recording process for each song that saw first mixes created in a single day from just a set of lyrics. Tracking was done live for each instrument and vocal so recording days were pressurised and frenetic but also fun, and the result is something really quite beautiful.
So cast aside thoughts of genre, and just enjoy 47 minutes of peace. Give yourselves time to Breathe.