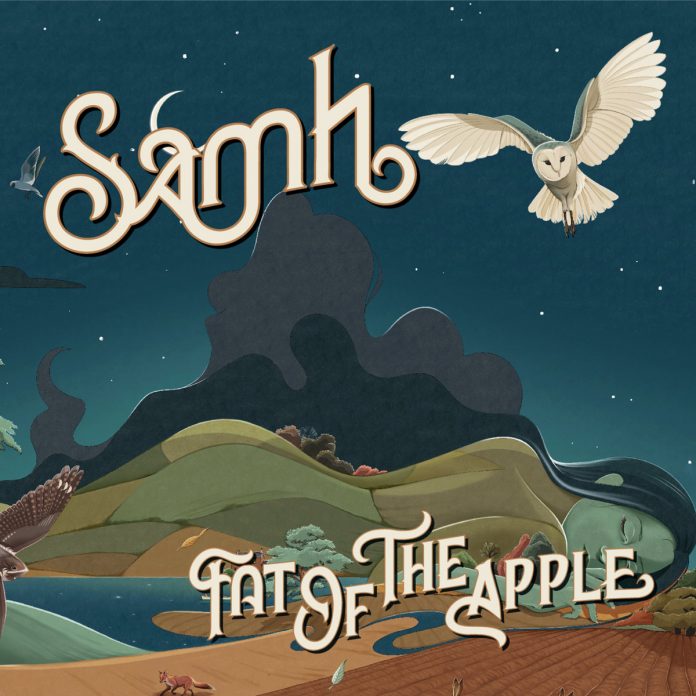 I've been reviewing releases from Samh for a while now and they are one of those bands whose musical output is, let's say, varied; folk, rock, dance amongst others. But the kicker here is that while on first listen a track may sound like a certain genre there's a twist; their sound is warped and slippery, genre defying.
It also comes with intelligence, great musicianship and a great deal of care and love. It's also worth saying that Samh are an 'underground band' with a cult-like following who don't play that many gigs. I also have to admit that even though I live in their hometown – Huddersfield – I've yet to catch them playing sadly. For which I can only apologise.
'Fat of the Apple' opens with 'Split the Sky'. If you can imagine a sound that is close to Radiohead playing Nu Folk with hints of psychedelia and indie, this is it. There is warpedness to the sound – drums and bass seem to be playing out of time (but aren't). The music twists and slips out of your grasp at every moment. One moment it seems to be going to folk and then psychedelic jazz keys stab out, you think it's going to keep on sounding like it is and then outrageous guitar comes from nowhere.
'Layered Lands' sounds of all things like one of those mannered pop sounds from the 80s. However it also has a chorus that sounds like Crosby, Stills and Nash and guitar that sears. And a break that features a rumbling guitar. Quite how you'd describe this in a pithy way I have not the faintest idea. The sound is layered, the music weaves in and out of itself but it has the most wonderful tune.
That CSN feel returns with 'Early Bird'. Richly layered sections follow sparse sections. But then again it isn't as simple as I describe it; warped picked guitar, drumming that doesn't follow the beat at times. The vocals on this track amaze; layers of vocals, a lead vocal that not only sings the words but is yet another layer of sound – that you can hold onto, that guides you through the song.
'Woodwork' sounds, in contrast to those many layered songs that came before, simpler. The best way I can describe this is that it has a warped beauty. Hints of folk mix with jerky alt-rock. It's haunting, somehow it gets to your soul and stays.
At an epic 8 minutes 'Atoms' is a musical exploration, a journey. A track that builds through feels and sounds; centred on a halting beat. There are hints of that somewhat disjointed sound of The Incredible String Band, It is gentle and then strident. At one point it sounds like 'Next' (a Jacques Brel song covered by The Sensational Alex Harvey Band) and then it mutates into a sweet sweet song with a strangely disconcerting spoken voice. It is strange, it's weird, it's strangely weirdly beautiful.
After 'Atoms', 'Keeping Waves' feels like an interlude. The easiest way of summing this track up is that this is Samh's take on psychedelic pop. Echoey vocals float over a halting beat.
'Bluebells' takes that feel and slows it down. Vocals from a distance, Sounds sweep over you, vocal harmonies wash over you, soothing your soul. It is both ethereal and carefully richly layered. It draws you in. And yet it changes, slowly almost without you noticing; it turns into psychedelic folk-rock.
Waves of sound take you into 'Breathe in Good', a gentle acoustic and then a voice. It's folk, yes but not as you know it. Progressive folk or perhaps Nu Folk. It's perhaps the most immediate song on the album because it's actually quite simple. But simple is difficult to do well. This is done incredibly well. It has a simple beauty that you connect with.
'Toadstool' has an 'Alice in Wonderland' theme. It's appropriately crazy. It has horns, in a Spanish way. Then suddenly it goes all klezmer. Joyful.
'Animals' is a song of two parts. The first is plaintive – voice and plucked guitar. It has something of an alt-folk feel to it.Being the old hippy that I am (and that's something I have to confess to) I hear hints of Incredible String Band and Nick Drake. This part of the song is beautiful. But then it changes, it starts to build into something almost AOR-ish. His vocals change – I hear hints of Roy Harper at his most angry and Peter Gabriel – It does, but not in a screechy guitar sort of way, rock out. There is a pulsing organ. Drums pound.
Closing track 'Giants' is the most fabulous ballad. Horns are plaintive. It is gentle then suddenly turns to a jazzy rawness, something with the toughness of a troubadour. And then it's jaunty; horns are full of joy.
There are two things I've yet to address in this review. The first is that this sort of complex, experimental at times, music that blends and merges genres isn't going to be any good unless the playing is way up there, and it is completely.
The second is the words. The album as a whole 'explores the place of humans floating out in space on a rock, as both completely insignificant and immensely meaningful. Bouncing ideas from some of the greatest thinkers of the last few thousand years, "Fat of the Apple" merges science, philosophy, religion, and psychedelia to create a thoughtful concoction of medicinal Music'; and this requires lyrical depth. The words are compelling – sometimes easily understood, sometimes requiring more time to ponder on. More time, I have to admit, than your reviewer had. However these are songs that can be interpreted in different ways according to who is listening to them. The music is the thing that draws you in, compels you to listen to the words.
It would be easy to say that this is music that is idiosyncratic and strange in places, and therefore is going to be enjoyed by people who like their music to have a hint of the strange. And yes, it is strange in places. But in reality this is music that is all the things that music can be – joyful, haunting, sad, heartfelt – that comes in it's own style rather than a genre. You can hear the influences that have been blended into something wonderful; but that isn't the point, the point is to listen to the whole.
Up until now I have only reviewed singles from Samh; and those have left me stunned. This album is almost too much. The individual songs are fabulous but it's the album as whole that is overwhelmingly lovely. This is one beautiful thing.