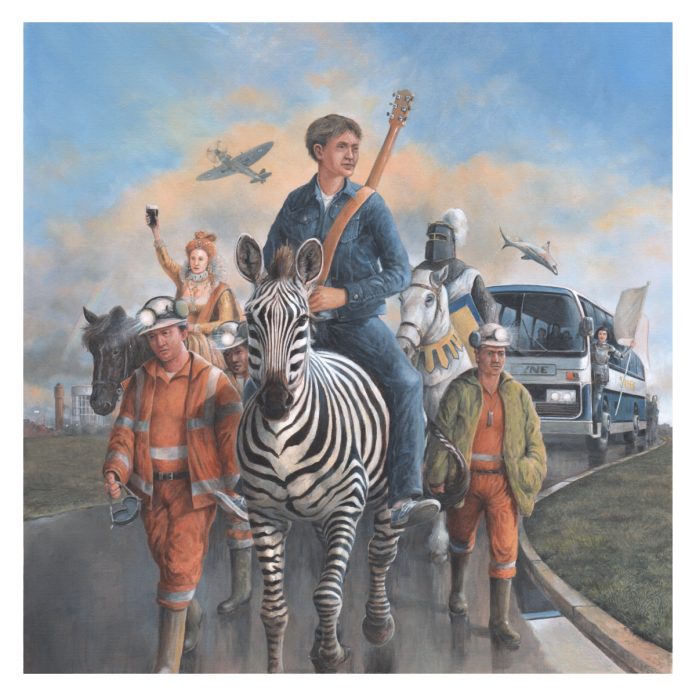 Aah, those purveyors of carefully crafted songs, Sandra's Wedding. A band who can always be trusted to produce the goods – tunes to die for, words that deserve a second (or third or fourth) listen and musicianship (Is that a word? You know what I mean) that can't be faulted.
With the opening track, 'The Hopeful Boy Replacement Service', you know what you're going to get from the album – classy songs with words that come with a touch of something that's going to make you smile. Musically the song comes with these touches of special things that lift it above. It may sound like the average acoustic driven song that sits somewhere in the pop area, but wait a minute, listen to that lush as you want production and layers of sound.
The thing about Sandra's Wedding is that they have the capacity to surprise, to shift gears. They do this with 'Rum Life'; a song that sits – in a very good way – in the intersection of Squeeze and 60s' pop. Yep there's a catchy tune and those great words but there's also some really unexpected off-kilter organ.
With 'French Girls' the band slip into something that comes with a touch of art-rock, a hint of West Coast Yacht Rock – big chorus and harmonies. It's weird and it throws you for a moment. 'The Post-Disneyland Blues' comes over all wonderfully 80s' soft rock while – as you can see from the title – the words are not at all 80s' soft rock. It ever has the classic vocal and piano dropout ending. Lovely.
If you can imagine The Housemartins doing a cross between a vaguely early 60s pop peppered with the strangest synth stabs and the odd out there guitar solo, then this is 'Laughing My Head Off'. While this may sound way too confusing musically, it isn't, strangely it all makes sense.
Following this is one of my fav tracks 'The Running Joke'. Beautiful vocals, a gorgeous cascade of picked guitar. A feeling that it is going to blast off at one point but doesn't, and that's the wonderful thing.
Another fav is 'For The Benefit Of The Tape'; a voice and piano ballad, a big ballad. What this song is about, and I promise you I've tried to work it out, I have not the slightest idea but that will come at some point, suddenly I'll get it. Until then there's this beautiful song, a song I have grown addicted to.
The album closes with 'The Berlin Wall & Other Stories'. This is the epitome of the big album closer. A song that builds musically, that starts wistfully and becomes bigger and more insistent. It builds again, passing through something that you just MUST listen to to believe, and ends with so-so gentle guitar. It's utterly lovely, and I have fallen for it big time.
I expected this album to be outstanding, and it was BUT it was better than I expected. With every release from the band there is something that is unexpected. In this case, it's something I can't exactly put my finger on, it's not one thing it's a whole load of what sports coaches call marginal gains.
Look, if you love carefully crafted clever songs with great tunes that sit somewhere in pop, this album is for you. These are songs that are not flashy, they are just wonderful songs that quietly impress you, get into your head and compel you to listen again and again.
Buy Vinyl: https://sandraswedding.bandcamp.com/album/the-hopeful-boy-replacement-service
Buy CD: https://subjangle.bandcamp.com/album/sandras-wedding-the-hopeful-boy-replacement-service