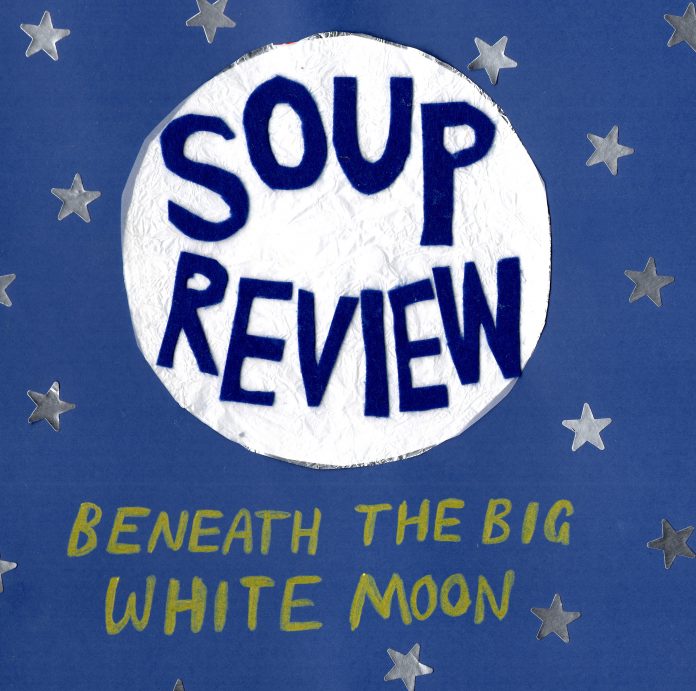 Soup Review are Chris Delamere and Mario D'Agostino who are based in Sheffield. They play folk/ant-folk/alt-folk sounding songs with sometimes a touch of laugh out loudness, that are sometimes wry, and sometimes set out to tell stories of everyday folk. What they are not, and I'm going to take ownership of this opinion, is a comedy folk/anti-folk/alt-folk duo.
I'm going to admit that it took some time to come to the decision to review this album. I wasn't at all sure about it at first, and it took going back several days later to change my mind. I'm guessing I just wasn't in the mood for it at first. My helpful friend is still oscillating between 'this is so so good' and 'I'm just not sure it works all the time'. But that's OK there's no compulsion to like an artist or even a release from an artist you generally like.
That said, let's dive in.
The opening song 'Hello World' is about the loneliness of space and Twitter. It obviously owes something to Bowie's 'Space Oddity' both lyrically and musically. When I say musically I don't mean that it takes sounds from it but there is a rather distorted Stylophone sounding 'break'. It appears to add in the existence of Twitter to the story of Major Tom who is obviously not as distanced or lonely as a result. I think I would describe this as both gently humorous and a comment on society. Musically it stills somewhere between folk, the acoustic songs of The Beatles and a slower acoustic version of early REM (a sound that reappears at times on the album).
'Grauniad Angel' is a rather jaunty song. The problem is that for the life of me I can't work quite what the bloody thing is about. It's obviously about something, it's not just a random collection of words. Look I have two theories, one the song is about the subject of the song meeting a Guardian reader and having a relationship, or two that his empty life was made better by reading Guardian. Or it could not be either of those. Still it's fun listening to it, over and over, trying to figure out the words.
A more mainstream folk sounding song 'Intoxication Pact' is about two brothers trying to get through a dreaded family dinner and more broadly on the topic of friends. And yes, while the words will have you smiling, there is a deeper message there, something more heartfelt and meaningful.
While the premise of 'Gazza' may be at first sound rather superficial; it's about a father telling a son that Gazza won't be going to the World Cup, it takes that as a starting point to explore deeper issues – the inability of men to show real emotion for one, only showing it over things that they may not consider to be that important. This makes it rather poignant. Musically it's folk influenced but a richer more sophisticated sound. There's great guitar. An album highlight for me.
And now we come to the song that I first heard from Soup Review – 'Stars In Their Eyes on SSRIs'. I think this may be something that caused the uncertainty about whether I should review the album as a whole. This is what the band say the song is about – 'Mental health battles are confronted fearlessly and with a humour only gained through experience. This track sees Soup Review present a mental health manifesto that combines pop star escapism with cognitive
behavioural therapy'.
This is quite a big thing to tackle in a song that actually is quite humorous And I'm wasn't sure that humour was the way to do it. And before I go on I should let you know that I have a mental health problem; that colours my opinion of the song obviously. The thing is I've changed my mind; not completely on my own, I did ask a few people what they thought. The thing is that humour is a way to approach mental health issues. The idea of presenting CBT as a person on Stars In Their Eyes is not quite as ridiculous as it may seem.
There are two tracks – 'Uncle Armando' and ''Wikipedia Grandad' – where the duo ponder the lives of their immigrant forefathers from Italy and Ireland, and the long-reaching effect of ancestral identity. These are – obviously – deeply personal and emotional songs that are about their families but at the same time tell a universal, and important, story. And they are both lyrically and musically beautiful.
'Ballache Hotel' has something of, as you might have guessed, 'Chelsea Hotel'. Although it's clearly, or perhaps not, about the condition of rented properties and their landlords. It is wryly humorous but also hard-hitting. One might almost describe it as a protest song.
A story song 'Orion's Elasticated Waistband' describes a wandering journey home after a night out, taking in kebabs, laughter and awkward goodbyes. Musically it sits in an almost country/folk rock space. It's lovely, simple as that.
The album's closing track – 'Jellyfish Population' – is a somewhat complex song. On one level it could be taken as a song about jellyfish and the sea but on the other it can, and probably should be, be taken as a song about being afraid of the outside world and the people in it. I have to admit it took several listens to come to that. The thing is that as I began to realise what the song was about I firstly personally related to it, and then had a deeply emotional reaction to the song. It's simple, just voices and guitar and all the more effective for that. I didn't expect a song this emotional, this beautiful.
The album is a lovely collection of sometimes humorous, sometimes poignant, songs. And, being honest, at times the song titles may not reflect that. The songs are fantastically put together, musically great, and the duo have wonderful voices..It's not the first release this year that has surprised me with how much I have grown to like it, but it is the most surprising.
Listen to this. Listen to it with an open mind. You won't regret it.
The album is available in a limited edition vinyl release here: https://soupreview.bandcamp.com
It comes in a locally printed cover made from recycled materials with a printed inner sleeve, a hand-drawn inlay by Mario, a CD and a Download voucher. This edition will be strictly limited to 300 copies!
The info
Soup Review are what happens when South Yorkshire meets South Coast, when folk tradition meets anti-folk downbeat self-deprecation.
Chris Delamere is the son of a morris dancer. Mario D'Agostino arrived in Sheffield from Weymouth, via art college, with a love of DIY culture, anti folk music and a collection of recipes from his family restaurant. Together they write songs that masquerade as comic, but on closer listening reveal themselves to be a deep and poignant exploration of the human condition.
The 2018 debut album, 'From The Bed To The Settee (and Back Again)' was the cornerstone to their distinctive songwriting and music making style. Soup Review live gigs have included freshly prepared soup as part of the ticket price, with an audience review conducted during the show!
Beneath the Big White Moon is a continuation of their distinctive approach to a life lived through music. This collection of songs continues to tell their stories in a way that is both hilarious and heartbreaking. The combination of wit, wordplay and narrative draws us into their world and we find ourselves at home there.
The music is quirky and even whimsical as they celebrate and elevate the everyday and the banal through their music and lyrics, sharing their world and their preoccupations and anxieties in a way that we can all recognise and appreciate.
You can't help but be moved emotionally too, as they negotiate their way through awkward family occasions, drunken nights out, father and son relationships, family history and dodgy landlords. This collection of songs are an attempt to 'make the funny parts funnier and the sad parts sadder'.
By using an array of guest musicians they are able to bring a range of influences to this recording. You will hear Lo-Fi and Anti-Folk, traditional folk, Indie Rock, Pop and Country.
Singer songwriter friend Rhiannon Scutt, Ben Hall of Mr Ben and the Bens, BBC Radio 2 Folk Awards winner Rowan Rheingans, Francis P. Brady and former Reverend & The Makers guitarist Tom Jarvis are part of the musical lineup. Chris's uncle Andy Delamere, fourteen year old Flynn Hudson-Dean and Royal College of Music scholar James Burton take turns on the drums.