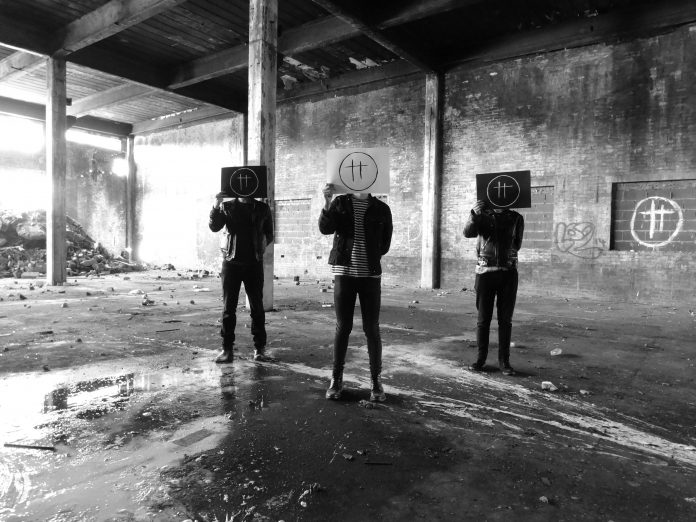 You never know quite what you're going to get when a band describe themselves as post-punk; it covers as the band themselves say 'a multitude of sins'. Vukovar are a post-punk band but that's post-punk in the original post-punk way for at least some of the time. You know – Joy Division, Siouxsie and the Banshees, Gang of Four, Sisters of Mercy – that sort of thing, but then you find yourself thinking of the more esoteric musical products of Tom Waits, hints of The Band of Holy Joy, then psych, and then …
The problem with reviews is that we are charged with giving you some idea of what a band sounds like. With Vukovar the only way I can do this is to list a huge number of bands – some of which date back to my youth in the late 70s and 80s – which would just make it sound like it's a mess. Where in reality it's far from a mess, it's a carefully crafted set of songs. Luckily you can preview the songs on Bandcamp (which I have embedded below).
The music is bass heavy, shards of guitar, gunshot drums, strange keyboards. There's shouted vocals, whispered vocals, spoken passages, ethereal backing vocals. It bites deep into your soul. It's intoxicating. It's magnificently majestically gothic – not goth, there is, of course, a difference. Although on reflection …
Vukovar are from 'the brutalist wastelands in the North of England' which doesn't help us pin them down geographically but does help us sonically. There is a bleak brutal element to their music but this is contrasted with, as we will see, by a delicate sweetness. 'Voyeurism' is the band's second album. They describe it as a soundtrack to a film that's not yet been made (you can learn more about this on their Bandcamp page). And yes, it does have a certain film soundtrack quality. You're going to get the most from this if you listen to the whole thing, it deserves that dedication.
As the titles roll we hear 'You're Not Alone'. It's an introduction, a scene setter. Perhaps it is telling us, the lonely listener, that we have the band with us. In doing that it reminds us just how alone we are. What it doesn't do is indicate in any way at all what the rest of the album is going to sound like.
After this tone poem the first track proper 'Masterpiece' is going to be shock. It opens with a walking blues bassline, a ringing guitar motif. Disconcertingly it speeds up and down. There's what we might call a 'range of vocal techniques and sounds'. There is rather splendid use of metallic sounds. Listening to it I find myself imagining whirling round and round.
'Quiet' is where I found myself thinking of Tom Waits. It's almost impossible to describe, the best I can up with is mutant jazz. It's all sparse keyboards, weird shouted vocals, jerkiness. Oh and there's a spoken 'found' introduction too.
Then there's two short tracks 'Into Your Arms' and 'The Fog' which I can only describe as beautiful. I will leave it at that.
'The Blood Garden' in stark contrast to its title is a sweet delicate song that's to be frank psychy. It had me thinking of the Polyphonic Spree, but it's so much better people. This is a song of two parts – the first slow and the second fast. You'll be swaying and then dancing madly.
And then we come to the nearly nine minutes of 'Irreversible'. You are going to be battered by this. It's bass booming, metallic cymbal, nasty synth sounds. Virtually monotone vocals – except there's a moment when the singer almost loses it halfway through, he sort of has to bite off a chuckle. It builds and builds to screams, yelps, washes of noise and tapers out on a nasty synth pad. The first time I listened to it I thought bloody hell that was lovely. Vukovar do that, their music is terrifying but lovely all at once.
'Little K.'s Final Reflection' – the final track – is … is … just to impossible to describe. It's psychedelic post-punk. It swirls, it jerks. I would go as far as describing it as epic.
This isn't easy music, it's music that you need to listen to, I mean really listen to. It's complex. You need to put the time in. Do this and it'll reward you.
You can buy the digital downloads of the album from their Bandcamp page but the album is also available on CD which comes in a luxurious velvet bag.

Upcoming live dates in or near our area
9th July The Willow Festival
15th July Zanzibar, Liverpool
10th August The White Bear, Barnsley
19th August Wigan Live Festival
17th September ZooBar, St Helens
24th September Maguire's Pizza Bar, Liverpool
12th November Golden Lion, Todmorden