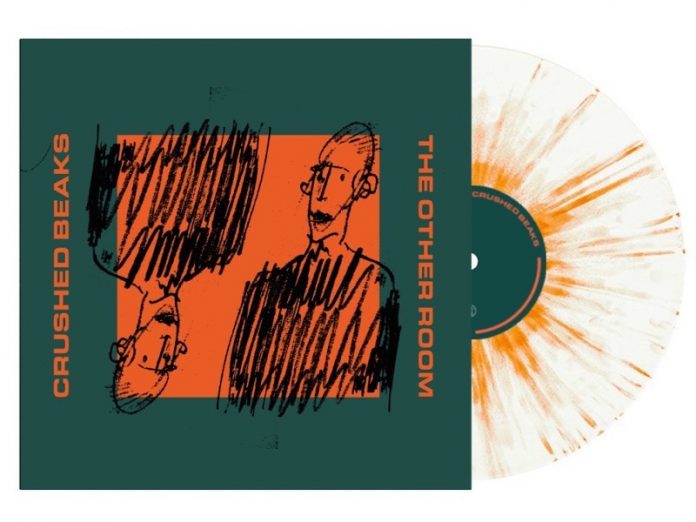 It's been four years since south London-based Crushed Beaks released their debut album, 'Scatter', but with new album 'The Other Room', the band return in a confident mood. The vocals are more direct, lyrics more incisive and the overall theme of the album more confrontational. However, this confidence shouldn't be mistaken for bravado, there is subtlety and introspection running through the album, even in the more direct tracks.
'Honesty Box' is the lead single from 'The Other Room', an instant and direct blast which bursts into life with full force before Matt Poile's vocal soars in with opening line: "I got ahead of myself, it's only a dream that I had". The track will be released digitally on 17th May.
'The Other Room' will be released on 2 special vinyl editions, one a clear vinyl with orange splatter, the other a transparent orange vinyl. 150 copies of each are available to order from www.cluerecords.com.
Never ones to rush into things, the songs for the new album were written in a windowless studio in east London over the course of about two years. "I lost track of time" Poile says. "It was easy to feel completely cut off and unselfconscious about what I was doing because the room had this huge metal door and thick concrete walls." He spent over a year recording and refining demos alone before bringing bass player Scott Bowley and new drummer Tim Watkins back into the fold to work out how to play the songs live.
Having caught the ear of producer Matt Peel (Eagulls, Menace Beach) at a Halloween show with Metz and Mitski, the band relocated to his studio, The Nave, in a converted church in Leeds to record the new album over a two-week stretch. Peel produced, mixed and mastered the record. While their debut was created with minimal equipment, 'The Other Room' finds the band making full use of the studio's wealth of analogue gear. "We were like kids in a candy store, we went from having one amp and a couple of pedals to being in this insanely well-kitted out space" says guitar player and singer Matt Poile. The result is a huge step forward for the band – the hooks hit harder and the fuzz gets twisted into wilder new shapes.
Tour dates in support of 'The Other Room' will be announced in early summer.
The band are made up of Matt Poile (vocals and guitar), Scott Bowley (bass) and Tim Watkins (drums), who joined shortly after the release of their debut album. They began life as a two-piece in 2011 – Matt and previous drummer Alex Morris having known each other from secondary school and university. They formed after some of Matt's bedroom demos received buzz online, eventually recruiting Scott to flesh out their sound. They released their debut through Moshi Moshi