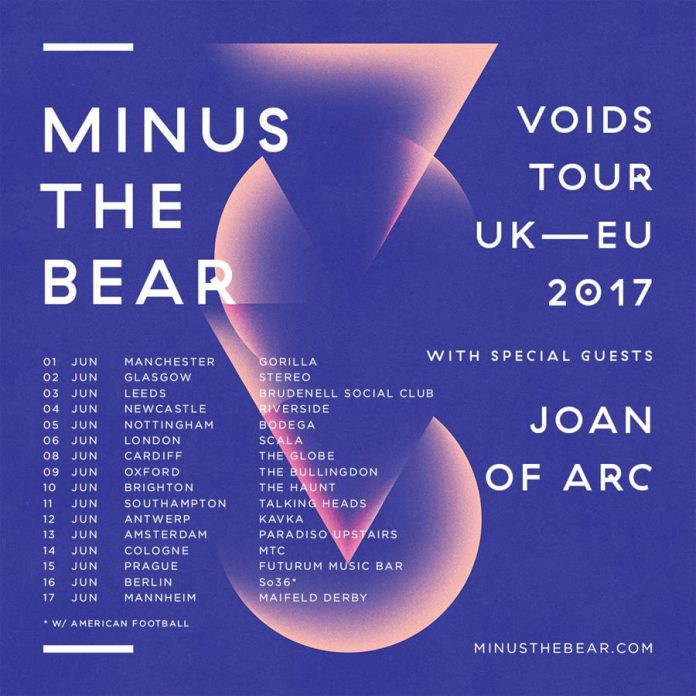 'VOIDS' is the Seattle band's sixth full-length album, and first new LP in half a decade. It also marks the band's return to their original label home, Suicide Squeeze Records, a longtime pillar of the Emerald City's vaunted indie rock scene.
Pre-order VOIDS and purchase exclusive pre-order bundles via Suicide Squeeze Records and MinusTheBear.com
For the past 15 years Minus the Bear have made music on their own terms while carving out their own unique musical world, selling over 500k records in the process and playing to countless sold out crowds along the way. This isn't to say they're impervious to outside influence. They've borrowed components from a wide swath of genres—the brainy clangor of New York's proto-punk scene, the cerebral buzz of IDM, the poptimist evaluation of hip-hop and R&B, and the grandiose visions of prog rock—but always managed to defy classification.
Throughout the first decade of their existence, every new album offered a new musical approach, as seen in the idiosyncratic fretboard gymnastics of Highly Refined Pirates, the glitchy loops of Menos el Oso, or the modernized Fripp- inspired wizardry of Planet of Ice. By the time the band entered our current decade, their knack for reinvention yielded to an emphasis on refinement. Albums like OMNI and Infinity Overhead searched for a middle ground where their myriad of stylistic approaches could all work within the context of a single record.
On their sixth album VOIDS, produced by Sam Bell (The Cribs, Weezer, Bloc Party, Two Door Cinema Club), Minus the Bear started with a blank slate, and inadvertently found themselves applying the same starting-from-scratch strategies that fueled their initial creative process. "There was a lot of change and uncertainty," says guitarist David Knudson. "I think the general vibe of emptiness, replacement, lacking, and longing to fill in the gaps was very present in everyones' minds."
Change was everywhere. Keyboardist/vocalist Alex Rose took on a more prominent role in composition and handled lead vocal duties in Jake Snider's stead on songs like "Call the Cops," "Tame Beasts," and "Robotic Heart," drummer Kiefer Matthias joined the fold, producer Bell lent a fresh set of ears in the studio, and the band returned to their original label home at Suicide Squeeze Records. Minus the Bear were no longer swept along by the momentum that had driven them for the last fifteen years. Instead, they reached a point where they could recalibrate and redefine who they were as a musical entity. The resulting album VOIDS retains many of the band's signature qualities—the hedonistic tales of nighttime escapism and candid vignettes of adulthood, the savvy up-tempo beats, the layered and nuanced instrumentation—while simultaneously reminding us of the musical wanderlust that initially put them on the map.
Minus The Bear is Jake Snider (vocals, guitar), Dave Knudson (guitar), Cory Murchy (bass guitar), and Alex Rose (synthesizers, vocals).
Suicide Squeeze Records is proud to release VOIDS to the world on March 3rd, 2017 on CD, LP and cassette. The first pressing of the album is available on 1,000 copies of Electric Blue (Minus The Bear exclusive) vinyl, 5,000 copies of splatter colored vinyl and 5,000 copies of 180 gram black vinyl. The LP jacket features PMS inks, a die-cut cover with a printed inner sleeve and contains a download code. The cassette version is limited to 500 copies and also includes a download code.
They will play the following dates:
Thu 01 Jun – Manchester, Gorilla
Fri 02 Jun – Glasgow, Stereo
Sat 03 Jun – Leeds, Brudenell Social Club
Sun 04 Jun – Newcastle, Riverside
Mon 05 Jun – Nottingham, Bodega
Tue 06 Jun – London, Scala
Thu 08 Jun – Cardiff, The Globe
Fri 09 Jun – Oxford, The Bullingdon
Sat 10 Jun – Brighton, The Haunt
Sun 11 Jun – Southampton, Talking Heads
Mon 12 Jun – Antwerp, Kavka
Tue 13 Jun – Amsterdam, Paradiso Upstairs
Wed 14 Jun – Cologne, MTC
Thu 15 Jun – Prague, Futurum Music Bar
Fri 16 Jun – Berlin, So36
Sat 17 Jun – Mannheim, Maifeld Derby
Tickets will go on sale at 10am on Friday 3rd March via MinusTheBear.com