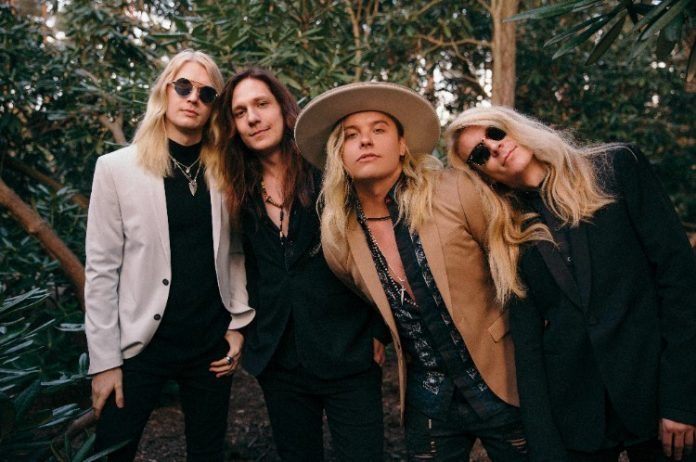 Praised by Rolling Stone magazine as "One of the Top 10 bands you need to know in 2017" for their "debaucherous, flamboyant flair," Santa Cruz is a Finnish modern hard rock band formed with the mutual aspiration of playing their rear ends off and grabbing your attention. Inspired initially by the likes of Motley Crue and Guns N' Roses, the young group developed a strong buzz through stupefying live shows and two well-received albums on Spinefarm Records where they took their throwback hard rock sound and combined it with elements of modern rock, punk and metal, put it in their own special blender, then iced the mix with blinding energetic performances and a healthy dash of attitude.
Now partnered with new label M-Theory Audio, Santa Cruz are set to release their third studio album 'Bad Blood Rising' on 10th November, which showcases a transition to a more modern, and slicker hard rock sound. Pre-order now on CD, limited-edition coloured vinyl and digital outlets at www.m-theoryaudio.com/store
"We are really excited to start working with M-Theory Audio, and be part of a new label and new team!" explains Santa Cruz singer Archie. "At the end of the day the apple didn't fall all that far from the tree. People can still expect the Santa Cruz sound — the fast guitars and heavy drums are still there, just served with a different sauce. All in all, we see Bad Blood Rising as a 'comeback album'. A start of a new era."", states guitarist Johnny. "This album has probably both the heaviest and the softest Santa Cruz moments on it. We didn't intentionally try to come up with something totally different than before, but I guess some of the new influences we've picked up along the way can be heard on these songs"
The band already released the record's infectious first single, 'River Phoenix', earlier this summer, but will release a video for forthcoming single 'Young Blood Rising' in the coming weeks.
Dates
05.12. Nottingham, UK – Rescue Rooms
06.12. Milton Keynes, UK – Crauford Arms
07.12. Grimsby, UK – Yardbirds
08.12. Sheffield, UK – Corporation
09.12. Birmingham, UK – The Flapper
10.12. Glasgow, UK – Cathouse
12.12. Manchester, UK – Academy 3
13.12. London, UK – Underworld
14.12. Chester, UK – The Live Rooms
15.12. Swansea, UK – Sin City
16.12. Bournemouth, UK – Anvil
17.12. Norwich, UK – Waterfront