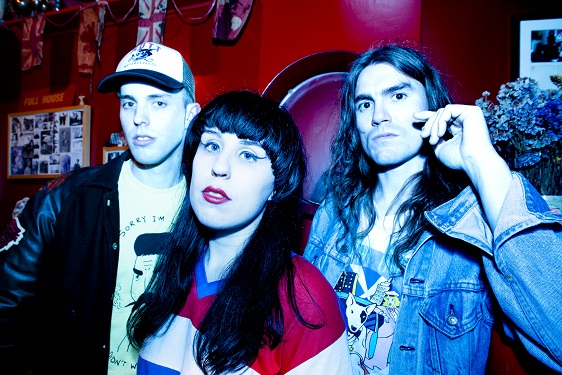 Table Scraps have announced their new album 'Autonomy' and released a brand new track from it, 'Sick Of Me'.
On the song, Scott Vincent Abbott of the band has said "'Sick of Me' is about when friendships stagnate and minor annoyance gives way to mouldering resentment. Then juxtapose that feeling on top of a jangly sunshine pop backdrop (or as close to that as we ever get!). The echo of our breeze block 5m x 5m (and very un-soundproofed) room also perfectly suited the track's claustrophobic feel. It's dedicated to everyone just about keeping a lid on telling that one person how you really feel and cutting them loose."
Buy/Stream: http://smarturl.it/sick-of-me
The info
Table Scraps hail from Birmingham, UK and create black-hearted garage punk which fully embraces the good, the bad and the ugly of rock'n'roll's twisted lineage and various mutations. The band's entire output is produced by themselves in-house and their no-compromise approach, having spawned a string of well-received 7" singles and an LP, extends to perfecting their chaotic and reverb-drenched live shows.
The trio have more than held their own alongside Fat White Family, IDLES and Yak, as well as being hand-picked to open for The Stranglers, Buzzcocks and The Gories. Joe Talbot, frontman of IDLES was so impressed by the band that he recently span 'My Obsession' whilst sitting in for Steve Lamacq's BBC 6 Music Recommends show. Huw Stephens followed suit and also played the track a week later on Radio 1. They are now pleased to announce the new single 'Sick Of Me', which has already been highlighted by the likes of Tom Ravenscroft on BBC 6 Music as well as John Kennedy on Radio X.
Instantly converting anyone straying into the band's path, Table Scraps have been featured regularly on US and UK TV (Audience Network, Channel 4, Viceland​) and their single 'Electricity'​ has also been selected for an upcoming campaign with Adidas. Table Scraps continue to play by their own rules and will release 'Autonomy' on February 23rd via Zen Ten.
Table Scraps are:
Scott Vincent Abbott – Guitar & Vox
Poppy Twist – Drums & Vox
TJ – Bass & Vox
Facebook: https://www.facebook.com/tablescrapshq
Live
NOVEMBER
16 – Black Heart, Camden (w/Swedish Death Candy)
20 – Hare & Hounds, Birmingham (w/Black Lips)
22 – Bierkeller, Bristol (w/Black Lips)
25 – Old Blue Last, London (Free entry)
DECEMBER
9 – The Five Bells, New Cross (w/Peeping Drexels & HUSSY)
12 – Hyde Park Book Club, Leeds (w/secret headliner)
FEBRUARY
23 – Foodhall, Sheffield
27 – Hope & Ruin, Brighton
28 – Shacklewell Arms, London
MARCH
1 – 60MPC, Bournemouth
2 – Hare & Hounds, Birmingham
3 – Old England, Bristol