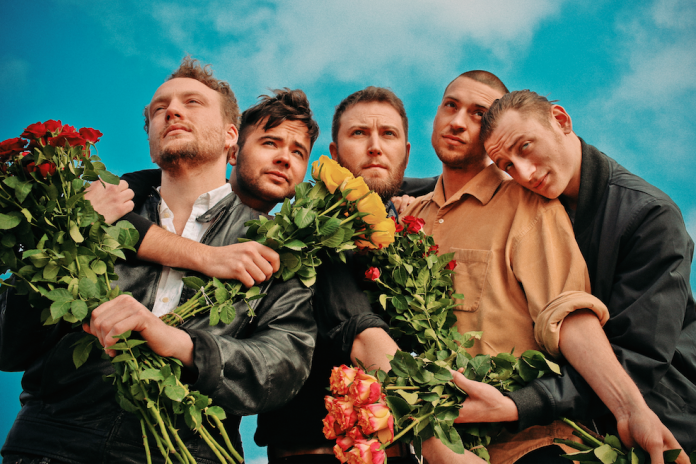 To Kill A King have today released details of their new studio album 'The Spiritual Dark Age', to be released on 12th January on These Are My Bones via AWAL and Republic Of Music. The album contains the single 'The Good Old Days', title track 'The Spiritual Dark Age' (watch the video here http://vevo.ly/Zips9I)​ plus recently revealed new track 'The Unspeakable Crimes Of Peter Popoff' (listen here https://awal.lnk.to/0VMZt)
Produced by Gethin Pearson and the band's keyboard player Ben Jackson, 'The Spiritual Dark Age' is the London five-piece's third album and the follow-up to 2015's critically acclaimed 'To Kill A King'.
"The Spiritual Dark Age is the last three years of my life painstakingly distilled into 40 minutes of music," says frontman Ralph Pelleymounter of the album. "It has ballads for my single friends watching everyone else gradually pair off, and deities and fables getting drunk in bars. It has moments of anger and disgust at characters like Peter Popoff and their parasitic feeding of the most vulnerable people, and it has folk songs about two gods who'd rather burn down the world than admit they still love each other. But hopefully, in amongst the chaos and darker tales, it has an underlying message that compassion being such a beautiful and complex thing may just save the day."
Pre-order the album from https://to-kill-a-king.tmstor.es or iTunes
To Kill A King head out on a full UK tour, starting at Sheffield Plug on January 11th and culminating at Islington Assembly Hall on January 27th. Says guitarist Grant McNeill, "After roughly 2 years in a room with a single window and a bare lightbulb making this record, we can't wait to get out on the road, if for nothing else but to get some sunlight. That's why we chose to tour in January."
After releasing two albums, 2013's 'Cannibals With Cutlery' and 2015's self-titled follow-up, and touring incessantly since 2010, To Kill a King took a well deserved break in 2016, Ralph using the time to write with Rag'n' Bone Man and Zibra, while keyboardist Ben Jackson produced albums for Childcare and Little White Things.
Album tracklisting
Spiritual Dark Age
The Unspeakable Crimes Of Peter Popoff
Compassion Is A German Word
Cherry Blossom Falls
No More Love Songs
Oh Joy
The Good Old Days
The One With The Jackals
I Used To Work Here, Perhaps You Did Too?
My God & Your God
Bar Fights
And Yet…
TO KILL A KING, HEADLINE TOUR JANUARY 2018
Thu 11 Sheffield Plug
Fri 12 Hull Früit
Sat 13 Manchester Academy 3
Mon 15 Newcastle upon Tyne The Cluny
Tue 16 Leeds Brudenell Social Club
Wed 17 Nottingham Bodega
Sat 20 Birmingham Mama Roux's
Sun 21 Norwich Waterfront Studio
Tue 23 Bristol Thekla
Wed 24 Brighton The Hope and Ruin
Thu 25 Southampton The Joiners
Sat 27 London Islington Assembly Hall