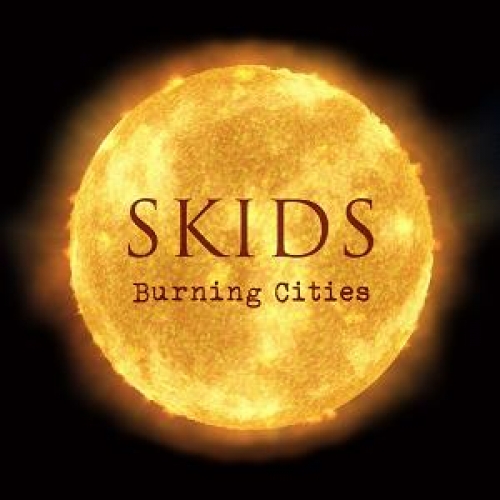 Four decades after they formed – in the white-hot summer of 1977 – The Skids are back. The post-punk pioneers, currently on a hugely successful comeback tour, will release their fifth album 'Burning Cities' on the 12th of January 2018.
'Burning Cities', produced by Verve & Primal Scream collaborator Youth, features eleven brand new tracks including the current single, 'A World On Fire', which is available now at all the major outlets here:
http://www.resident-music.com/productdetails&product_id=52322
https://www.roughtrade.com/gb/music/burning-cities
http://hyperurl.co/SkidsAWorldOnFire
The new album re-unites the original band members of Richard Jobson (vocals), Bill Simpson (bass) and Mike Baillie (drums). Stepping in for the late Stuart Adamson is his long-time Big Country band mate Bruce Watson while Jamie Watson provides additional guitar duties.
"I'm incredibly excited about this album. This music is at the heart of everything our band is about: truth, revolution, loud guitars and a refusal to keep quiet as the establishment tries to smother chances for anyone other than its own." – Richard Jobson
The arrival of 'Burning Cities' coincides with the fortieth anniversary of the first-ever Skids record, the 'No Bad' EP, which introduced the Scottish post-punk pioneers to a whole new audience courtesy of one of their biggest fans, Radio 1's legendary new music champion John Peel.
In the summer of 2017, to celebrate the fortieth anniversary of the first-ever Skids gig, the reunited band set out on tour, selling out iconic venues such as London's Roundhouse, Glasgow's ABC and Nottingham's Rock City. The shows were a triumph, full of joy, adrenaline thrills and an urge once again to kick against the pricks.
"In 1977, we were singing songs about what we saw as a world in crisis". says Jobson today. "Today that message is more relevant than ever. 'Burning Cities' is packed full of punk rock protest songs. It's an album we're very proud of – and we can't wait to share it."
The band will continue their 40th Anniversary UK shows throughout 2018 beginning with two shows in January at King Tuts Wah Wah Hut in Glasgow and culminating in London at the 02 Shepherds Bush Empire on the 30th of June 2018.
LIVE DATES:
JAN 10TH KING TUTS WAH WAH HUT, GLASGOW
JAN 11TH KING TUTS WAH WAH HUT, GLASGOW
JAN 12TH THE LEMON TREE, ABERDEEN
JAN 18TH GEORGIAN THEATRE – STOCKTON
JAN 19TH THE WATERFRONT, NORWICH
JAN 20TH THE EMPIRE, COVENTRY
JAN 21ST PRESTON GUILD HALL, PRESTON
JAN LEAS CLIFF HALL, FOLKESTONE
JAN 27TH PYRAMID CENTRE, PORTSMOUTH
FEB 09TH GLEN PAVILION, DUNFERMLINE
FEB 10TH THE VENUE, DUMFRIES
MAY 27TH CORN EXCHANGE, BEDFORD
JUN 01ST PICTUREDROME, HOLMFIRTH
JUN 02ND 02 RITTZ, MANCHESTER
JUN 07TH SUB 89 & THE BOWERY DISTRICT, READING
JUN 08TH CHEESE AND GRAIN, FROME
JUN 09TH TRAMSHED, CARDIFF
JUN 15TH BRUDENELL SOCIAL CLUB, LEEDS
JUN 16TH 02 ACADEMY, NEWCASTLE
JUN 22ND THE RESCUE ROOMS NOTTINGHAM
JUN 23RD 02 ACADEMY, LIVERPOOL
JUN 27TH THE WEDGEWOOD ROOMS, PORTSMOUTH
JUN 28TH ROBIN 2, WOLVERHAMPTON
JUN 29TH CONCORDE 2, BRIGHTON
JUN 30TH 02 SHEPHERDS BUSH EMPIRE, LONDON
http://www.the-skids.com
https://www.facebook.com/theskidsofficial/