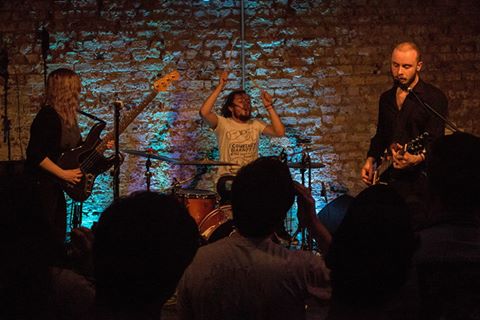 Announcing: Elevant's first shows of 2017, a series of brand new studio recording for release later this year, plus an all-new festival in Liverpool of their very own design.
Teasing their first new material since their standalone single 'Hide it Away' last Summer, Elevant announce their return with the promise of a smattering of fresh cuts on the way, recorded at none-other than the legendary Abbey Road Studios. The tracks will be made available via the band's own Loner Noise / Elevant Music Limited imprint later this year. Speaking about the band's latest sessions, frontman Michael Edward says:
"We cut 5 tracks at Abbey Road, and there'll be a release a little later into the year, though we haven't decided what kind yet. The new material trades off a greater focus on hooks with weirder idiosyncrasies in the band's playing. You can get away with something a little stranger if you wrap it up sweetly."
With a sprinkling of dates across early 2017 aiming to whet appetites for the new releases in waiting, the genre-busting rock trio will be putting in shows at venues in Liverpool, Newcastle, Manchester, Leeds and Glasgow, whilst also making appearances at festivals including Threshold Festival (Liverpool). Full dates and details below, more shows to be announced in the coming weeks. Joining the band for the Liverpool and Newcastle shows will be the quickly emerging Coquin Migale, who have recently signed-up with the Fierce Panda label and last year headlined the BBC Introducing Stage at Reading and Leeds. Federales and Gravves will also feature as support on other nights of the tour.
In addition, Elevant will be performing at an all-new festival for 2017 – WRONG – a festival in Liverpool organised and curated by the band's own Michael Edward and the Loner Noise label he operates. Based in Liverpool's docklands, the festival looks to bring together the heavier and weirder corners of rock music, from punk to noise to psychedelia and everywhere in-between. For one day in April, the festival will present a selection of some of the finest freaked out bands around including Bo Ningen, The Wytches, The Cosmic Dead, Heck, Blacklisters and of course, Elevant. A communal area with art installations, plus record stalls, and 'Shangri-La' like settings will also feature – for full details head to: http://wrongfestival.com/
Speaking about the inaugural WRONG Festival, Michael Edward adds:
"Organising WRONG has been about representing the underground rock scene that we're part of. There are so many fantastic bands that we've toured with, and we wanted to really bring them all together to play with some of the legends of the scene and create something that could elevate everyone who played."
Dates
18/2 – Liverpool EBGBs w/Coquin Migale, Gravves
23/2 – Newcastle Jumping Jacks w/ Coquin Migale
15/3 – Manchester Castle w/ Mums, Thing, Federales
22/3 – Glasgow, Bloc
23/3 – Leeds Packhorse w/ Honeyspider, Black Pudding
1/4 – Threshold Festival Liverpool w/Hey Colossus
22/4 – WRONG Festival w/Bo Ningen, The Wytches, Heck, Part Chimp etc.
Elevant are the thunderous genre absorbers heading the Loner Noise label. Since their formation in 2014 they've fused a host of disparate influences into a sound that can be dark and atmospheric, heavy and crushing, or irresistibly grooving. The trio sounds far vaster than the sum of their parts. Anchored by Tom Shand's pummelling Bonham-esque beats and Hannah Lodge's interlocking bassline weaves, lead singer Michael Edward's lung bursting Chris Cornell-style lead vocals and bludgeoning guitar work make them sound like a six-piece.
Effortlessly twisting a pop hook to their post punk, psych and krautrock sound to great effect, there is an energy and vision that sets them apart from their contemporaries. In 2016, the band released their third and latest long player 'There Is A Tide', a record mastered by studio wizard Pete Maher (Jack White, Patti Smith, Scissor Sisters). The album followed their eponymous debut release 'Elevant' in 2014 and 'Dreamface' the following year.
Elevant are Michael Edward (Guitar / Bocals), Hannah Lodge (Bass / Backing Vocals) and Tom Shand (Drums).
Elevant will release new music in 2017 – watch this space….
MORE INFORMATION
http://elevantband.com/
https://www.facebook.com/ElevantMusik/
https://www.instagram.com/elevantmusik/
https://elevant.bandcamp.com
https://www.youtube.com/user/shedlad93