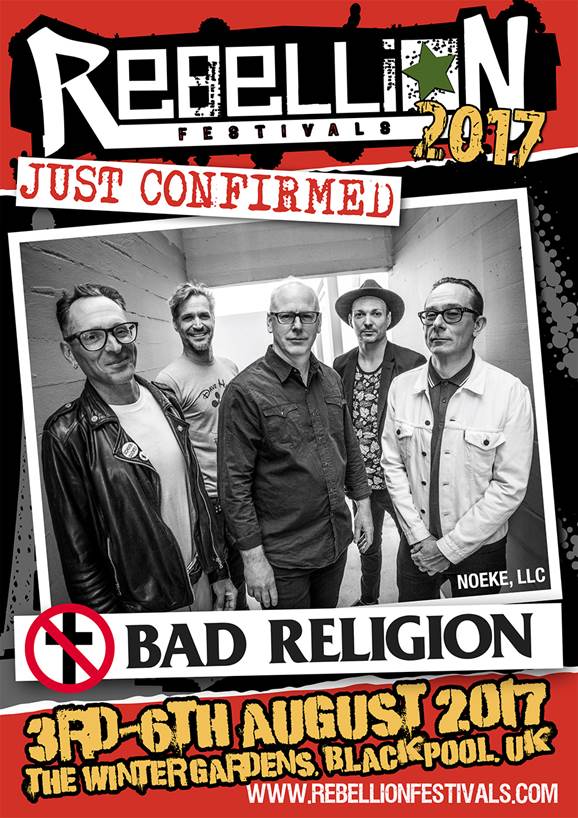 2016 saw Rebellion Festival celebrate its 20th year alongside the 40th anniversary of punk with a spectacular sold-out event. Over four days at Blackpool's Winter Gardens, iconic bands from every aspect of punk across the world shared stages with new and emerging talent. And Rebellion 2017 already looks set to be no different. Returning to Winter Gardens in Blackpool from the 3rd to the 6th of August, the line-up is already shaping up to be another punk genre defining event.
LA punk legends Bad Religion are now confirmed to return to the festival for the first time in seven years, bringing their addictively melodic, politically-charged, high energy punk rock to the seaside punk event.
"Rebellion is by far the best punk festival on the planet," enthuses Bad Religion (and Dag Nasty/Minor Threat) guitarist Brian Baker. "I went last year; it was so nice I saw Cock Sparrer twice! And this year you can see Bad Religion and Pennywise and the UK Subs, Sham 69, Skids, Angelic Upstarts and tons more. This is a great festival and i love playing it and I hope to see you all there."
With every passing day, more bands are being added to the prestigious line-up that already includes such luminaries as mentioned by Brain Baker above who join the likes of The Vapors, Kent duo Slaves, The Skids, DOA, Alternative TV, Neville Staples Band, Good Riddance, Scream (who once featured Dave Grohl), Toyah, Richie Ramone, Leftover Crack, Ruts DC and many many more.
Day tickets are now available at £60 per day and there is also the opportunity to buy weekend tickets in instalments with a deposit.
More bands, running-order and stage times still to be announced.
Rebellion Festival is an ALL AGES, family friendly event and children under 12 are admitted free of charge (accompanied by an adult). More information and tickets are available at:
Website: www.rebellionfestivals.com
Twitter: @rebellionfest
Facebook: www.facebook.com/RebellionPunkMuskFestival