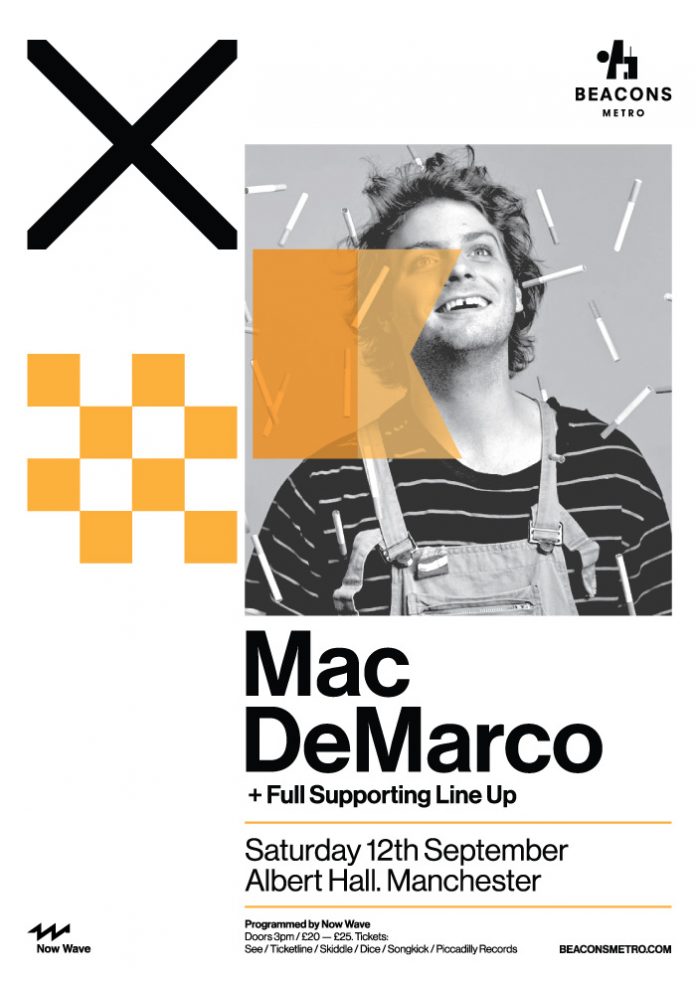 In the first of two Now Wave shows as part of Beacons Metro series (which sees the much-loved festival put on unique shows across the country), Mac DeMarco returns to Manchester for a special show at the Albert Hall.
Having found early cult success with his project Makeout Videotape in 2009, two years later Mac DeMarco was struggling to get by. Giving his body to medical science experiments in exchange for money and working as part of a road paving crew, he started putting out music under his own name. A dreamy yet lucid take on the best bits of a whole host on genres – psyche, grunge and even surf are all layered in there somewhere – DeMarco's new project soon found a fitting home with seminal indie label Captured Tracks, which has remained his home ever since.
A singular talent, critics have consistently lauded DeMarco's work, while still struggling to unwrap his enigmatic and unique talent. Pitchfork noted, in their review of his sophomore LP 2, '[Mac DeMarco] writes about life–both the heavy moments and the mundane ones–with economy and… grace', while NME have previously commented '[DeMarco's songs are] lyrically witty, full of neat turns of phrase, [they] recall the quirks and kinks of Jonathan Richman, the tale-telling and wit of Alex Turner (specifically the Arctics man's gentle, romantic work on the Submarine soundtrack), and the playful verbosity of Pavement's Stephen Malkmus'.
https://youtu.be/OVLoHBFbTg8
On record, Mac has earned a reputation as being both extremely accomplished and wildly experimental. These are both qualities that feature heavily in his live shows, with the addition of his unusual stage presence. In one review of a recent London show, The Guardian wrote, 'Mac treats his gigs more like a spring break keg party… cracking beers with his teeth, enacting bi-curious dares with his joke-reciting bassist… things get loose and lascivious'.
Tickets: http://www.alberthallmanchester.com/event.php?id=499&d=2015-09-12