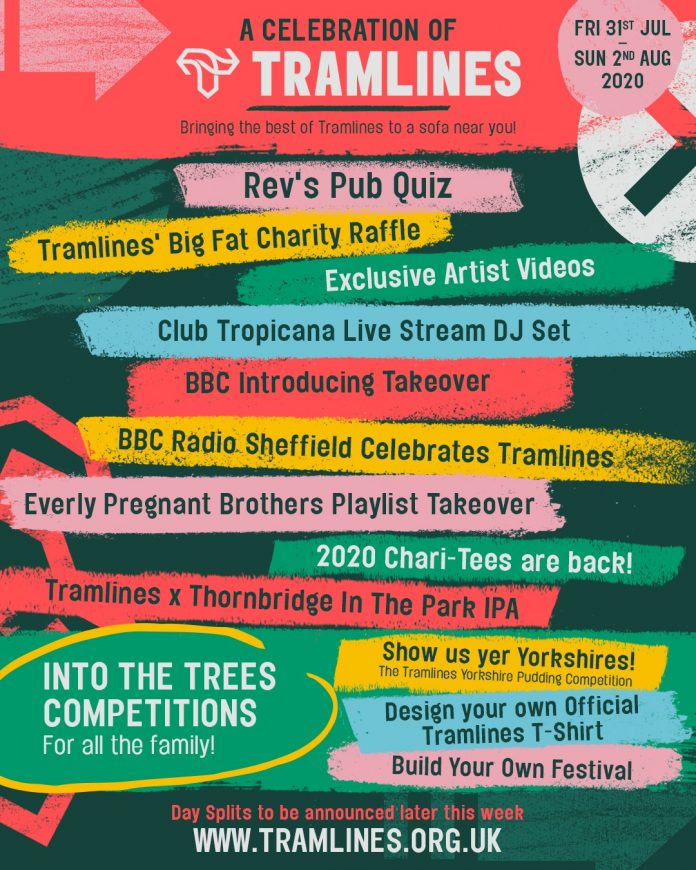 Tramlines Festival have revealed, 'A Celebration of Tramlines,' which will include a host of online activities taking place over what would have been the Tramlines Festival 2020 weekend. This includes 'Rev's Pub Quiz' hosted by Jon McClure of Reverend and the Makers, The Tramlines' Big Fat Charity Raffle which will be stuffed full of amazing prizes with every penny going to charity, 'Club Tropicana x Tramlines' Live Stream broadcast with The Leadmill, hosted by local DJ, Jimmy the Gent, exclusive artist videos, competitions for all the family, playlists, throwbacks, a re-release of the 2020 Chari-Tees, the launch of 'In the Park', an exclusive Tramlines beer brewed by Thornbridge, playlists, throwbacks, and Tramlines takeovers on BBC Radio Sheffield.
All money raised from these activities will go to Sheffield causes including, Roundabout, Sheffield S6 Food Bank, Disability Sheffield, iForge and Cavendish Cancer Care.
As in many years gone by, the Tramlines festivities will begin at The Leadmill. Local DJ and all round entertainer, Jimmy the Gent, will be hosting the 'Club Tropicana x Tramlines' disco on Friday night at 9pm. Expect non-stop 80s bangers, wild inflatables, Hawaain shirts and tropical vibes. This event can be watched via Tramlines social media pages. On Saturday night the entertainment will switch to Jon McClure who is taking time out from recording new material to host a good old fashioned pub quiz. This will kick off at 6.30pm on Sat night. If we're lucky Jon might even play a track for us!
The Tramlines' Big Fat Charity Raffle is kicking off this week. Tickets will cost £2 each with all money raised going to the charities listed above. Some of the prizes will include an amazing lifetime ticket to Tramlines, record bundles, bar tabs, official merchandise, and so much more. If that wasn't enough to get you excited, there will also be additional family friendly competitions running throughout the weekend. Keep your eyes on the Tramlines social pages to participate.
Tramlines will also be raising money through a repress of the hugely successful 'Chari-Tees' that were launched last month. Exclusive designs were produced by local artist Tom J Newell and the Tramlines team. Following a hugely popular launch last month, Tramlines have decided to get a new batch of tees printed ready for you to purchase over the Tramlines weekend.
No festival is complete without beers. Tramlines have teamed up with Thornbridge Brewery to who have produced, 'In the Park' IPA, a brand new beer which you can order directly to your door (via the Tramlines website) or pick up locally (if you wish to grab one in time for the weekend). The are stocked at the following locations – Beer Central, Boozehound, The Green Shop, Sharrow Vale Wine Rack, The Hallamshire House, The Greystones, The Stags Head
Lastly, Tramlines Festival 2021 is taking shape with details to be released very soon. Anyone who has chosen not to get a refund on their 2020 ticket can use this ticket for 2021. More info can be found on the Tramlines website.
Links
https://tramlines.org.uk/celebration-of-tramlines/
https://www.facebook.com/tramlines
https://www.twitter.com/tramlines
https://www.instagram.com/tramlines
Big Cartel link to charity t-shirts – https://tramlinesfestival.bigcartel.com/product/tramlines-2020-charity-t-shirts
Link to In the Park Beer – https://thornbridgebrewery.co.uk/beer/2320/