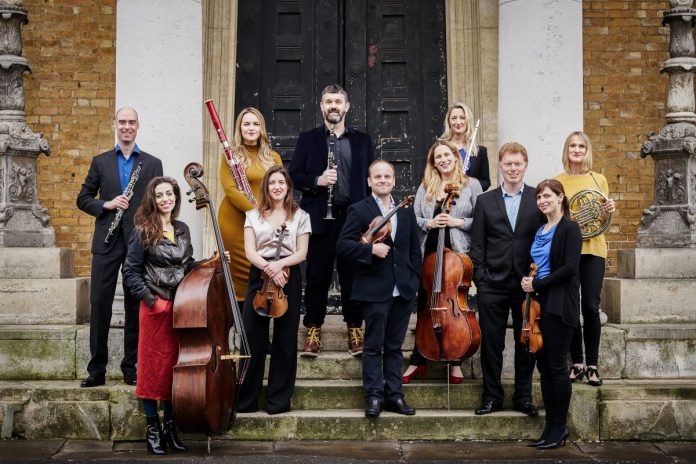 Ensemble 360
In this special event, Ensemble 360 present an evening of beautiful music by one of classical music's finest writer of melodies. Though written in the last year of Schubert's life, the Piano Trio in B flat is remarkably bright and carefree. For contrast, the dark slow movement of 'Death and Maiden' in the second half of the performance is worthy of a chilling ghost story!
Ensemble 360 will be at Emmanuel Church on Sunday 15 October 2017 at 3pm performing the SCHUBERT Piano Trio in B flat D.898 and String Quartet in D minor D.810 'Death and the Maiden'
Ensemble 360 has gained an enviable reputation across the UK for the quality and integrity of their performances. Formed in 2005, eleven musicians of international standing came together to take up residency in South Yorkshire with Music in the Round, establishing a versatile group comprising five string players, five wind players and a pianist. Their home performance space is Sheffield's Crucible Studio Theatre, an intimate space in which the audience is seated "in the round" and never more than twenty feet away from the stage. It is from this wonderful performance space that both Ensemble 360 and Music in the Round take their names.
Ensemble 360's enthusiasm, drive and musicality draw audiences into their performances both through the quality of their playing and their engaging spoken introductions. Due to the flexible nature of the group's line-up the repertoire possibilities are enormous; anything from baroque duos, through classical quartets to new commissions for all eleven players.
Marmen Quartet
Marmen Quartet will be at Emmanuel Church on Friday 17 November at 7.30pm performing GLASS String Quartet No. 3 Mishima, HAYDN String Quartet in C Op.74 No.1 and BEETHOVEN String Quartet in E Flat Op. 74 Harp.
Founded in 2012 at the Royal College of Music in London, the Marmen Quartet consists of four highly skilled players who have played across the globe. They recently organized a chamber music series in Sweden, receiving critical acclaim for their recital of Mozart's quartet in G major k.387 alongside transcriptions of Monteverdi madrigals together with flutist Taylor Maclennan. Their recent debut recital in Sheffield's Crucible Theatre offered an eclectic and exciting combination of Haydn, renaissance composer Josquin Desprez, and Bela Bartok.
This performance will include Philip Glass' minimalist 3rd string quartet which was originally written for the soundtrack to Paul Schrader's film 'Mishima' in which the atmospheric movements correspond to different periods in the life of Japanese writer Yukio Mishima.
The performance concludes with Beethoven's Op.74 quartet which reveals the composer in his most serene and relaxed mood. It is undoubtedly a masterpiece.
Tickets for both performances are £13 / £6 Under 18s and Students; available from The Civic Box Office on 01226 327000 or online at barnsleycivic.co.uk
Music in The Round: www.musicintheround.co.uk