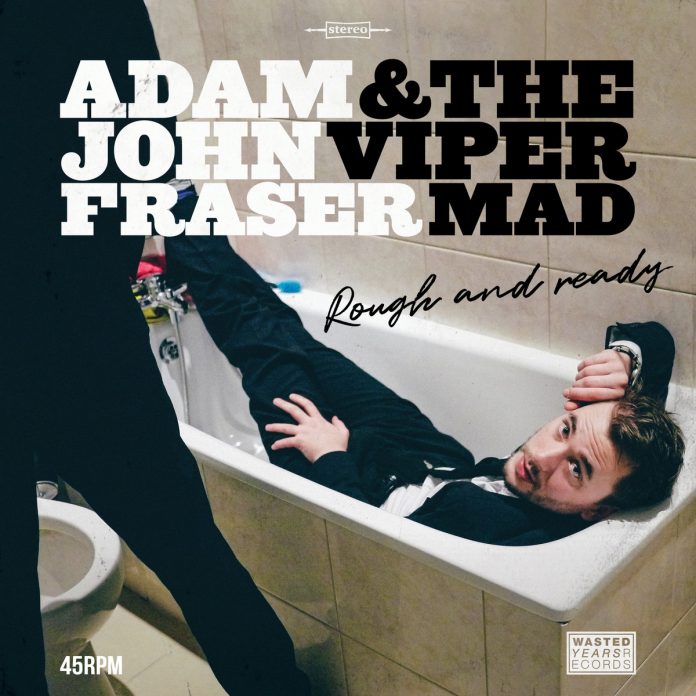 I, as you can probably imagine, listen to a lot of new music; so much that at times I have to take a break from new music to immerse myself in old favourites just to get 'musically grounded'. Sometimes I have to listen to something two or three times before it clicks, and sometimes it's just the once – that's if it's going to click with me. And then there's music that passes the '10 second test', and this EP did that. Seconds into the first track I was hooked, man I was completed hooked. I was buzzing.
Adam John Fraser & The Viper Mad play garage blues. It's raw, it's loose, at times it's wonderfully gloriously on the edge – the very edge – of falling apart. It's gonna rock your world people.
The band have their own thing going but hey there's things in it that remind me of people I love; Roky Erickson and Randy California – sometimes it creeps over into that psychedelic blues rock sound, Green On Red, The Godfathers. Perhaps predictably Seasick Steve and ZZ Top. Strangely, and perhaps weirdly, Camper Van Beethoven – that sound is more obvious on a couple of Adam's more acoustic songs that are not on this EP (See below for a link).
Let's dive in. Opening track 'Knight, Death & The Devil' is dirty, swampy, southern gothic. The guitar goes from blues licks to outrageous. Vocals are shouted, chanted. Drums are just right; solid, not too flashy. There's a bass throb that just won't give up. This is music played for the joy of making music, not something constructed to be perfect. But you see it's perfect because it isn't. It's raucous. It's a blast.
'Party Song' takes blues to garage rock. Yep, there's a blues base there but it's rockier. The guitar is way out there. It's even kinda punky.
And then all of a sudden there's 'Rough & Ready' which, although it might – as least it did to me – have you in mind of a Whitesnake sounding song, is actually something rather more, let's say softer, than you might imagine. I say softer, it is, well it is to start with. It starts all subdued, gently plucked guitar, vocals that sing of a boy/girl thing. But then it's rockier. It's rockier to the end. It's what you expect and it gives you that
'\Walkin' Blues' is an out and out blues track. But somehow it's more than that. It's loose, it has sudden changes of tempo, guitar that just seems to hover around the beat but at the same time it's locked into it. And then without warning it blasts into a slide guitar section played at breakneck speed. And then it just stops, But that's great because it said all it needed to, why say more.
Closing track 'Water & Gasoline' is one of those blues tracks that builds and falls, and builds again. It builds from sparseness to dense slide guitar, falls to sparseness, repeat to climactic end. That dense growl of slide, way out there slide.
Musically this is a band that know their stuff. I have a huge thing for blues and blues influenced guitar players – especially those who play slide – and Adam can play, boy can he play.
And you'll notice that I haven't said anything about the words of these songs. This isn't because they're not good, they are. They are just in the style of the music. They say a lot with just a few words. And that is just as it should be.
It's time for shoutout for the production – by Will Severs. The sound of this is not over produced, it's like a band playing live, just the best live sound you've ever heard. It has that energy, that feel. And, that too, is just as it should be.
It's important to say what they play isn't blues rock, we all know what that is, and this isn't that. It's blues taken with a hint of late 60s' garage rock, a touch of psychedelia, a dash of something punky, and a big hit of something that I can only imagine comes from Adam's musical influences. And as I said at the top it's loose, it's raw, it's filled with a joyful sound – the sound of music being played because they love playing it.
This, my friends, is something you need to get into your life, make it a part of your day, make time to play it. Play it loud. This is utterly fantastic.
The info
Adam hails from the snowy northern outpost of Ottawa and learned music by stealing his brother's guitar and watching YouTube videos.
A tenure in London broadened his range by meeting up with the guys at Wasted Years Records who spotted his talents while cleaning the loos at Benito's Hat (still the best burrito you will find). Sheffield was the anvil upon which his sound was hammered out.
Adam and The Viper Mad met up at Yellow Arch Studios in Sheffield where the spark was instantaneous. Songs he had waiting in his songbook finally became finished works and new inspiration flowed like strong northern ale. The Viper Mad are the missing piece that Adam had been searching for these many years for. Recorded at Fox Den Studios in Sheffield by Will Severs the tracks rattle and hum like a well oiled machine.
Vocals and Guitar: Adam John Fraser
Bass: Alexander Schmidt
Drums: Richard Howie
Guitar arrangements and lyrics were written by Adam John Fraser. Bass arrangements were written by Alexander Schmidt. Drum arrangements were written by Richard Howie. Recorded at Fox Den Studios, Sheffield by Will Severs. Cover art by Leigh Mullens.
Website: https://adamjohnfraser.com
And while you're at it check these out