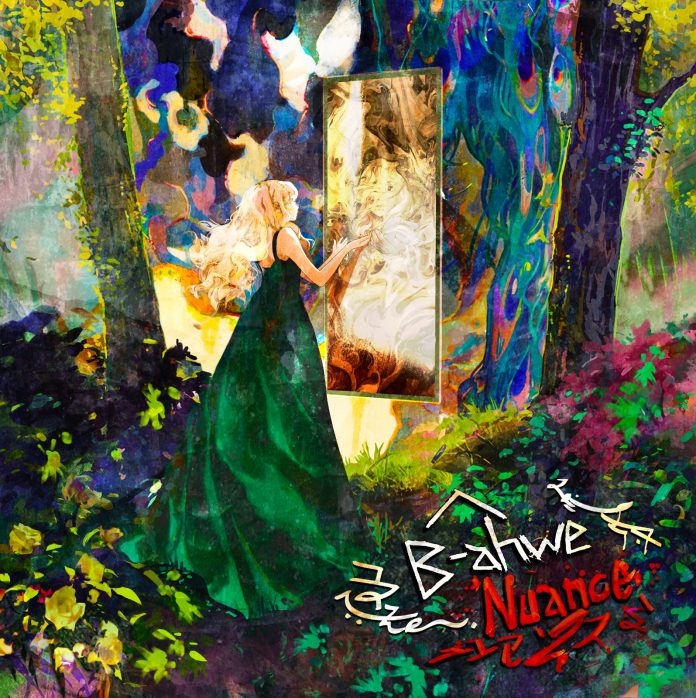 B-ahwe is one of those artists I've been aware of for quite some time but I've never managed to hear anything by her (yet again that old excuse I'm afraid). Having said that, having seen her picture, I have a vague idea that she was the featured singer with Narcle the first time I saw them. I may of course be wrong. Anyhow I realised in moments of hitting play on the first track that I've been missing out big time.
There is a story to the songs on the EP – there's more on this below – both lyrically and musically. B-ahwe takes elements from influences and mixes them into something all of her own. I seem to have a real thing about music like this at the moment. It meets a need I have for being soothed and totally engrossed musically.
The EP opens with a short piece called 'Finding Your Haven'. Lush strings. B-ahwe vocalises over the music. It's a scene setter, a mood sound piece, an introduction. It is rather beautiful.
The EP's opening song proper 'Sweet' starts off all dreamy, but this is only the start of a seamless journey through gentle jazzy hip-hop, jazy soul, and then it leaps into something more driving, more powerful. Jazzy horns. Dreamy almost psychedelic soulful sounds. You get the picture? Her music changes in the most unexpected ways. It's complex and yet it all makes sense. It just travels through these sounds. If you just let it take you, it all makes complete sense. You are drawn into her world.
'Sliding' is more driven, insistent keyboards, And then it slides into sweet soulful sounds that mesmerise, that enchant. This is followed by 'Closer' a smooth gentle song that is sprinkled with the most wonderful keyboards.
'Within' – a short musical interlude – is followed by a hip-hop influenced track 'Suspended'. There are layers and layers of vocals on this, indeed the vocals are mainly the music. But odd sounds and off-kilter rhythms flow through this song making it strangely disturbing.
'Cruise' is again hip-hop influenced but this time with a dose of soul. Her voice is compelling and hypnotic. In fact her voice is the thing that is so fantastic about this song. I'm not saying that the music isn't but I found myself concentrating on her voice, her vocal twists and turns. 'Waters New' is a short interlude – it's spoken word backed by music.
The EP closer 'Take It' mixes jazz, hip-hop, soul into something magical. Something uplifting.Something that takes you through a musical journey. Unexpected sounds, backing vocals that weave into something complex but at the same having a groove, a slow groove, that I could live on if that's all that was available.
I'm aware that there are three things I haven't touched on in this review so far – the quality of the playing, the lyrics and B-ahwe's vocals. I did this on purpose.
I have no information at all as to who played on this EP but whoever it was the quality of the instrumentation is exceptional. The way the songs are put together is inventive. There are always sounds that surprise (but don't jar, that's the key thing), sounds that are calculated to add to the songs not detract.
As I've said before the songs tell a story, individually and collectively. So the words need to be good. And they are good, better than good. These are words to study. This may take some time, but it'll be worth it.
And finally to B-ahwe's vocals. Her vocals astounded me. Her voice twists and turns and changes. She's capable of vocally turning on the spot. And the range of sounds that she can produce is frankly amazing. In fact the first few times I listened to the whole EP (and that's what you need to do to get the full effect) all I could concentrate on was her voice, but gradually the voice and music became one.
This EP is beautiful – it's beautifully written, sung and played. It's compelling, it makes you sink into the sound and her world. And within all of that beauty there's an artist who isn't afraid to dig deep into her own personal life to make these songs. And that too is a beautiful thing. Please, please please, do listen to all the songs in the order they are listed, the EP has its maximum impact if you do that.
The info
With a history of collaborations spanning Lo-fi Hip-hop to Jazz-prog (Lausse the Cat, Nix Northwest and Yaatri), and performances alongside Fatima and Yazmin Lacey under her belt, B-âhwe's stylistic versatility takes centre stage on her debut EP.
The songs on the EP were written during months of mental and physical entrapment due to illness. The EP's lyrical narrative is thoughtfully weaved through lush vocal textures, dreamy strings, jazzy chords, and ambient soundscapes. These elements are complemented by rap and Hip-hop influences and unsuspectingly driving musical interludes.