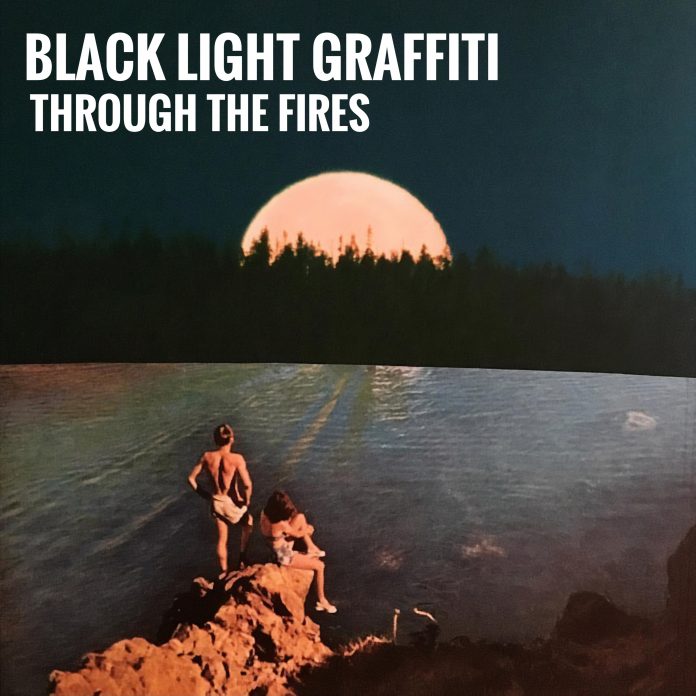 Black Light Graffiti are interesting, although they might describe themselves as an Indie/Rock band there are all sorts of rather lovely raucous raw frantic 60s' R'n'B and 70s' blues rock vibes going on all over this EP. And that's something I can sign up to big time.
So if you go straight for the EP opener 'The Flood' you may well be asking yourself 'what in the hell is Frank talking about here', it's perhaps a little bit more Indie rock in sound but there are hints of what is to come. That isn't a criticism 'The Flood' really is great, it sort of rocks out in a restrained but hugely effective way.
Ah but now we're talking 'Reverend' is pure raucous R'n'B. Just listen to that bluesy rock thing going on, and the lyrics and vocal, and that guitar break, it rocks.
'Second Chances' comes on like something out of Free frankly. It's all guitar stab breaks and wailing vocals. And that bass heavy thing going on in the chorus. And look it's ages since I heard a solo introduced by the singer saying 'geetar'. And that guitar wails, it wails big time, it's a fine fine thing.
And then it's big classic rock ballad time with 'Sometimes I Forget'. This is just the biggest thing., it's sit there and immense yourself yourself in that creamy creamy guitar time. And it even has a piano in the opening of the track. It's gorgeous, yep I'm unleashing gorgeous. The vocals on this thing are just fantastic. And those drums, pure classic heavy rock loveliness.
And they ain't done yet 'Straight On Til Morning' is 6½ minutes of something which just sounds like one of those classic rock driving songs mixed with something a little bit indie rock. It sounds strange really works, I mean really works. Standout on this is frankly the guitar breaks, they rock, they big time. I mean fuck it's ages since I heard guitar like that, it sounds, and I mean this as a huge compliment, like Michael Schenker. It riffs, it screams, it roars. I mean look the end of this track is just 2 ½ minutes of guitar, lovely breathtakingly good guitar. It almost had me unleashing the good old air guitar.
I may be making this sound retro but it's retro classic rock with a modern rock thing going on or, if you insist, modern rock with a retro classic rock thing going on. Frankly I care not one damn how you describe it, this is frankly great. If you're a fan of that classic rock/bluesy rock/raucous R'n'B sound then this is very definitely one for you. If that isn't your thing them I implore you, I beg you, to take a listen, it won't be wasted time.
The info
Black Light Graffiti are an Indie/Rock band with vibes akin to Kaleo and The Black Keys. They formed around Hull in late 2018. Founding members are: Adam Shepherdson (Guitar and Voclas), John Shepherdson (Lead Guitar), Mike 'Dez' Desforges (Drums), Will Shepherdson (Bass) and Rich Clarke (Synth and Guitar). Their digital EP 'Through the Fires' debuted in November 2018 and was recorded over a 5 day session at Toolmakers Studio in Sheffield. The release was produced and mastered by Nathan Bailey.
https://blacklightgraffiti.com/
https://www.facebook.com/blacklightgraffiti