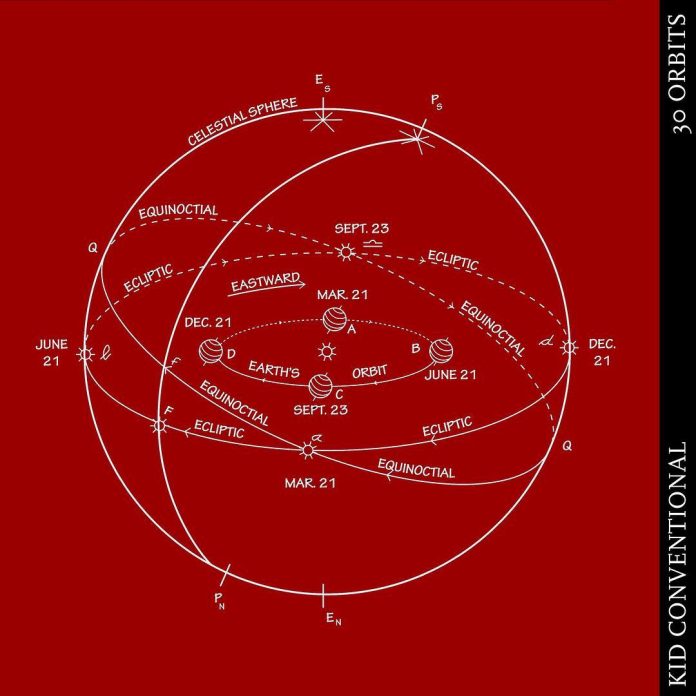 I last reviewed something from Kid Conventional (The EP 'I Will Never Be An Astronaut') back in May last year, and was much impressed. Since then I had the pleasure of seeing him perform supporting Thomas & The Empty Orchestra.
The thing with the songs on this EP is that they are largely just voice and acoustic guitar, so there are two things that just have to work well for this to work – the vocals and the words. Jack's vocals are just lovely, quite why I find them so captivating I can't say, perhaps it's the fact that he just sings the words and doesn't put huge amounts of emotion into vocal pyrotechnics. It's just simply sang and they let the words do the work. The words of these songs had me going back to listen again, with this almost compulsive need to try and work out what the songs meant. And they do mean something, these are not simple songs at all.
My joint favourite track from the EP 'Samantha' has a gentle driving rhythm that had me gentling swaying to the music and that drew me into the words. There's the promise of broken relationships, a life wasted, relying on drink, a past with no future. The more I listened to words of this song the more emotionally effected I got. It is quite quite moving.
'Conformence Anxiety' has what I might call quite a jaunty tune, although lyrically it's not a barrel of laughs. It seems to be about the anxiety of trying to fit in, and how sad and depressed this can make you (may be wrong here, that's just my take). And this song has the most delightful slightly off-kilter electric guitar break which just works.
'You're Probably Not The Answer' is sparse with this slow choppy guitar. It sounds deeply deeply dark and actually me feel quite down after listening to it for the fifth time (this isn't a criticism, I do actually like music that makes me feel deeply emotional). It has the addition of out of tune piano right at the end which just sets off the lyrics off wonderfully. It seems to be about a relationship which isn't ideal but will do.
The other joint favourite 'Entropy' has these little additions of piano. It is again about a relationship, a relationship in it's final stages. The thing about this track is the end section which starts to add these noises, creaks and groans and thuds.
These are captivating compelling songs sung plainly and simply letting the words do the work of conveying the message. The arrangements are hugely effective, not taking any thing from the words. For the words are the important thing in the songs. Properly listening to these is just so hugely rewarding. If you like really well written and delivered songs with meaning these are for you/
The info
Kid Conventional is Sheffield singer-songwriter Jack Weston. With his dark folk style inspired by the likes of Bright Eyes and Fleet Foxes, he won Yorkshire Unplugged in 2013 and quickly became a fixture on the local scene. His single 'No Promises' was named at #15 on BBC Sheffield Introducing's Top 50 of 2015. His May 2017 EP 'I Will Never Be an Astronaut' was released to glowing reviews and backed up by more than 50 shows around the UK.
He has played support slots for such high-profile artists as Jess Glynne, The Brand New Heavies, Little Comets, Low Duo and Charlotte Carpenter, with his honest and bitter-sweet lyrics, darkly comic stage-craft, and powerful and energetic vocal performances endearing him to music lovers from all musical backgrounds. In addition to his solo work, he currently fronts the Sheffield Beatles Project, who played acclaimed shows at Tramlines and the O2 Academy Sheffield in 2017 and 2018.
Facebook: http://facebook.com/kidconventionalmusic
Spotify: https://open.spotify.com/artist/1lt0rLUoFs3SKLptTQpfpb?si=G_h9fDfbQfqT4QLaOnldfA
Instagram: https://www.instagram.com/kidconventional/
Twitter: https://mobile.twitter.com/kidconventional