There are nights, and I'm sure you know what I'm talking about, when you go to see the headlining act and the support acts are easily dismissed and don't really grab you. As a reviewer this is hard, I mean really hard, you have to listen and watch intently to see whether there is anything that let's you find a way in, so that you can at least find something good to say (well at least this is the case for me, I always try and find something good to say). This wasn't one of those nights. The support acts – both of whom were new to me – were fantastic, and really easy to somewhat slightly rave about. In fact it felt a bit of treat to see all three acts in such an intimate venue.
And just a quick aside about Wharf Chambers – this was my first visit to this venue (yep I know that's really bad of me) but it's a really welcoming place that has a really great feel. If you get a chance to see a band (or two or three) there, go.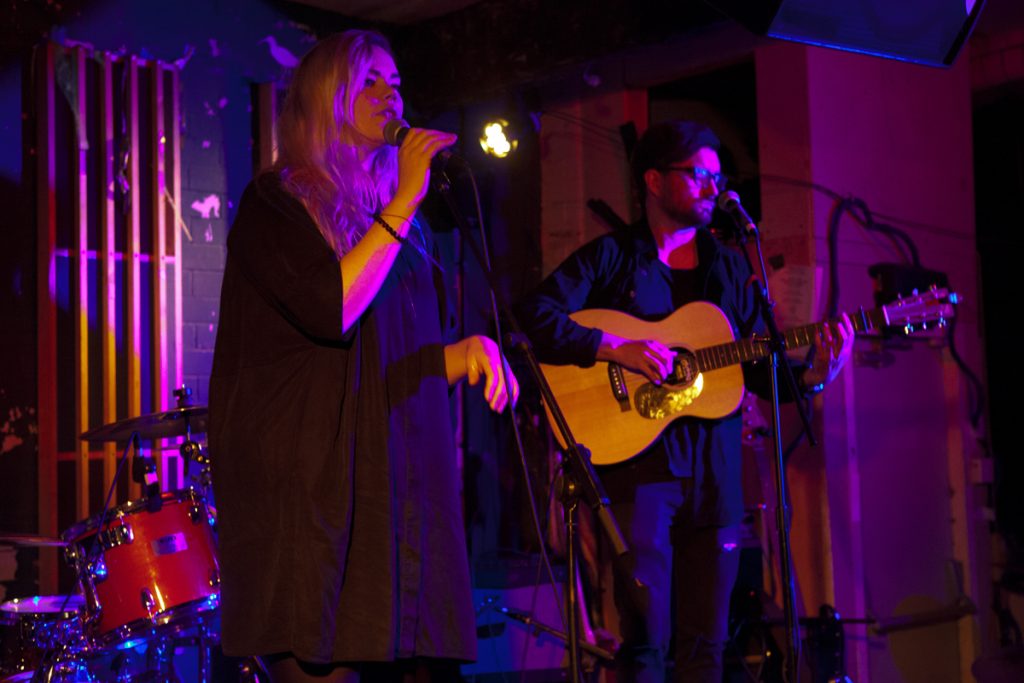 Frankly it never ceases to amaze me what a wonderful sound that two voices and one acoustic guitar can make when it's done right. The Paper Waits do it absolutely right. So yes the first thing that's going to grab you is Ellie's vocals but just listen a bit closer and you'll hear how much of an important part of their sound is Rufus's vocals and guitar.
They sound, well let's say, dark, it's folky sometimes, sometimes slightly jazzy in a smooth way, but it's dark and melancholic with hints of gothic Americana. To describe it as indie folk (as they do on their Facebook Page) seems to me to be inadequate. It's music that draws you until you feel like you're the only person in the room. And in my case I got so drawn in and carried away that I kinda forgot I was supposed to be reviewing the gig, which is actually a great thing, that hardly ever happens.
So all was going well, I mean really well, song followed song and it was all good, really good. The vocals if anything got better, the songs got better. It was just wonderful. And then they announced a cover, OK this is fine, covers can be good, they give you an insight into where the band is coming from. Alarm bells started to ring faintly when they said it was a song by Portishead and ring alarmingly loud when it turned out to be 'Glory Box'. This song is my favourite ever song (see my column on perfect music) and has been subjected to misjudged cover after misjudged cover (let's draw a veil, or preferably something much much thicker over the Faith No More cover shall we?). But I tried, I mean tried hard, to hear the song with an open mind. Which I'm glad I did because The Paper Waits bought something new to the song, And in fact in some ways reminded me of the only cover of 'Glory Box' I will allow onto my 'Glory Box' iTunes playlist, the one by John Martyn. Nice one.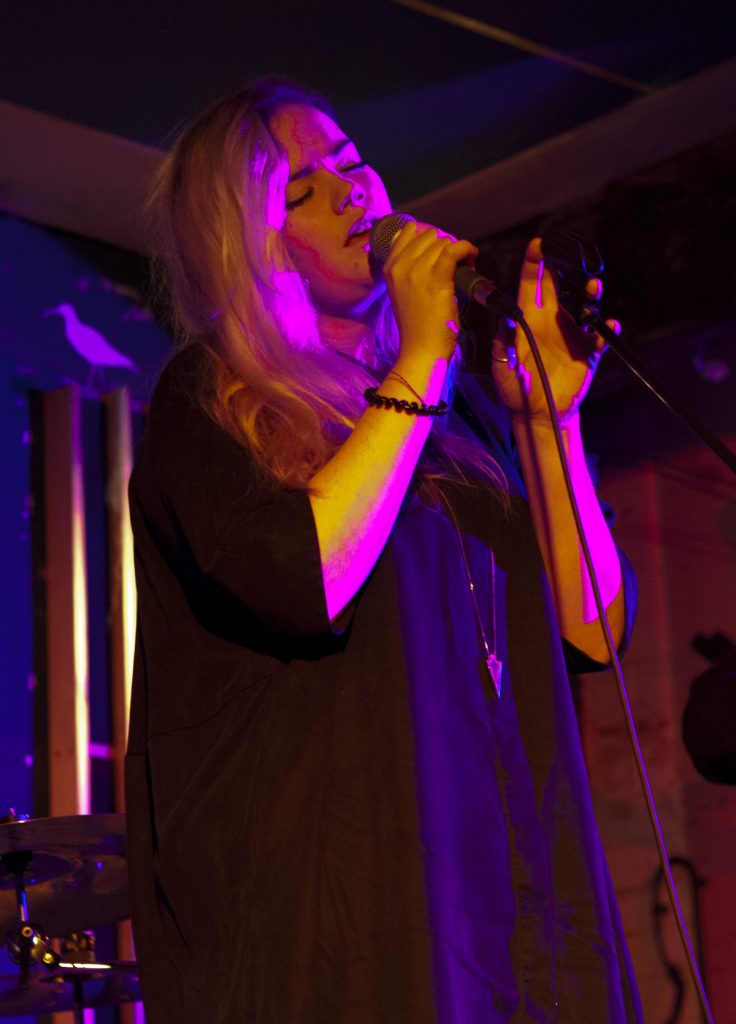 And they end their set with an epic song which I actually forgot to write down the name of (bad reviewer – Ed) which I'm going to assume to was called something like 'Meet Me By The River'. This comes on like some huge indie folk (slightly) rock number, and Ellie's voice soars, I mean it really soars until you feel it in your soul. It left me feeling quite emotional. So I'm going to end my review of their set with an instruction, see this act, see this act if you like well written songs performed by people who can really sing and know how voices can be arranged. See this act if you like folk or country/Americana or have a thing about downbeat melancholic music with soul and feeling. I intent to.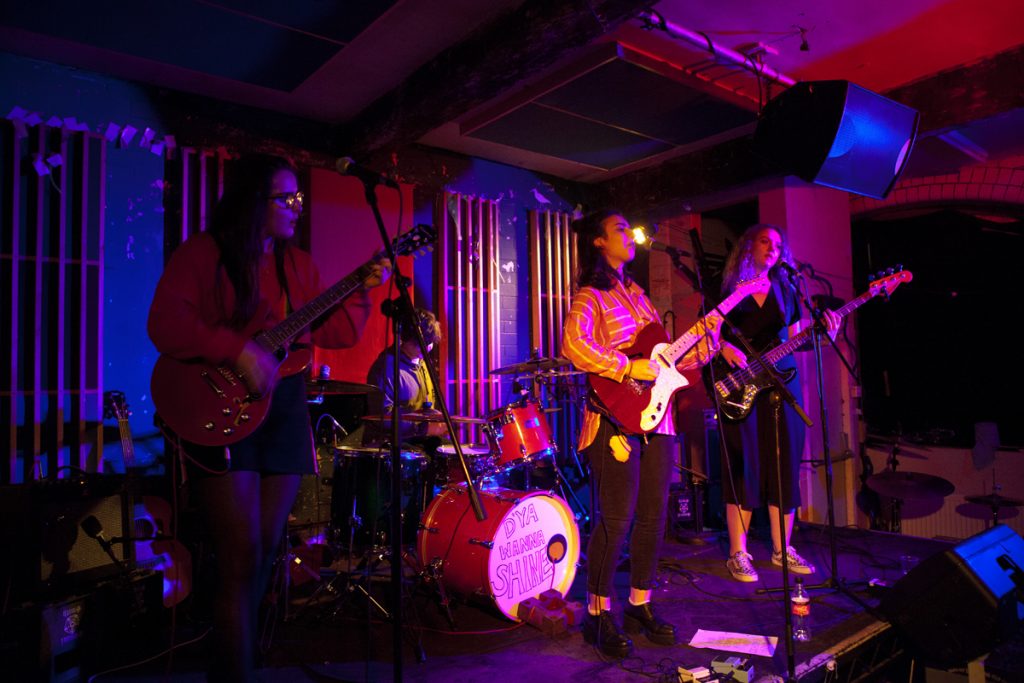 So then we have a band, a full on (sometimes) noisy band. Allora are a 'three piece indie girl band from Leeds' (or at least this is what their Facebook Page says). At this gig they played with a guest drummer who was actually rather good.
What the term Indie doesn't really clue you into is that some of their music is dark and vaguely post-punkish, some (of which more later) is even slightly psychedelic alternative rock. But the thing that grabbed me is the vocals. The three of them sing, sometimes it's two of them, sometimes all three of them, sometimes their vocal lines weave around each other. That's the thing that makes them stand out. That and the guitar playing, look it's not flashy 'look at me' guitar but it's hugely effective and just glorious. I was basically entranced, I found it just impossible to take detailed notes, I just couldn't tear myself away.
I did, because I just couldn't not, actually post their set scribble down something about two songs that I just found fabulous. The first is a track called 'Burned' (this is actually available on their Youtube Channel, so do check it it out) a tumbling almost psychedelic (in a sort of Spirit-ish sort of way) loose thing that rocks out in places but has these bits where it becomes almost funky. But the big thing is where, towards the end of the song, those voices start to weave around each other, it's all quite hypnotic and epic.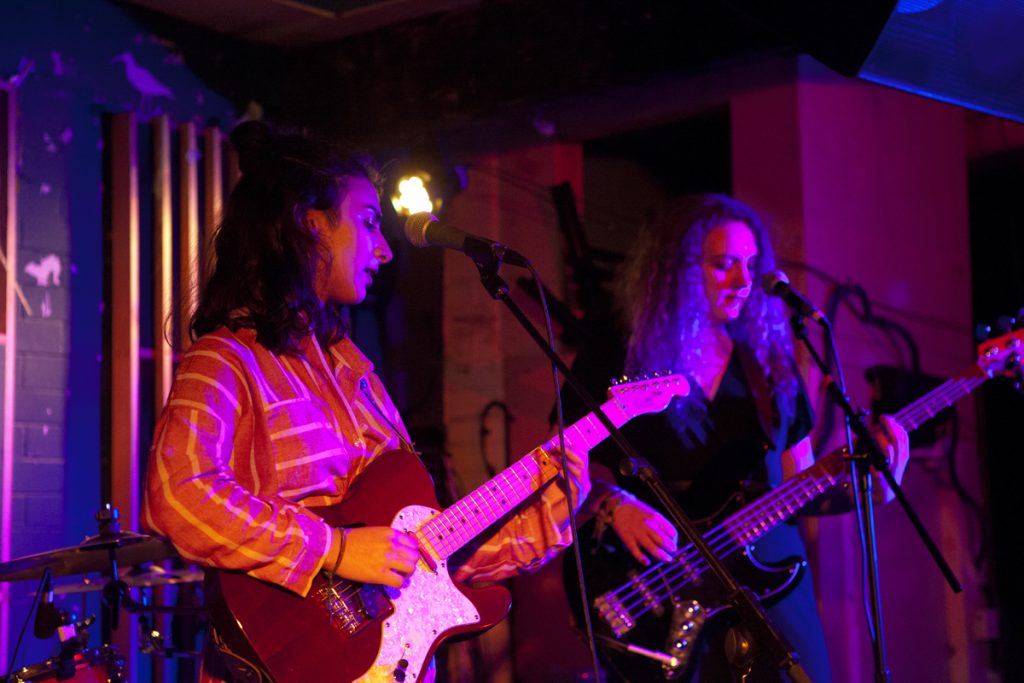 The second is the last track they played called 'Vain' (at least I think it's called that, it could be called 'Vein' or even 'Vane', but from the words I could hear 'Vain' makes more sense). This is vaguely sort of indie but it's actually all kinda smokily jazzy and smooth. They promised, or at least said, they were going to release this soon. I for one hope that's very soon. In the meantime if you get the chance go see them, you won't be disappointed.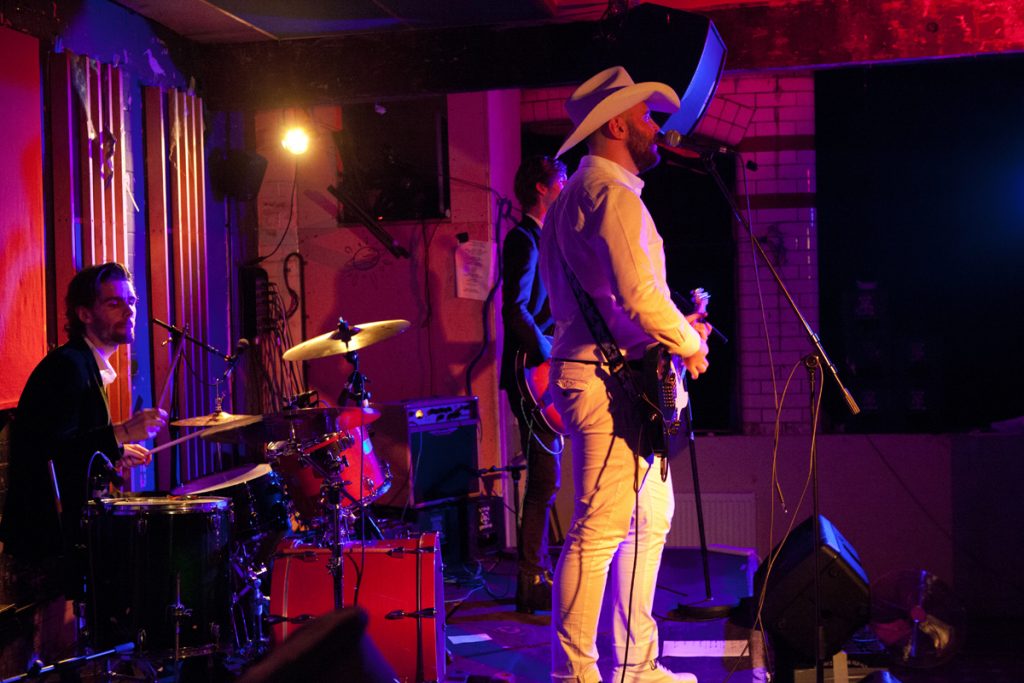 And so to Zach. Zach cuts an imposing figure in a cowboy hat he tells us he wore 'to make himself look cool', the audience reaction to this was I'd say mixed. Although let's be honest this was much more than just Zach singing his songs, there is banter, there is audience interaction, it's a show people.
This is my first time seeing him play and my knowledge of his music is limited to the two singles I reviewed. At this gig Zach was backed by a band (OK so the band was The Harriets on drums and bass), and Zach played electric for much of his set, so I'm assuming that at least some of the songs were slightly 'rockier' than the acoustic versions. This was certainly the case with his opening song 'Blue Skies' (the first single I reviewed). It works, it works really well, the tune is still as infectious, I liked it more than the single version if I'm honest. So we're off to a really great start.
As I said my knowledge of Zach's music is inadequate (woefully inadequate if I'm honest), so what surprised me is that there is a big range of styles – from folk to Americana to country to something slightly sort of punky. But it all hangs together and what makes it hang together is two things Zach's voice and his words. Zach's voice is something I find hugely attractive, he's not a flashy singer, he just sings and sings really well, letting his words do the talking. His words are funny, moving, bitter-sweet, clever in turns, he has this knack for a memorable line.
Songs stand out in this set. His first acoustic song 'Breathing Space' is a slow and moving song that he performs with this sense of intimacy. It's beautiful. My notes say, and honest I hadn't touched a drop of drink, 'I feel like I'm alone in this space and Zach is singing just for me'. I think what I was trying to do was to somehow write down quite how intimate this song and his performance of it was.
There is a song about (and I hope I wrote this down right) an Australian guitar player Zach once met that grabbed me. It sounded a little like Redgum (if you're saying 'Redgum who the hell are they?' go read my column) strangely which is I think what made me sit up and listen and boy was I glad I did.
And there is the slightly punky song 'Casino' a song I assume is about Zach's hometown that I found moving in places. The last 'new to me song' that really grabbed me was a song about not having much and how that was better than having too much.
He closed with the song that was released that day 'Olivia Jane' and it's a joyous performance that I loved as much, if not more than, the single performance.
Zach is one of those singer/songwriters that I find difficult to explain quite why I like his music as much as I do. On one level he writes really good country/folky/Americana songs but on another level there's something I actually find quite difficult to put my finger on. Maybe it's the humour in his songs, may be it's the way he suddenly hits you with a line, or two or three, that is poignant or bittersweet or even sad. Maybe it's the simple but effective way he sings, maybe it's all of those. Whatever it is I like it, I like it a lot. I'd recommend seeing him play highly.
Zach Pygall: https://www.facebook.com/ZachPygallMusic/
Allora: https://www.facebook.com/ALLORAmusic/
The Paper Waits: https://www.facebook.com/thepaperwaits/
All photos on this page © Frank Roper Photography