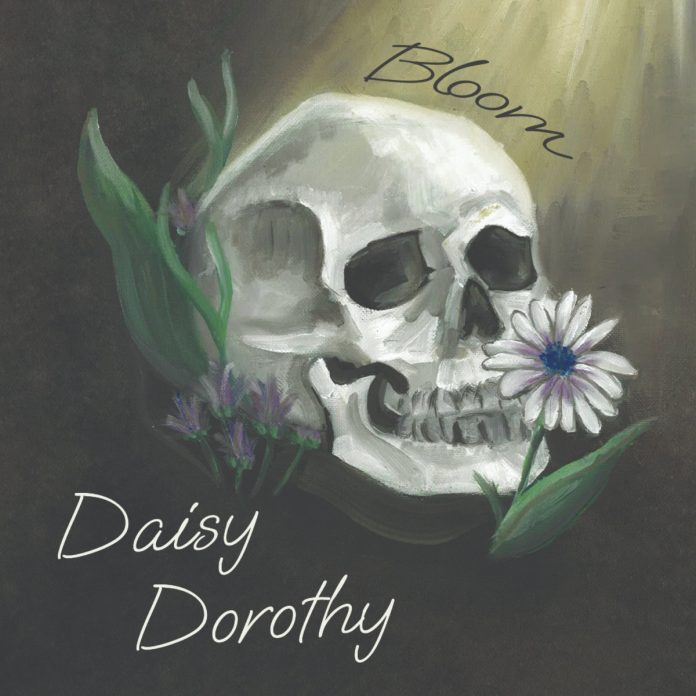 This is Wakefield songwriter Daisy Dorothy's debut release; and it's beguiling and captivating.
The two songs on the EP (look I know 'we' could have a discussion about whether a two track release is an EP or an AA Single release, but the info I was sent says EP) seem to hover around a sort of old style Americana/Country and folk sound.
'Bloom' immediately impresses with a vocal that is quietly full of emotion over a beautifully sparse guitar and string lifting timeless Country tinged sound. Gentle harmonies add a richness that doesn't disturb the fragile sound but rather adds to the world weary feel. The words are right up front, and they are fascinating, words to savour. In a way it reminds me of The Cowboy Junkies – one of my favourites from way back when – in the way it's intimate.
And now to 'Alicanto'. I had to look up whether Alicanto meant anything, and found it was the name of a mythical nocturnal bird (more info here). How, whether the song is directly about the bird or is using the bird in an allegory is up to the listener. I lean to the latter. These are words to ponder over.
The sound on this is slightly more up tempo and adds what I swear is a pedal steel into the mix. It retains that Country feel but it has some Folk in there. What runs through the music is the feel of wind or perhaps flying. It feels more like a sound piece; an exploration of the feelings and atmosphere of the song. Lovely
This is an incredibly impressive debut release. Daisy Dorothy has a musical style all of her own. The songs are beautifully written and put together just right. Simply beautiful. I have a new Yorkshire singer/songwriter to add to my favourites list.
The EP is also available as a limited edition cassette from Chalkpit Cassette Club – order via Bandcamp.
The info
In 2021, Daisy completed #YoungTeam, an education programme run by Wakefield's acclaimed multi venue festival, Long Division. Working closely with the team, Daisy was mentored by music industry professionals, able to work alongside other young musicians and given opportunities to support her own music. Now a Young Team graduate, Daisy has gone on to play festivals and numerous gigs around Yorkshire as well as being a budding photographer.
Since early July, Daisy has been working closely with producers Rob Slater (Yard Act, Crake) and Jamie Lockhart (The Cribs, Post War Glamour Girls) at Greenmount Studios.
#YoungTeam is an educational project created by Long Division and funded by Wakefield Community Foundation. They work with young people from Wakefield postcodes to deliver a Silver Level Arts Award – equivalent level to GCSE. The qualification focuses on developing young people's creative and leadership skills with a DIY ethos, from which Long Division and Long Division Festival were formed.