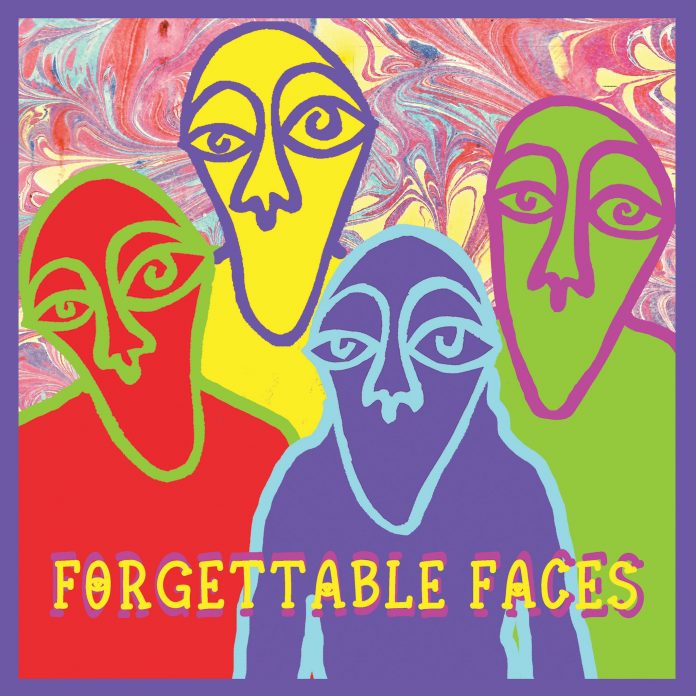 Back in December of last year I reviewed 'Tomorrow' by Forgettable Faces and was mightily impressed. If you didn't catch the release then, fear not it's on the EP.
Let's make sure we're all singing from the same hymn sheet. The band make wonderful pop, written and played with care. It sits in what I call classic pop; what I mean by this is that it's pop that isn't immediately throwaway and has a timeless appeal that won't go out of fashion.
Opening track 'Nostalgia' is pop and you can dance to it – you could play this out at a party easily – but on the other hand it isn't quite of now. Yeah, sure there are hints of Indie but it has the feel of late 60s/Early 70s West Coast music, or if you will, Americana. So it's more complex than what we might expect. But what I'm going to say is forget my overly complex analysis and get into it. It's earwormy and singalong as hell.
'Ruin' initially could sit in bedroom-pop but then it rocks out in a distinctly 70s pop way with just a hint of punky DIY. It's weird but it works and is absolutely fab gear. Better people than me could undoubtedly place it into a genre niche – and hey email us if you can – but I'm sticking with fab track.
'Tomorrow' has hints of jazz, a little soul and a whole load of what I call that Laurel Canyon sound; in particular later period Joni Mitchell. This is all mixed and wrapped up into a brilliant piece of pop. Or you could forget all of that and just describe it as sunny delicious pop with a tune that is as earwormy as hell, a beat you can dance to and a great lyric. The choice is yours. However you choose to describe it, this is put together beautifully. It starts with a great vocal, sparse choppy guitar, and clever and subtle keys.
The lightness of 'Strained' follows. Sunny, bouncy. Kinda DIY, bit bedroom-pop. Full of unexpected surprising sounds – including a way out guitar break. I've fallen somewhat for the vocals on this (and 'Ruin' to be honest) which come in a kind of Twee sound (Twee by the way is a musical genre from back in my youth; Google ); all kind of sunny and laid back.
Never a band to stick with a sound, 'Last Time' takes a side trip into some blues influenced rock. In a kind of poppy way. This is all 70s' muscular guitar, vocal workouts.
Closer 'The Fear' is kind of jazzy, funky. Or as I like to describe it 'Nu-Soul with guitar freakouts'. And we are talking guitar freakouts that astound. It rocks, it grooves hard. It demands you get up and get down. Bloody hell this is utterly fantastic.
While we have six tracks that differ in all sorts of ways; there is something that holds these songs together and that's a complete lack of respect for what is generally believed to work musically. The songs throw together influences that you think are never going to work together but then do, and do fantastically. And that's something to celebrate; a band that isn't jumping on the nearest bandwagon but doing their own thing.
There is playing on this EP that leaves me speechless – brilliant guitar, lovely keys, really clever and musical drumming. The vocals are a joy. But there is more. Listen to the words of these songs; the words are great and meaningful.
This is an incredibly impressive EP, Great songs, played wonderfully, that are full of the unexpected.