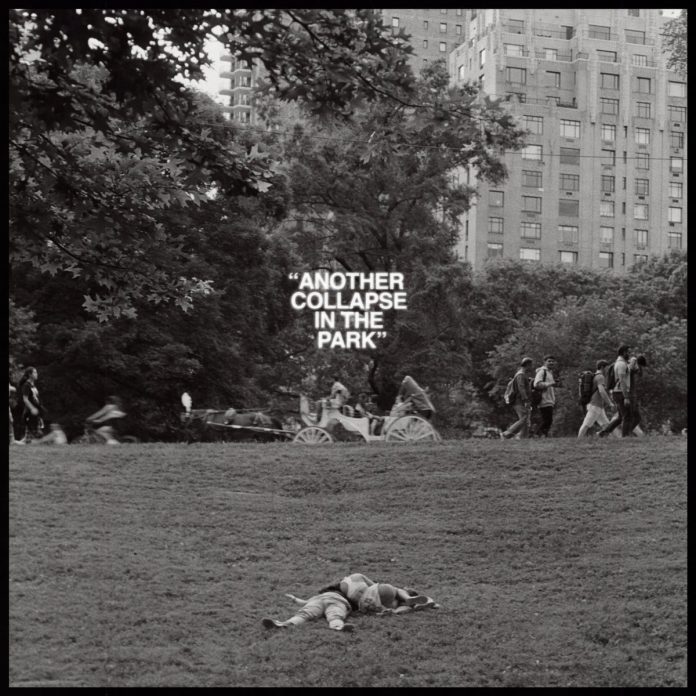 I've really been looking forward to hearing this EP, the two tracks the band have released already – 'Patriot & Father' and 'Self Torn From Sign' – are brilliant. They gave us glimpses of the theme running through the EP but with the four tracks those themes are fully resolved.
"There's a few themes that overarch the whole EP, but the main one is an examination of the role community plays in the way we live and structure our societies. It's something that the last couple of years have drawn my attention to and is the vein that runs throughout the EP. As with the two singles released from the collection, there's still that strong theological component that's in all the tracks, especially the closer 'Portraits of Lazarus'," says singer and bassist Leo Joslin.
Another thing that runs through the songs is a heavy use of theological and religious imagery. Playing on this, Leo's vocals frequently adopt a 'manic preacher' persona.
But first a note. King Orange are another of the current post-punk bands that kind of make a nonsense of putting all these bands into a niche marked post-punk. This is not an issue that is 'of now'; at the time of 'the original post-punk' there was a similar problem. For example while you may hear certain shared musical roots in the music of say Joy Division, The Cult and early Human League, those can be really hard to pin down. The New Post-Punk is even harder to exactly define because not only are the bands taking influences from the music that came after Punk but music since then.
That said let's immerse ourselves in the music, for this is an EP that demands total commitment.
The sound in opening track 'Patriot & Father' is akin to mixing Joy Division, Bauhaus and early Goth. With a musical feel like this you'd expect it to be about a weighty subject. The band explain "On the surface, it's an examination of the relationship between our history and our present; that which we value and that which we trust. It asks if we have too much faith in those that we put it in, and if complacency is damaging that which we hold collectively dear. As the song moves on, it changes from the societal perspective onto the personal, shifting from a focus on the connections between different parts of society to the individual and their links to their immediate environment," says singer and bassist Leo Joslin.
"As with the rest of the forthcoming EP's tracks, there's heavy use of theological and religious imagery in 'Patriot & Father', from the title to the last verse. The meeting of religion and society, in both the good and the bad, is at its core. I also think it matches with the angular and direct sound quite well."
That is a big subject to explore in a song and there are a lot of words. But the words are good. This is a song that will gradually reveal itself to you.
The great thing about the track is that it has space; all the instruments are given space to breathe, to fully attack your ears. The contrast between the angular frantic guitar and pulsing bass is there to thrill. This is a song to dance to frantically; it's a wild, swirling thing.
'Self Torn From Sign' has hints of Gang of Four, Siouxsie and The Banshees, Nick Cave and Bauhaus, as well as No Wave and Kraut-rock.
Leo explains "The song is about a lack of direction; the feelings of aimlessness and stagnation. Not just in the personal sense either where one is unsure of their orientation, but also on the communal level where our collective motion has stalled. Without a path there comes a lack of purpose, this song looks at the symptoms of that and senses left when direction leaves,"
Guitars are turned up to piercing in a rattling manic torrid of metallic sound, drums pound repetitively. In stark contrast the vocals are shout spoken. But wait, for this is changing; the sign is a brief flurry of discordant guitar but then it goes beyond sound. It's a build but a build done in distinct stages rather than gradually. It's dark, it's gloriously dark and bleak, and on the edge of madness.
'White Noses, Black Sands' takes the rattling sound of 'Self Torn From Sign' but takes it in a darker direction. The sound is bass heavy, it has a weight to it, a weight that threatens to suffocate you. It does a fast/slow thing that is unsettling, that unbalances you; you think you know where this is going but you're wrong.
There is a desolation to this song that comes with the sonic weight but also the words. It continues the theme of a disintegrating society, if not a totally collapsed society. I hear, although I may be wrong, something of the grinding despair of modern life.
And now to the closing track 'Portraits of Lazarus'. This gloriously longer track takes their sound and slows it right down. Leo explains "with 'Portraits of Lazarus' we wanted to push more into the gothic and doom side of post-punk that we've not explored before. It's a sound that I think we'll continue to look at, as well as the post-hardcore and noise influences that've snuck into what we've written since recording this EP."
It sounds at times like the doom laden rawness of early Black Sabbath or possibly the slow grind of Samothrace but mixed with the sound of the Sisters of Mercy and the overwhelming bleakness of 'The Scream' period Siouxsie and The Banshees. And while what I'm describing might make it sound as though it's somewhat retro, it isn't. You can hear the band's noise rock influences; they're just used in another way. It takes the band into a musical place that has me waiting to hear the songs that come after this EP.
I said right at the start of this review that this EP was one to immerse yourself in; and I hope I've given you at least some of the reasons to do that. The themes that run through the songs are compelling and relevant. There is an overall connection musically across all four tracks; but the songs are fantastically different. What is common to the tracks is the sense of space; space that allows the individual instruments to shine whilst still giving us the combined power.
This is an incredibly impressive EP release from a band that are very much 'doing their own thing' with their post-punk and other musical influences. Lyrically they are using their songs to talk about society today in a compelling way that will make you want to go back to the songs time and time again. Yet at the same time these are songs to dance to, manically.