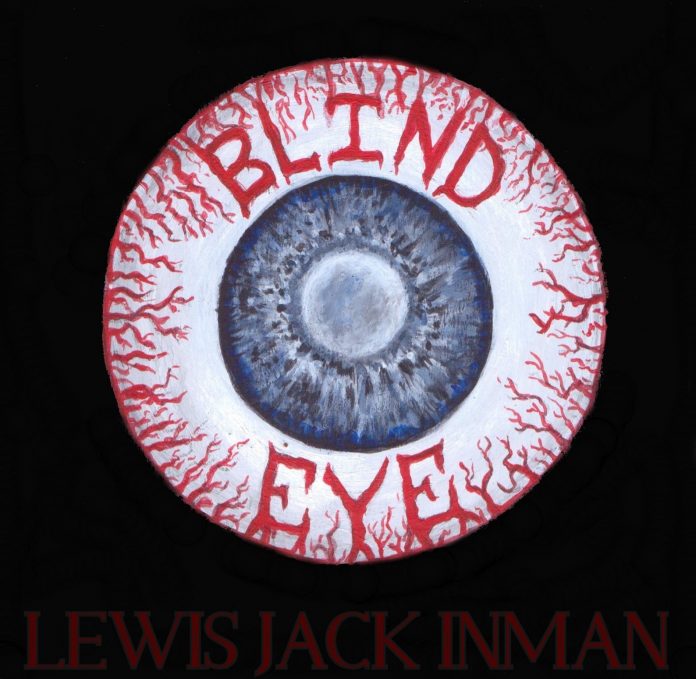 I have been looking forward to the release of this EP. I am, and I may have said this before, quietly obsessed with Lewis' music; he's one of those artists I come back to time and time again.
Opening, and title, track 'Blind Eye' is dense with guitar. It's intense and you find yourself drawn deep into the sounds. The vocal however provides a contrast; it's sing sing. It has something of a grunge feel, it's mainly acoustic but it has dense guitar and tuneful vocal. The lyrics are compelling and the more you listen to it, the more you uncover. This is one of those times when I may be wrong but the words seem to be about the current Government and the state of the country. This is a harsh commentary to be sure.
There is an electric sound to 'Destructive Beauty'. That sing song crazy tumbling feel returns but stronger. Surprising sounds – a halting bass taking a lead, sharp penetrating acoustic. It compels, it mesmerises, it's haunting. It does all this to it's voice only end.
'The Sun Is Dead' is one of those 'what in the' 'where did that come from' moments. It starts with a radio feel that gives no indication of where the song could go. The way it goes is to turn into something quietly fuzzy with a gentle vocal. I say fuzzy but it's also big and sweeping with hints of psych. It's lovely, simple as that. And just wait for the surprise at the end.
The change in feel to 'What I am To You' is jarring at first but I have come to see this as a respite from the denseness of the first three tracks. My helpful friend describes this as raw around the edges Brit-pop. I'm not sure, i\t's raw, yes but for me it lies somewhere in the area of grunge with a psychy edge.
'The Breeze' is an instrumental piece. It builds from simple plucked guitar with a folky Spanish feel, to washes of sound with strummed acoustic and delicately played guitar lines. As it goes on that guitar becomes more piercing, more strident, before it returns to that simple plucked guitar. Although you may question the inclusion of a 5 ½ minute instrumental, you shouldn't because this is just as compelling as the songs, it has as much emotional feel and weight as the songs.
This, my friends, is one for quiet appreciation, one that you need to set aside time for, they are not in any way background music.
This is a set of songs that surprise in their different feels yet are also coherent. It had already made a spot in my favourites list on it's first play but repeated listens reveal more and more depth to the tracks. They are full of, sometimes harsh, beauty and emotion. These are songs that come without a filter.
Stream/download: https://distrokid.com/hyperfollow/lewisjackinman/blind-eye