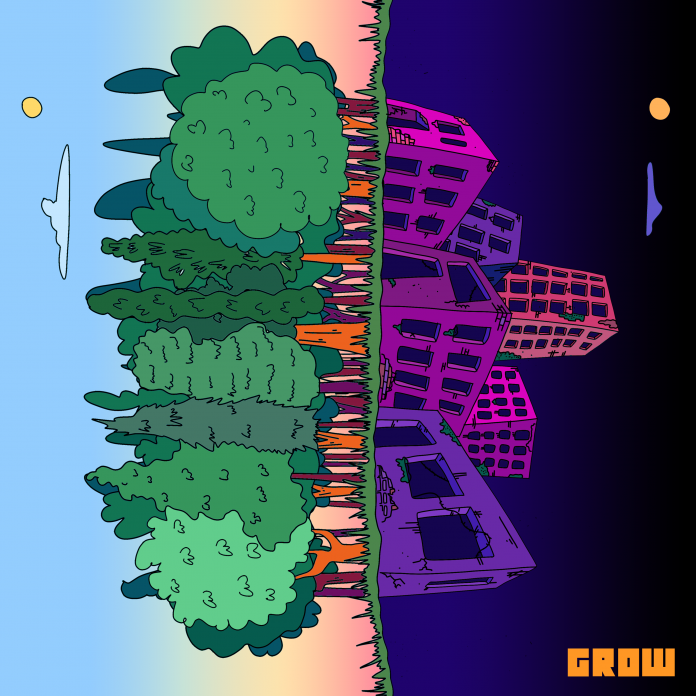 Necktr described themselves as a progressive neo-soul band in the email they sent me, so I knew I was going to get that mix-up of soul, jazz and hip-hop. And their bio describes them as a soul fusion band. So I guessed that the jazz element would be way up there, and it is. What I didn't quite expect was the really strong Afrobeat influence in places.
'Grow' is a piece that takes you on an 8 minute journey – a journey through sounds, mood and feel. It's a piece that you feel compelled to immerse yourself in.
It starts with a sparse Afrobeat introduction with twitchy and scratchy guitar, building to a more jazz section that is pure wonderful smooth horns. And as if the horns weren't enough there is quite fabulous drumming going on.
And then there are the vocals, the only word I can think of to describe them is yummy – although if you can imagine it, the way I'm thinking this is 'yummmmmyyyyyy'. Vocals that are soulful, over a soulful jazzy backing. That moment those vocals come in is one I have grown attached to.
And it builds, the horns blaring, until… it drops out to a dreamy quietness, warped delicious sounds, faint ghostly ab-lib vocals (provided by B-Ahwe), and spoken words, it builds with a slowed Afrobeat guitar, it builds again the vocal sounds are louder, horns build. It's not a comparison the band would like, I'm guessing, but the dreamy part of this has the feel of Gong to me.
I could go on and on about how that instrument or this instrument provides these wonderful sounds but ultimately this is pointless, it's the overall effect of the layers of sounds that weave together, over and under each other, that's totally magical and mesmerising. The combined effect of those layers sometimes makes sounds that you can't identify as being from a particular instrument. And I found that made me concentrate on the sound of the track. It almost goes without saying that the playing and arrangement is beyond words good.
There are things that the track comes back to – a particular horn riff, that Afrobeat guitar that pops up in varying forms through the piece. These help guide you through it, help you understand it, are the path you journey on.
This release is fabulous, it has a compelling beauty that draws you in. The twists and turns in sound and feel surprise and amaze, yet never jar. Yummmyyyy.
Included as part of this release, Necktr have also collaborated with some of Leeds' finest producers to put together remixes of 'Grow', as well as their previous single 'Cold Water'. This includes remixes by Sourpuss, Breaka, Adam Pits and Dubrunner, making the package a celebration of Leeds' vibrant electronic and jazz/world music scenes.
The remixes take the track to a different, yet no less compelling place. They turn it into a dance track – The Breaka remix uses what I can only describe as a broken Afrobeat rhythm, using the vocal section, and the Sourpuss remix turns it into an electronica track. While I'm not usually a fan of music like this, both remixes of 'Grow' have become favourites in the time I've had access to them.
The info
Necktr are an 8 piece soul fusion band who formed in Leeds with a vision to bring together elements of hip-hop, afrobeat, soul and jazz to create compositions that provide an exciting twist on contemporary songwriting. Their sound explores a wealth of textures and soundscapes as they weave between captivating grooves and anthemic choruses.
After gaining a reputation in Leeds for their raucous and energetic live shows, the band took to the road and have played around the country alongside the likes of Gilles Peterson, Nubiyan Twist, Snazzback, Nubya Garcia, Afriquoi and K.O.G and The Zongo Brigade. This has included notable performances at The Jazz Café in London, as well as appearances at festivals such as The Great Escape, Mostly Funk & Soul and Boomtown in Summer 2019.
The band released their debut EP 'Something's Happening' through Wormfood Records in 2018, as well as subsequent single 'Cold Water' in Autumn 2019