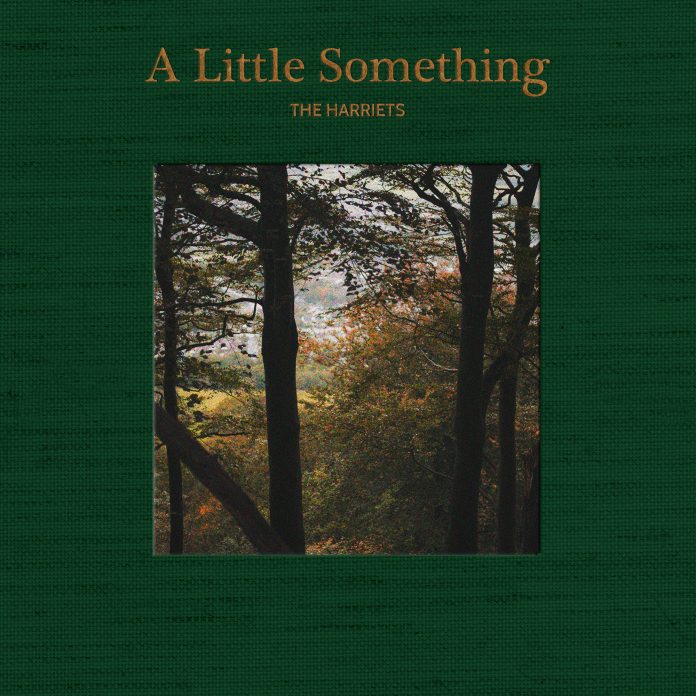 A release from The Harriets is always something precious, something to be treasured. This EP is so immediate, so lovely that I just had to add it to my favourites playlist even as I was listening to it for the first time.
To sum up the feel of the five songs I'd say melodic to the max with lush sounds – big string sounds, piano to the fore. They seem to reach back to the classic songwriters of the late 60s and early 70s. They showcase the writing skills of the band – both musically and lyrically.
Title track 'Little Something' is… how can I put this… bittersweet and somewhat jaunty. Lyrically it does that The Harriets' thing of words that take you through 'an emotional range' – one moment leaving you smiling, the next tugging at your heartstrings. While musically, a glorious piano melody line, simple drumming, harmony background vocals bring the joy.
'Days Like These' brings that piano to a ballad. Subtle string sounds, a simple but hugely effective vocal. But then it swells – huge lush string sounds – bringing a lump to your throat. A song that tells the story of a day with the person you love; simply but full of emotion, words that say much more than the actual words. Simply beautiful.
There's a switch in style with 'The Lie'. One part jazz, one part musical theatre. It somehow reminds me of Randy Newman; it's that rolling piano line, the vocal that drops down to semi-spoken. Words that make you smile. A guitar that suddenly stabs in. This is a song that worms it's way into your brain and sticks there.
'Jessie's Song' is big and lush. The positively wonderful thing about this song is the vocals – at times you get two intertwining vocal lines, and then sudden glorious harmonies. A piano that evokes something of a song from a film soundtrack. And then again sometimes the sound of Simon and Garfunkel. The tune is so damn earwormy. Somehow this song makes me see it being sung on film, or on stage with choreography.
'For You' is a lush pop song; gently danceable, one to hum along to.Something you'd expect from the band. At least at first, for this is a song of two parts. Suddenly it becomes this big vaguely jazzy 70s' song; pounding beats, (subtle) guitar to die for. I'm going to admit that it took me a while for this one to click fully – by this I mean I had to listen to it twice – but once it did, it did firmly.
Quite what the band have been listening to during lockdown I don't know; I suspect it's that part of my music collection that is made up of classic singer/songwriters of the 60s and 70s – big songs with huge tunes and with that lush and baroque sound. I also suspect some watching of films with great soundtracks as well are in the mix.
There's a retro feel to the songs – that's obvious isn't it – but it's all done with that The Harriets slant – great words that make you smile, make you weep, fill you with joy. And there's never a 'faithful sticking to the model' – there are twists musically that surprise, that fill you with joy.
If this is the direction The Harriets are going, it's one I love. But The Harriets never quite stop changing. For this EP; it's a fabulous collection of diverse songs, wonderfully written, played and sung. Treasure this, keep it close, this will bring you joy every time you listen to it.
Buy on limited edition CD and digital download