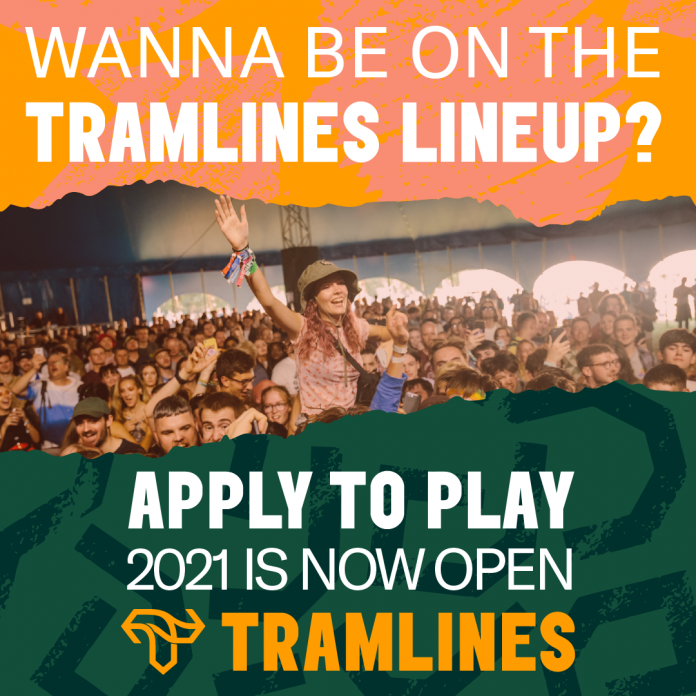 Emerging artists and bands can now apply to play at Sheffield's biggest music festival as it continues to support new and undiscovered talent.
Tramlines, Sheffield's biggest music festival, has announced the opening of this year's 'Apply to Play'. The scheme offers a limited number of performance slots across various stages to emerging and undiscovered bands and artists from across the UK. Those wishing to play at the 2021 sell-out edition of Tramlines Festival can apply via the website at www.tramlines.org.uk.
Taking place at Hillsborough Park from 23rd – 25th July, Apply To Play is an annual scheme from the organisers at Tramlines Festival as it continues to support and create opportunities for grass root music talent.
Tramlines Operations Director Timm Cleasby said, "My favourite element of Tramlines has always been the discovery of my new favourite band. Our Apply To Play scheme gives bands and artists the opportunity to play on a big festival stage, and offers the next generation of talent the experience of playing a bigger stage while showcasing their music to new audiences. Since the beginning of the festival, supporting emerging talent has been at the heart of the event and continues to be a big part of it."
No matter the genre or set-up, Apply To Play is open to anyone who thinks they have what it takes to take to the stage and entertain crowds in their tens of thousands. The deadline for applications is 27th May (direct link to application form, here), and those successful will also receive a small performance fee.
Notable bands discovered via Apply To Play in past years include Blossoms who later were nominated for a Mercury Music Prize in 2017, showing what an important, career-launching platform this can be. 2019 Apply To Play winners included the afro / RnB sounds of Sierra Leone-born artist PJ Francis, Glaswegian 'art pop' band Fauves, and the swing-electronic inspired collective, Electric Swing Circus.