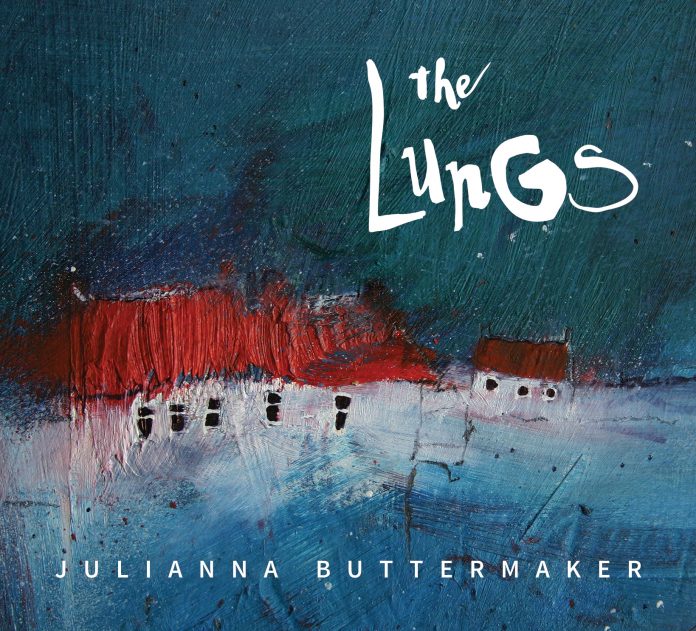 York two-piece The Lungs – Theo Mason Wood and Bonnie Milnes – have released their 'Julianna Buttermaker' EP. If The Lungs are new to you then you can learn more about them later but first the EP.
OK so this is set of three songs about the Julianna Buttermaker in the EP name. The story that is told is dark, twisted and distinctly disturbing. But there were a lot of moments that had me laughing out loud.
Quite how you even attempt to describe this musically I'm not sure, so here's what I thought as I heard it the first time – Cowboy Junkies, Leonard Cohen, Everything But The Girl (the early years), The Fugs, Tom Waits, The Civil Wars, early British punk, Camper Van Beethoven, folk … so I hope you're getting the picture The Lungs are not an easy band to pigeon hole. And while they might describe themselves as Southern Gothic that's not going to help one bit.
Lyrically this is like a folk ballad, the three parts tell the story of a relationship. The words are great – they are sad, dark, funny and clever. And if you really listen, and I mean really really listen you're going to find odd bits of lyrics popping into your head randomly. Today I keep hearing "and now the big adventure is our garden's runner beans" and "you've got a motor car and I've got a bag of crisps" (personal favourite of mine that). And honest those do fit into the story.
Look the EP is a bit like one of those weird American art-house films with great performances that has you laughing one moment, crying the next and at the end – however it ends, and I don't want to give away the whole story – you're left thinking 'that was beautiful'. Yet when you try and tell people quite how wonderful it was they just look at you in a strange way. Perhaps it's just me but at the end of the three parts I was left thinking 'that was was beautiful'. You may well be left thinking that was really funny or even that's a nice set of quirky songs. That's perfectly OK as long as you've noticed the great lyrics, the wonderfully contrasting vocals of Theo and Bonnie, and the rather fine lo-fi production.
Luckily there is a video of Part 1 on the duo's Facebook Page so you can actually listen to the first part of the story.
This a bitter-sweet, funny, dark twisted gem of an EP. When I first listened to it I described it as adorable, and yep it is something to be adored.
The EP is available from all major digital outlets – you know Google, iTunes that sort of thing.
The Lungs
So who are The Lungs. According to their bio – and bearing in mind that this pair have one great sense of humour, you may or may believe it – Theo & Bonnie first met when they were about eight, becoming friends on family holidays together in the seaside village of Staithes.
Theo had worked through a variety of instruments in his childhood eventually settling on a guitar his Mum had lying around the house which he began to invent chords for, whilst Bonnie learned to sing listening to classic Motown and soul.
They didn't start playing together until their teens; Theo had been through a few bands without really knowing what he wanted to do, and played a gig in York Bonnie came along to. After the gig her friends convinced Bonnie to sing a few songs; bringing the house down the promoter asked her to come back and do more but she didn't have enough songs to fill a set, so Theo suggested playing as a duo and The Lungs were born.
They started jamming with covers until stumbling across 'Papa was a Rodeo' by the Magnetic Fields, with it's deep drawling American vocals that Theo discovered suited his voice to perfection and beautifully contrast Bonnie's soulful style.
"For me lyrics became the most important part of the writing, as I've never been much of a guitarist and then Bonnie's amazing vocals are kind of the music side of the band." Explains Theo, "We go back and forward on songs, I'll write a chorus, Bonnie will give it a vocal melody, I'll write more from that and so on."
"I can write a decent pop song, it's a lot of what I listened to growing up," comments Bonnie, "but Theo introduced me to darker, less feel-good music which is arguably more interesting. I couldn't do what Theo does and the dynamic works with him solely writing the lyrics."
Theo continues, "I like each song to have a narrative or character to follow through a journey, which is often in a bleak and sad world not too dissimilar from our own, but full of dark humour to keep it all digestible."
The pair signed with York's Young Thugs Records earlier this year and the EP will be The Lungs' first release on the fledgling label. Released on 17th October it will be accompanied a full UK tour in December/January, with sights very much focused on an album for next year.
"We're writing songs for it over winter." says Theo, "After that we'd like to get a long string of awards and be hounded by the press until one of us dies of an overdose and the other goes on to have a great career as the one who lived."
So what I've missed out here is the part of bio that actually explains what the story of the EP is. If I put this here you're going to miss out on the fun part – working out what the songs are about and how they link together.
The Lungs on Facebook: https://www.facebook.com/TheLungsYork/