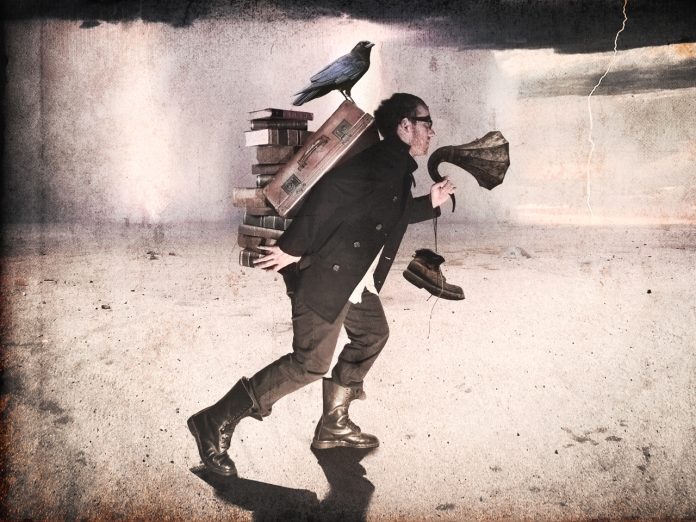 Engine Room Theatre are coming to The Civic with their new production The Voyage. With an old-world, hand-crafted charm, a group of vagabonds invite you on a surreal, anarchic journey, weaving together live-action, dance, animation, film-interaction and resonant bronze gamelan percussion.
Intimate and spectacular environments transform around the audience, as these voyagers make their way through the ever-changing landscapes of human experience. There has never been something quite like this at The Civic before.
Set-in a jumble-room, filled with stories and suitcases, The Voyage is a thought-provoking, funny and poignant exploration of those things we hold most precious. This is theatre at the crossroads of movement, music, magic and cinema.
"Engine Room has produced an extraordinary piece of immersive theatre that effortlessly combines clever theatrical set pieces with the most complex digital techniques, to gently lead their audiences on emotional, life-affirming journey." – Charlie Studdy, Arts and Leisure Manager, Junction Goole
To coincide with The Voyage, Engine Room are also offering a fun creative workshop exploring ideas from their new show. It's a chance to play with beautiful, hand-crafted bronze instruments from Indonesia (known as gamelan) and be guided through movement activities, to engage with your body and imagination.
Engine Room values whatever experience each individual brings and there is no need for any prior music, dance or theatre knowledge. These will take place at The Civic Thursday 27 October at 1pm and 7pm prior to the weekend showing of The Voyage.
The Voyage is at The Civic on Saturday 29 October at 1pm, 4pm and 7.30pm. Tickets are £10 full price and £8 concessions. The Voyage Workshop will take place at The Civic Thursday 27 October at 1pm and 7pm. Tickets are £5 full price and £3 concessions.
For more information and to book visit www.barnsleycivic.co.uk or call the Box Office on 01226 327000.
Engine Room: https://www.facebook.com/engineroomtheatre