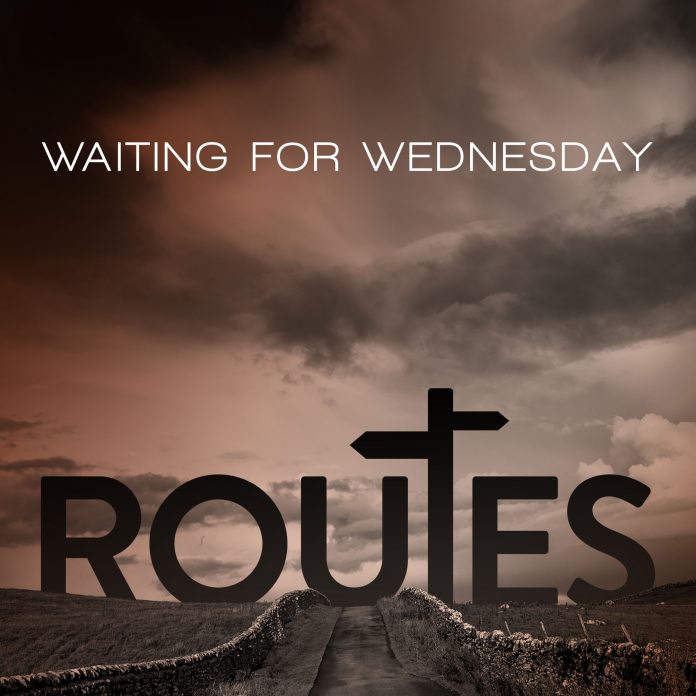 So after a break away from music Waiting for Wednesday are back with the 'Routes' EP. Laura Shackleton of the band explains "this is our first set of recordings since taking a break to have children, but these are actually some of our oldest songs. We once again enlisted some friends to help flesh them out with full band arrangements, so love the fact the tracks reflect both our roots as a song writing duo and the new direction we're heading in".
I'm going to have to admit that I'm not big on that sort of 'soulful country, blues and Americana' sound but on my first play through the tracks I was captivated. It's the voices you see, they are so full of feeling and just so damn darn good that you just can't help but be drawn in. So let's just detach ourselves from any sort of sort of musical label and just treat these as songs, songs that are really really well sung and extremely well played.
The EP opens with 'Cast Aside'. This is going to give you a great idea of the sound the band are going for in their new direction. Yes, it's got a soulful country blues-y feel to it but it's not 'in yer face' country, it's just a feel. When I first listened to this I was somewhat strangely reminded of Yazoo, just Yazoo with guitars and wonderfully played horns at one points. And those voices, it's just a lesson in that you don't need to over-emote to put across emotions.
Every time I listen to the next track 'Running Man' I can't help but think of it as one of those big AOR ballads. Or perhaps I should say huge ballads. OK so it doesn't have one of those big searing guitar solos that those generally have but hey it's just how it sounds to me. Again the words and those vocals tell a story, resisting any temptation to ram it down it down our throats with vocal gymnastics. The playing on this track is rather fabulous, these are these guitar 'noises' at one point that just send a shiver down your spine. You want a touchstone, think Fleetword Mac.
And then we come to what is for me the highlight of the EP 'Give In And Start Again'. This song is huge people. Musically it's perhaps more country than the previous tracks but by time you get to it, you're used to the sound and you can just wallow in it. It's song that deserves a wallow, a darkened room, perhaps a small single malt and just sink into it. It is, as you might have worked out, hugely emotional. Again there are those voices, simple arrangement, acoustic guitar, a lovely horns at points, this really subtle electric guitar run. It resists all temptations to build to something huge and screaming, it could you know. It's just simple (and yes I know simple is hard, very hard to do properly) and understated, and just fabulously wonderfully lovely.
The final track 'This Ain't Your Fight' is a little more uptempo, fuller in the arrangement but when you listen to the whole EP – and I recommend this – you need that to help you get over 'Give In And Start Again'. But this ain't no lightweight it has this great section where the two voices weave in and out and over each other.
OK so you can't deny the 'soulful country, blues and Americana' roots of the songs on this EP – this is undoubtedly going to appeal to fans of that sound – but if you're not big that that, like me, these songs are going to convert you. It's the voices, the songs, the arrangements, but mainly those voices that are going to do it. They did it for me.
The EP is available on all digital platforms: http://smarturl.it/Routes
The info
As a pair, they've already shared stages with a range of acclaimed singer songwriters including Billie Marten, JP Cooper and the Lost Brothers, as well as experienced playing support to folk legends like Fotheringay, We Banjo 3 and Mozaik to large new crowds. Now with a rehearsed full band lineup at the ready, alongside their tested acoustic guitar and vocal harmony partnership, Waiting For Wednesday are looking to introduce themselves to as many fans of soulful country, blues and Americana as possible in 2018.
www.waitingforwednesday.co.uk
www.facebook.com/WaitingforWednesday
www.youtube.com/waitingforwednesday1
www.twitter.com/w8forwednesday
Catch Waiting for Wednesday live
1st April – Parkside Social Club, Haworth
6th April – The Brown Cow, Bingley
13th April – The Underground, Bradford (with full band)
20th April – The Exchange, Keighley