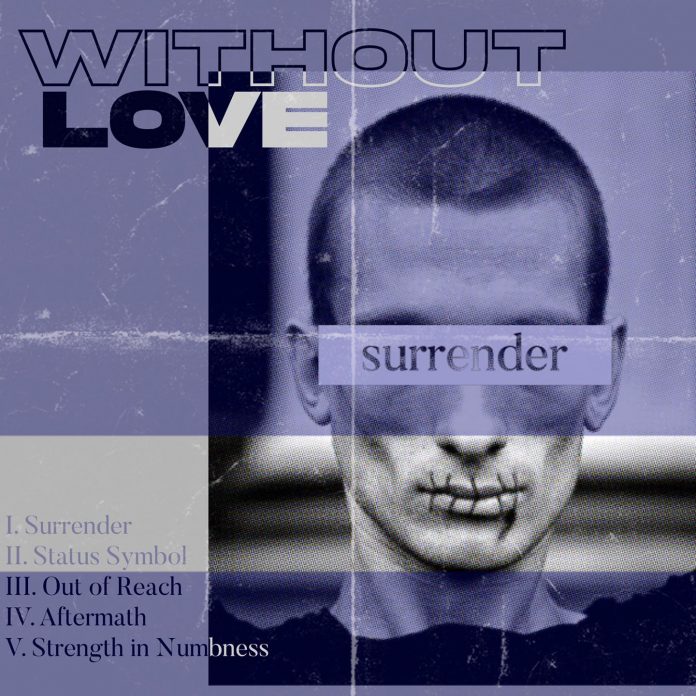 I am partial to – actually more than partial – a heavy dose of hardcore; obviously hardcore rock before you leap to the wrong conclusion. Without Love bring the melodic to their hardcore for the extra thrill.
Opening track 'Surrender' will set you for their sound. It's hardcore heavy – drums battered to within an inch of their percussive lives, guitars turned up to the max, vocals right on the edge. But hey there's a tune you can hum, well almost. But there is definitely a great classic heavy rock tune there. It does an amazing thing; it turns everything up to 11 but keeps the tune there.
There is something of 'a classic heavy metal riff' to 'Status Symbol' that sits there reminding you that this is not thrash it out noise but carefully crafted music. In fact, I've become heavily addicted to this track with it's unexpected light and shade, the way it chops and changes riff and speed seemingly at random but meshing together into one fucking kick arse track.
'Out of Reach' batters its way out of the speakers and into your ears at breakneck speed; knocking the wind out of your lungs. And in around a minute is gone. Perfection in 67 seconds. There is something epic about 'Aftermath'. Is it the dual vocals, is it the doom laden guitar, is it the numerous head spinning changes? Yep it's all of these. All of this in 2 minutes.
Closing track 'Strength In Numbness' surprises with its earwormyness; that's the only way to describe it. Like 'Surrender' it does that turn everything up, way up, but keeps the tune.
What's surprising about this EP is that the songs are actually accessible; even my helpful friend, who's usually turned off by hardcore levels of noise and sonic agressive, said that she found herself going back (and back) to the EP. It's the edge, the hint, of melody that makes it easier to be open to it. And once you've 'let' yourself listen to it you can appreciate the obvious skill of the band; the guitars are a bloody joy, the drumming blows your fucking mind and the vocals compel.
Without Love kick arse, this EP fucking kicks arse. Crank your musical device to the max, and let it change your life.
The info
Without Love are a new melodic hardcore band. Band members having previously played in bands including Grader and Half Sight.