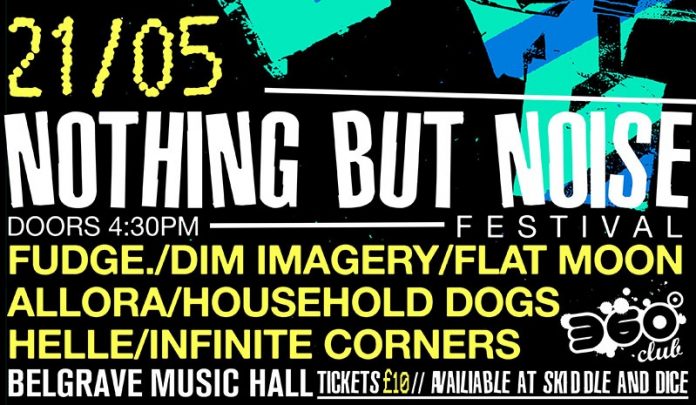 The absolutely fabulous Leeds based 360 Club have teamed up with the explosive FUDGE. to create Nothing But Noise, their first joint curated one-day festival showcasing some of the most exciting and innovative – and often noisiest – bands currently coming out of their home city, which will take place at Leeds Belgrave Music Hall on Saturday 21 May 2022.
The event will be the first date on the FUDGE. co-headline UK tour with Dim Imagery. It coincides with the release of their new five-track 'The Town Hall Session' EP on the same day. The release of Dim Imagery's single 'Fishing In An Empty Stream'.
The line-up for the all-dayer can be described simply as kick arse; this is not something you want to drop into late just to catch the top of the bill bands.
FUDGE.
Look people, FUDGE. are a band you just have to see if you've not had the experience. This is now it went down the first time I saw them.
As the time draws closer to Fudge coming on, The Lending Room gets more packed, it gets 'sold out, doors locked downstairs' packed. There is a group of Fudge t-shirt wearing fans massing at the front of the stage. I am completely stuck at the side of the stage, there is no way I'm going to get anywhere nearer the centre to take photos, let alone the other side, there's just no way through.
And then they start, they start with Cam standing on the bar at the back, and then all hell breaks loose. And even at that moment I was thinking how in the hell do I review this, taking notes was impossible. And the thing is, I was warned it would get messy, friends who I told I was going to see Fudge said 'Frank it'll be messy, you're going to be bashed to hell if you try and take photos at the front of the stage'.
To describe this as merely a gig would be an understatement, it's an experience, a shared exhilarating experience. There was moshing, there was stage diving, there was crowd surfing. There was crowd participation. You could feel the connection between the band and the crowd, that feeling had a physical presence. It was incredibly exciting. It was a gig I wanted to be truly part of, not standing at the side making mental notes because I couldn't write notes down and trying to take photos.
But beyond that madness Fudge make fantastic music. Even as the band throw themselves all around the stage, the music they make is incredibly well played. Otto's guitar playing is compulsive listening, the bass and drums lock and provide the foundation their music needs. And Cam is one hell of a great singer as well as being visually this presence you just can't take your eyes off. And what you notice is that there is way more than just rock going on in their songs – there are hints of rap, there are hints of that Manchester thing (and boy does Cam swagger), and there is that punk thing.
The set stand-out for me was 'Not A Threat, Just A Warning' – rather predictably I hear you say -which just has an extra venom in the delivery live.
But there is more that just songs, Cam does these, I'm going to call them, monologues before certain songs. They bring on a special guest vocalist for one of their songs. They even have this guy who steps up to the mic to rev the crowd up before their encore.
I was left overwhelmed, buzzing with excitement (and slightly disappointed that I hadn't said to myself 'fuck it, I'm not reviewing this, I want to be part of it' and plunged into the moshing crowd) and promising myself that I would see Fudge again as soon as possible.
I miss gigs like these, I miss that madness, that group madness, that a band who truly connect with their audience can generate. My recollection is that gigs back in the day – and I may be looking backwards through rose-coloured glasses here – were more likely to be like this. Granted some of the rather more, let's say, esoteric bands I used to go and see were more likely to have the audience sitting cross-legged listening to the band rather than moshing but even so. I go to way too many gigs where people just stand and listen, not even vaguely moving to the music.
You need to go and see Fudge play, you must go and see Fudge play, if you want to see a band who generate that energy, that excitement, go and see them as soon as you can.
Come to the festival and be part of the special thing that is a FUDGE. gig.
Dim Imagery
Dim Imagery do post-punk; and before you leap to conclusions here, they do in their own special way. Yes, you're going to hear things that kind of remind you those classic post-punk bands – Gang of Fours, The Cult, the edginess of Joy Division, and more besides – but frequently these come in the one song. Their music is danceable, joyously dark and full of surprises.
I know you can't cross the road at the moment without bumping into a 'post-punk band' but Dim Imagery are one you need to see.
Allora
An entrancing alternative powerhouse of a band with slick riffs and epic harmonies, deceptively simple, yet richly layered and complex rhythms adorned with scarily powerful vocals.
Allora might be described as an alternative rock band but this is nowhere near describing them properly. Somehow in their hypnotic sound they mange to weave the sounds of West Coast Americana, the odd psychedelic sound, something that could be described as funky, and much much more.
Flat Moon
Part of the Monomyth Records family, Flat Moon are difficult to describe. This is my somewhat inadequate attempt.
I was both completely blown away by their set and I was left not knowing what the fuck to actually say in this review beyond 'that was unbelievably good'.
Maybe I should start by – if you haven't the foggiest idea what Flat Moon do – with an introduction. But even this is difficult because defining the music they play is difficult. I find myself asking the question 'are they a jazz-rock band, a jazz-funk band, a band that's taking the concept of Nu-Soul to the very edge and beyond, a psychedelic funk band or even a progressive psychedelic jazz-funk band?', and I answer 'yes, all of the above'. Honest.
But there's more, there's pfunk, there's the out-there groove of Sly and The Family Stone and the strangeness, at times, of Frank Zappa. That's not to mention the warped sounds of Gong in jazz mode, and the manicness of Cardiacs and Shatner's Bassoon.
They are a band who are difficult to pin down; 'you're not kidding me' I hear you scream in frustration.
However the thing you need to know is Flat Moon sound absolutely fabulously fantastic on their releases but live it's kicked to a level I can only describe as musical nirvana. Whatever it is they are playing it's fucking funky, it grooves, it comes at you in waves, it goes straight to the dancing part of your brain like a musical injection.
And in that sound are three guitars – one of which doesn't always sound like a guitar but does impressions of an organ, and one that does the most fantastic guitar breaks. There is bass which not only pulses out the rhythm but is a lead instrument in its own right. And there is saxophone.
And not only this but the band put on a show. There is banter, there is movin and a-grooving. This is a band who love and adore what they play.
Flat Moon are bloody fucking incredible and you need to see them.
Helle
After an apt comment was made in one of the band's first year university kitchens, Helle was formed. Their screaming vocals, screeching guitars, storming bass, and killer drums reveal a mixing pot of punk, grunge, and riot grrrl influences. Shouting about feminism probably never sounded so enthralling.
Household Dogs
Do you really need an introduction to Household Dogs? Surely you've seen or heard them? OK, if you insist. Household Dogs could be described as post-punk; or perhaps not at least some of the time. I get Nick Cave, Tom Waits, mutant orchestral ballads. I haven't come close to coming up with a genre that neatly encapsulates the sound of this band. Americana post-punk, Gothic Americana rock, mutant orchestral pop, all figure but don't come close. Whatever we're going to call it, the music is put together with an outstanding level of skill. And while the songs may vary in sound, they have a feel, a mood, that hangs them together. And there is darkness, there is menace, there is the edgy sound of anxiety.
Check out their latest EP 'To Be Adored', and start your journey with them.
Infinite Corners
An alternative indie rock band with angular rhythms, an unerring post-punk bite and a psychedelic warmth, they cite influences such as The Pixies, The Velvet Underground, Television and Roxy Music.
Nothing But Noise Festival
Leeds Belgrave Music Hall
Saturday 21 May / 4:30PM – 10:30PM
TICKETS £10: https://www.skiddle.com/e/36030548
EVENT PAGE: https://www.fb.com/events/7136531523088757