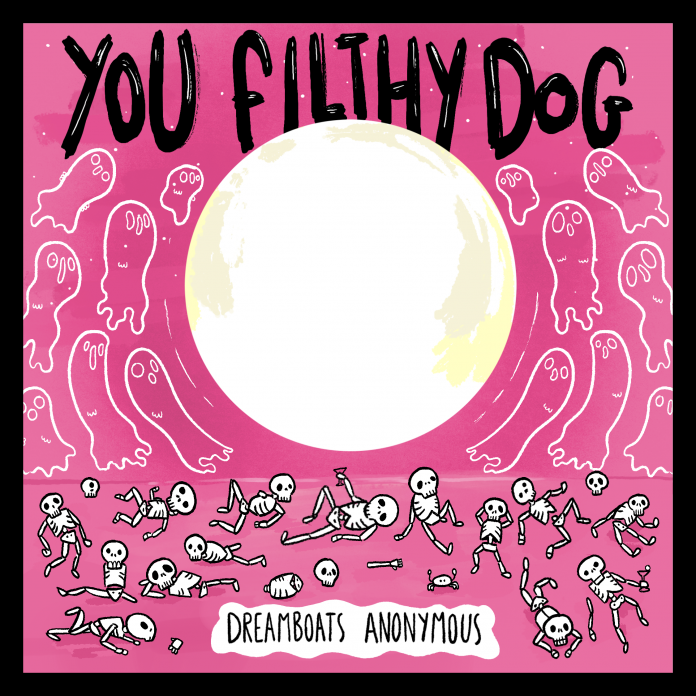 What we all need now – as least I do – is something buzzy, fun and full of infectious energy. You Filthy Dog give us this, and so much more, with this EP of poppy punky and other unexpectedly wondrous songs.
Opening track 'Face the Wave' does that poppy punky thing to the max. Hints of The Buzzcocks – a tune to die for, any number of New Wave bands – that guitar poppy sound. A nagging guitar intro with something of a Stiff Little Fingers thing going on. An absolutely raging guitar break. DIY backing vocals. All that and a beat that just makes you want to throw yourself around the room with abandon.
Turning up the energy 'Loved' sounds like, of all things, a trendy 'youth programming' TV theme of say the late 70s/early 80s. If this sounds like I'm damning it with faint praise, I'm not, I have great memories of 'youth TV programming' back then. If I was forced to sum this up, and I know I kinda am, I'd say tuneful New Wave with a hefty dose of 60s pop. Great tune, great singalong words. A great slight sneer to the vocals. A fab dropout to strummed guitar. Full of bloody joy.
'Bitter Days' changes it up. Or should that be down. It's a change of mood. It's a kind of slightly psychedelic pop ballad with a lead vocal that has a kind of punk edge. A song that suddenly bursts into huge and layered psych-dom – organ, massed vocals, the sweetest guitar. Think Polyphonic Spree, think Dukes of the Stratosphere. And watch out people for there is a false ending. Fuck me sideways this is a wonderful thing.
Closing track 'The Beach' is something of a punk ballad. Punky vocals, tasteful vaguely folky guitar, lovely harmonised backing vocals. The twist, my friends, is that this is short and sweet. It just comes to an unexpected end, an end that leaves you wanting more, much more.
On the – superficial – face of it this is an odd collection of songs. But listen properly and what you have is a compelling set of songs that are easy to fall in love with. The thread that holds them together is that you can hear the affection for them from the band in the music. And there is a craft in the way they are put together.
Yes, there's a retro sound but it's not just one sound, it's lots. Listening to them is like hearing a sonic kaleidoscope of a period of my life. It's all the best bits of songs put together.
Look I know most of you reading this won't have this connection. So think of this as a collection of songs that are filled with joy and glorious surprising moments. This is music that leaves you smiling.
The info
You Filthy Dog is the solo project of Liam 'Pais' Hill (Silverjet/Modern Day Dukes/Caroline and the Lights) who is joined by his friends Martin Roy Guy (Dangerwank/Silkworm), Hannah Smith (Footwrist/Dactylion) and Piper Dawes (Houseband Ska Collective/Carol Hodge/Chinchilla Death Cult). It is the first part in a series of vaguely holiday/exotica themed poppy punky releases with the idea of juxtaposing miserable lyrics with chipper melodies
Liam 'Pais' Hill – Vocals, guitar, bass, keys
Martin Roy Guy – Drums
Hannah Smith – Vocals
Piper Dawes – Guitar
Eric Molina – Saxophone
Produced/Mixed/Mastered by Piper Dawes.