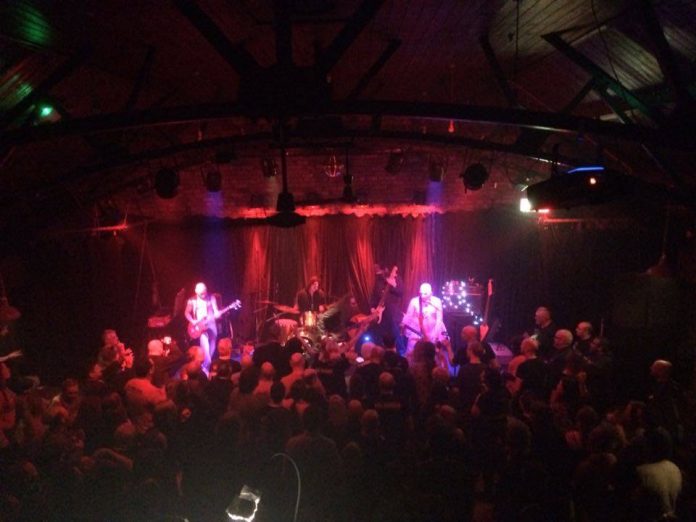 Evil Blizzard are: Side – drums & vocals, Kav – bass & noises, Prowler – bass & leather, Stomper – bass, Filthydirty – bass, keyboards & ranting
The room is dark and packed with people making a buzz, patiently waiting for Prestonian psychedelic rock group, Evil Blizzard, to come on. Faces keep glancing up at the stage expectantly, hoping the band is about appear.
When they finally arrive, to the roar of the crowd, I have to do a double take. The band are famed for wearing grotesque masks and I've seen plenty of pictures of them but in real life they look pretty bloody scary…the stuff of nightmares.
They begin. The sound these four bass guitarists and their singing drummer create is heavy psych rock – they've been frequently compared to Hawkwind; although they do tend to mix genres. The tracks often naturally adopt a dance, trance and krautrock feel. Their music pulls you in and hypnotises you into the beat; you can't help but move in time to it.
This is a brilliantly innovative band who I've been trying to see since I chanced upon a song called 'Clones' last year from the band's debut album, 'The Dangers of Evil Blizzard'. Happily, they played this track, as well as a few others, from the first album. When I say innovative, I mean they are really good at manipulating their instruments, but the music the produce isn't new, and it has been done before. However, the standard of what they are putting forward is quality.
I never felt completely at ease at the gig and I think that's the idea. You feel slightly better that the weird unnerving masked people are 'over there on the stage'. That's all ok until they randomly start coming into the crowd to mop your face… Don't ask!
This was performance art at its best. During the last track of the set, the dude wearing the pink glitter cat suit picked out an audience member, invited him on stage, handed him the bass guitar and went off into the crowd, leaving the bemused-looking lad staring out after him. The band got more and more people onto the stage and the gig climaxed in heavy psych, bass driven anarchy… absolutely brilliant!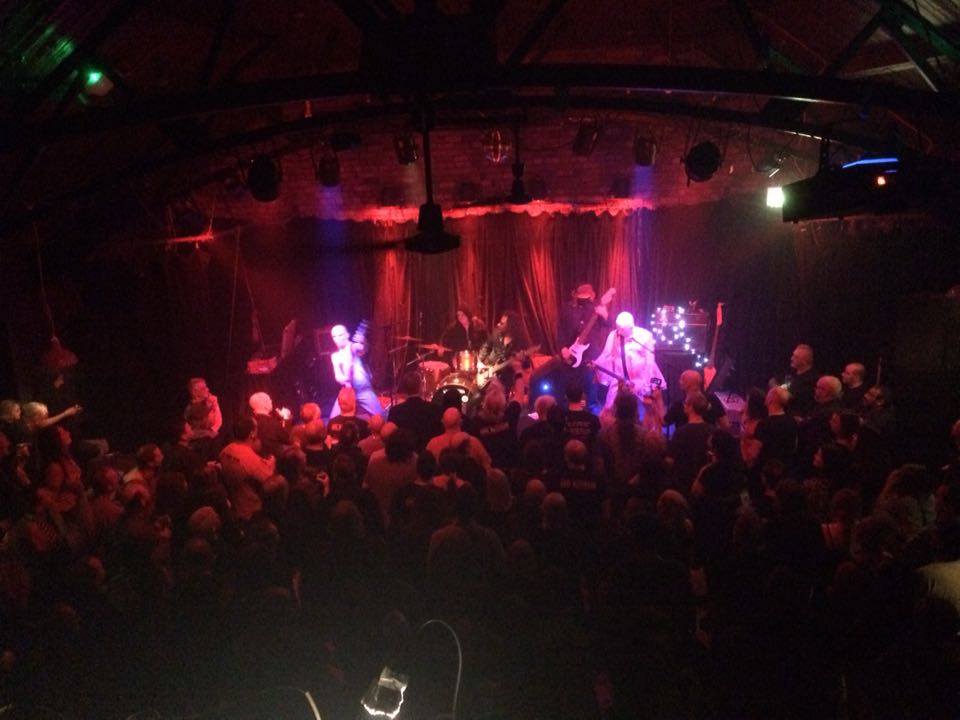 Check out Timbo's recent review of the new album; 'Everybody Come To Church', (incidentally produced by Richard McNamara from West Yorkshire indie band Embrace) which can be purchased here.
Tour dates:Evil Blizzard play Saturday 19 December at Manchester Club Academy
For future gigs, go to Evil Blizzard's Facebook page or their website.